Looking to beat the heat this summer? Then be sure to visit Granary Square in the heart of London's King's Cross.
I was looking for fun outdoor  activities for my toddler this summer. My friend told me of a hidden gem. She told me I "just have to" pay it a visit. I prepared myself for a long day ahead, thinking it would be hectic. But how surprised I was. It isn't just a place for children – I had a wonderful, relaxed time too.
Granary Square is on the banks of Regent's canal right in the heart of King's Cross. As you step into this beautiful public square, you instantly feel like you're on vacation with its relaxed and serene vibe that has something for everyone.
The jet fountains
The star of the square is the animated choreographed fountains. Over 1,000 are individually controlled and lit. They are especially spectacular at night as they shine. The fountains are open daily and are on during daylight hours, which means more time for fun during the summer months.
On a sunny day, the square turns into an urban beach, with excited kids running through the fountains and trying to catch the water. The best thing about these fountains is that they are divided into three strips, according to the jet water power. So if your child is under one, they can play on the strip that has less power. Children can spend ages playing in the fountains while parents sit on the benches around the fountains or under the shade of the trees.
Bars, cafes and restaurants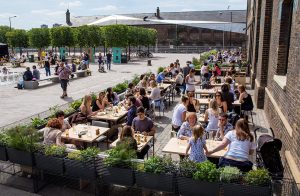 The fountains are enclosed by some delicious eateries, with large outdoor terraces. You can sit down, kick back and enjoy the relaxed atmosphere while you people watch. Best of all, it's virtually car-free – so you don't have to constantly worry about your children running around. The warehouse-like Granary Building is home to the ever-popular Caravan and Granary Square Brasserie, just to name a few.
Outdoor entertainment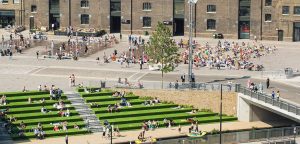 The south-facing steps sweep down to the canal from the square. Carpeted in green during the summer months, this is the ideal spot to relax and watch the boats slip by or enjoy a movie on the large screen.
You can find out more about what's going on in King's Cross this summer by checking out the events calendar here.