The well-loved journalist and author speaks to us about his debut children's book, Jonathan the Magic Pony.
He's peppered his waffly – yet eternally funny – words everywhere: from The Guardian and Esquire to Vanity Fair and even a bedtime book for worried liberals.
Now, father-of-two Stuart Heritage has gone and written his debut picture book for kids, Jonathan the Magic Pony. Here, he tells us how the book came to be and just what it feels like to be critiqued by a class of five years olds.
How does it feel to be a published children's author?
It's really weird. I've written loads of different stuff before – books, blogs, articles, scripts – but kid's books are so new to me that it makes me feel like a total beginner again.
More than anything, I'm really excited to have finally written something that isn't full of swearing.
What's the inspiration behind Jonathan the Magic Pony?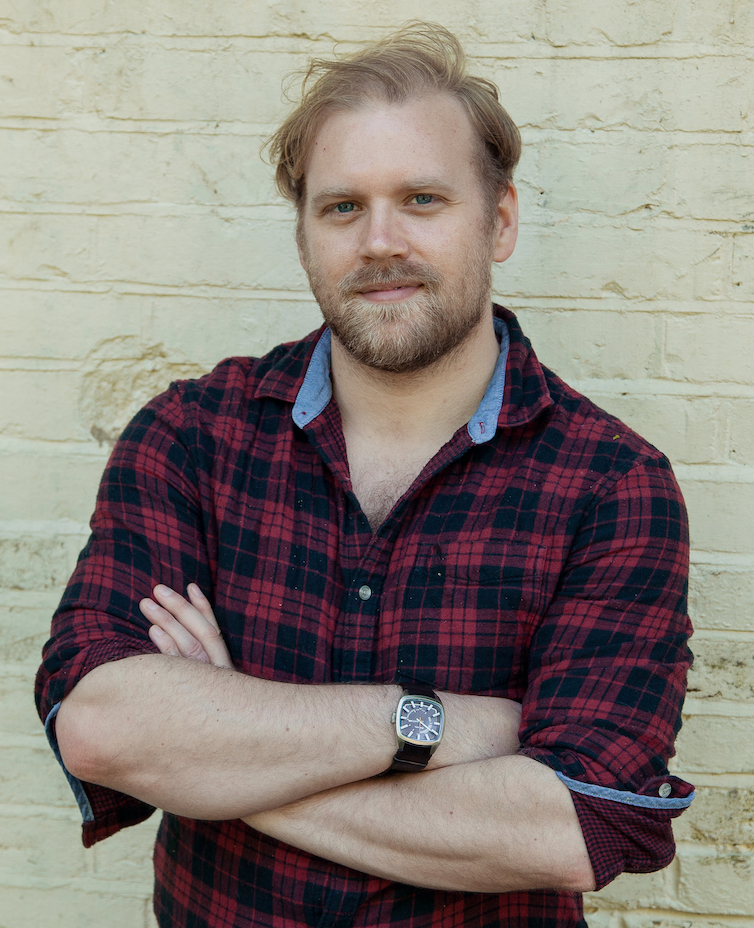 When I met my wife, I used to enjoy making her laugh by being as obnoxious as possible. So one day I was making out that I was a brilliant children's author, and tried to think of the stupidest possible combination of words as a title. I went for Jonathan the Magic Pony, because Jonathan is the funniest name in the world, magic is silly and ponies are like supermarket own-brand horses.
And then, when we had kids, I read loads of kid's books to my oldest son, and it quickly became obvious what made him laugh, like repetition and fake-outs and silly noises. So I wanted to write something that was packed with as many of those things as possible, for him. And I used the old Jonathan the Magic Pony idea as a vehicle for all that. So it's an insufferable in-joke tied to the very specific tastes of one specific child, basically.
How was lockdown? Did it give you more time to concentrate on something like writing a children's book?
Bog off. Between a full-time job and the full-time childcare of a five-year-old and a two-year-old, I've had no time to do anything except stress eat and go bald. I'm exhausted. I'm a shell of a man. A fat shell of a prematurely old man.
However, I'm going to be properly bummed out when it ends. Once the kids are at school and in childcare again, I won't see them nearly as much. I've had them for six hours a day, every day since March. We've been to loads of beaches and explored loads of forests together.
They've become my little companions, and I'm going to miss this time with them more than I care to admit.
You've often written about parenting in your journalism writings. Did writing a children's book feel like a natural progression from that?
Yes. I loved writing about them when they were babies, but now they're getting a little older and they're starting to have lives outside of the house, so I don't feel quite as comfortable writing about them as I once did.
Now it feels like I'm writing for them, as opposed to writing about them, which is a little more appropriate.
How did the collaboration with the book's illustrator, Nicola Slater, come about?
Publishers like to set their authors up with illustrators of their choosing. I recently learned that Julia Donaldson didn't meet Axel Scheffler until the launch party of their first book, for example.
So when Puffin read my story, they sent me loads and loads of examples of different types of illustration, and I picked the style I liked, and they went and found Nicola.
I'm really lucky to have her, because her pictures are one hundred per cent what makes the book so brilliant. They manage to be simple and really detailed at the same time. We both have similar, quite dark, senses of humour I think, which helps a lot.
How did being critiqued by a class of five-years-olds come about and how did it go!? 
It came about because my kid has a big mouth, and he told his teacher that I write books. And it was terrifying!
With the exception of one guy in Manchester, who rolled in drunk, helped himself to all the beer, heckled me and started to leer at all the women in the audience, everyone at all my adult author events has been polite enough to disguise their boredom. Kids don't do that AT ALL.
But in a way, it was the most useful thing I could have done. I read the class an unfinished version of the book, and I was so petrified that I basically rewrote it on the fly for them; pre-empting the boring bits and putting more loud noises in.
The book is much tighter as a result. One nice thing, though, is that my son was in the audience. When I finished reading, he ran up to me and gave me the biggest hug. If nothing else, that's a career highlight.
What were the different challenges in writing for a child audience?
I'm a pretty epic waffler most of the time. Give me a subject and I can quite easily fill 1,000 words with jokes and riffs and tangents. But Jonathan the Magic Pony is only about 500 words long, and every single word has to be exactly right. I've had huge email conversations with my editor about single sentences, and that doesn't really happen elsewhere. Also: not swearing.
Do you have any more children's books up your sleeve?
Yes! I'm signed to do more for Puffin with Nicola; one is probably going to be a Jonathan sequel, and one is a new story. Writing picture books is so satisfyingly collaborative – this book should honestly be credited four ways between me, Nicola, my editor and the designer – that I'd like to do it for as long as they'll let me.
Jonathan the Magic Pony by Stuart Heritage and illustrated by Nicola Slater is published by Puffin Books on August 20th RRP £6.99.