Tame the beast with these excellent facial hair grooming kits that no rugged beardsman should be without.
Beards have been decidedly back in fashion for quite some time now. In fact, it seems like the whole world and his wife is sporting some form of facial fuzz.
But what really separates the men from the boys is the time and care put into sculpting their whiskers into a thing of glorious beauty. With the help of these grooming products, you too can turn your beard from a shaggy mess into a work of art.
Billy Jealousy Beard Envy Beard Refining Kit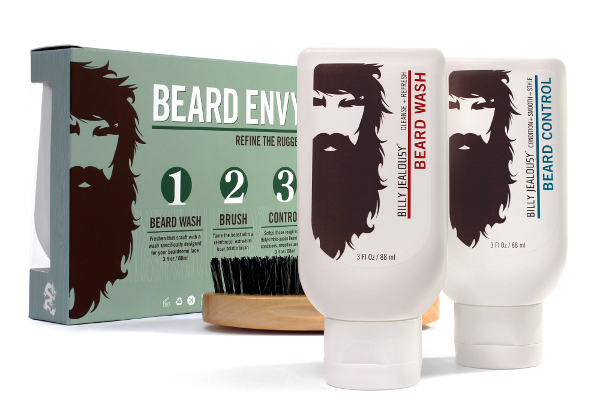 If you want to keep your whiskers looking tip-top and in fashion, they need to be pampered thoroughly.
This pack includes a hydrating Beard Wash made from aloe and soy protein designed to clean, soften and detangle even the gnarliest of face-furniture, leaving it silky-smooth and frizz-free.
Once you've softened it up, you can tame the beast with a reinforced, extra firm Boar Bristle Brush and then style to perfection using the specially engineered jojoba oil.
amazon.co.uk | £25
Men Rock Beardy Beloved Kit
This one is a must for any gents out there sporting lumberjack level lip-luggage.
Keep your beard garden-fresh and completely free of debris with the Men Rock Beard Soap. Not only will it rid you of the dirt that naturally finds its way onto your face throughout the day, it's also great for cutting through any stubborn styling products you've willingly subjected it to – best used to scrub up before bed.
Combat the inevitable itch with the Men Rock's Soothing Beard Balm, the first 'leave-in' moisturising conditioner formulated specifically for face-fuzz. Then top it all off by sculpting with the sweet smelling Sandalwood Styling Wax.
thehut.com | £29.50
Damn Handsome Beard Grooming Kit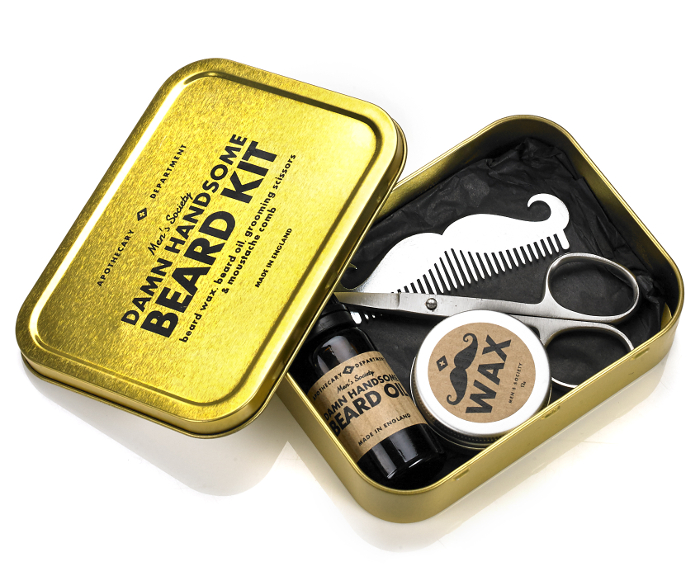 This handy pocket-sized grooming kit comes with everything you need to soften, moisturise and style your moustache and/or beard.
Inside you'll find all the essential products needed to maintain your glorious whiskers including an all-natural, spice-scented beard oil designed to cleanse the skin beneath the hair, moustache wax to add your own unique flare to your upper lip upholstery, and for close detail grooming, a stainless steel, moustache shaped comb and scissors.
As an added bonus, you'll even find a simple four-step beard styling guide so that you can use everything inside to maximise your tache-factor.
shop.royalacademy.org.uk | £30
Gentleman's Beard Grooming Kit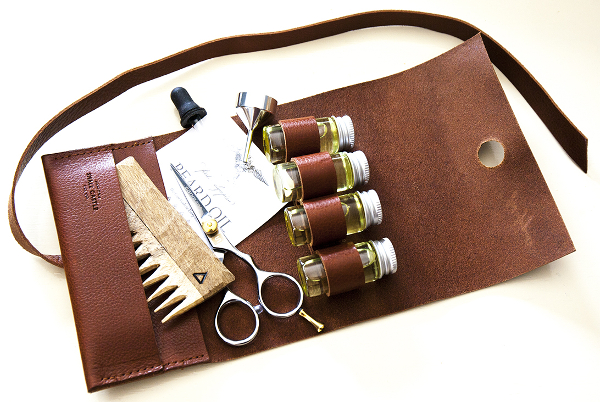 This quality grooming kit is designed with the moustachioed gentleman in mind. Handmade by British artisans, these sets are only produced in small batches and therefore limited edition.
By splashing out that little bit extra cash, you'll get a handmade "Viking" beard comb, carved from seasoned walnut heartwood, sturdy enough to tame even the ZZ Top-iest of beards, and professional grade steel, gold trim Japanese scissors to elegantly eliminate any stray hairs – all wrapped in a hand stitched, English bridle leather roll.
You can also choose any combination of four 12.5ml bottles of First Olympian Beard Oil, to be applied with the vintage 1970s Austrian Oil Funnel included in this kit.
firstolympian.com | £94
Percy Nobleman's Ultimate Grooming Box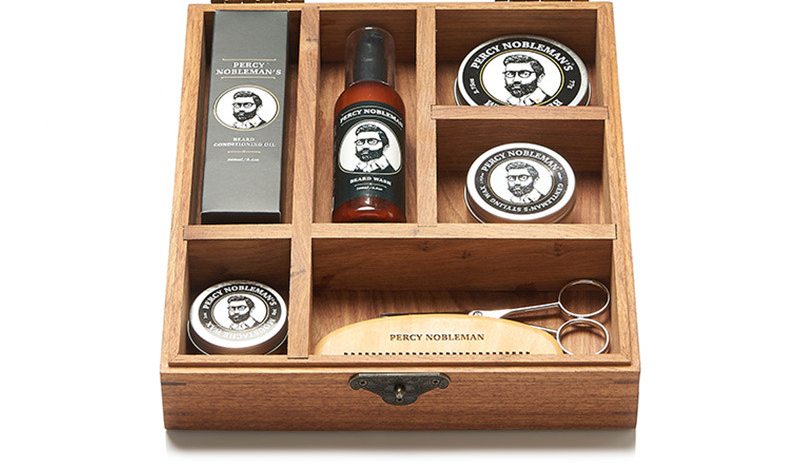 As any proud member of the Hirsute Mug Club knows, presentation is everything.
Inside this handcrafted box, made from the finest African Rosewood, you'll find a whole range of products including conditioning oil, beard wash, moustache and beard wax, beard balm, as well as comb and scissors – all collectively worth almost £100.
Neatly pack away everything you'll ever need to take the very best care of your chops, but hurry, due to the nature of the construction, these too are only available in limited batches.
percynobleman.com | £115