As we head towards the dark, colder days of winter, you may be starting to think about tucking your car away until the spring.
If so, the latest storage product from TyreDox is worth a look. Created by two self-proclaimed petrolheads, Sam Ellis, and Ben Ashton, the TyreDox concept was developed whilst working as Aston Martin specialists.
"We saw that customers were regularly replacing expensive tyres, despite little use and often with modest mileage," explained Ellis, who at 24 is the youngest ever Concours Judge for The Aston Martin Owners' Club.
Fresh Approach
With a lack of regular movement, tyres can become misshapen, with the potential for flat spots, and a perishing of their structure. This can lead to early replacement. With performance tyres now upwards of £250 a piece, and specialists often preferring to replace in pairs, it can get very expensive.
In addition to the potential for tyre damage, leaving the handbrake on during long term storage can risk fusing the brake pads to the discs, which is far from ideal.
Ellis said: "Having researched the existing solutions, we were surprised to learn that they were sometimes pricey, often poorly designed and occasionally just plain ineffective, so we decided a fresh approach was needed."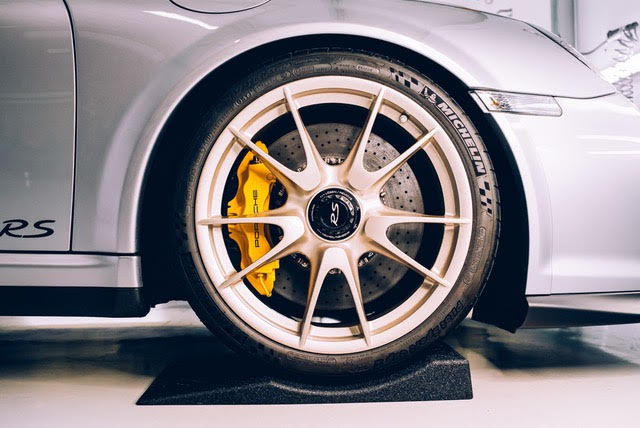 Recycled
Made in the UK from 93% recycled crumb rubber, TyreDox's shape integrates a grooved ramp for maximum grip, leading to a concave cushion. It's the surface of this cushion which follows the contour of the tyre, significantly increasing the contact area to spread the load.
"We wanted to deliver a positive feel when the vehicle is correctly located," added Ashton. "Enabling it to be stored without engaging the handbrake to avoid stretched cables and linkages and sticking brake pads was a key part of our design considerations."
You can expect a set of TyreDox to cost less than a single premium tyre. Suitable for a broad range of tyres up to 23-inches in diameter and 13-inches wide, they weigh in at over 7kg each, so they're going to last. What's more, they have integrated handles to hang out of the way when not in use.
You can find out more at www.tyredox.co.uk or ask at your specialist storage provider.