Cybex's electronic stroller is the game changer that parents have been waiting for.
The Cybex Priam stroller is undoubtably one of the most impressive luxury strollers on the market today. So how you do you go about improving it? Stick a motor in it, I hear you shout? Of course…
Sublime manoeuvrability
Last summer, Cybex introduced the e-Priam stroller to the world, and we recently got our hands on this piece of innovative parenting kit. As well as testing the standard e-Priam and seat, we also tried the add-ons available for it, including the Platinum Lux Carry Cot, Platinum Lite Cot and Cloud Z iSize car seat.  
The first thing you notice out and about is the sublime manoeuvrability that the stroller affords you. This is in part thanks to the huge back wheels and four-wheel suspension that seem to shrug off big curbs and cracked pavements (and there are a lot where I live) with ease, allowing your child, for example, to carry on sleeping without being disturbed. It's no problem even handling the stroller with one hand, say if you're holding your toddler's hand with the other. At all times, you feel in control.
The basket on the bottom is lovely and commodious and well protected. The front has a net covering and the back has a flap that you can fold inwards to cover your few bits and bobs. However, it opens up for when you need that extra bit of space such as doing a mid-week food shop.
Ample battery life
The stroller's biggest strength, though, is the little electronic motor inside that assists you when going up inclines, down declines and when on rough, uneven surfaces like cobbles and sand. If you're wondering, and without being too technical, it works by using a sensor in the handle bar that detect any extra pressure when pushing. When it does, then the motor kicks in and assists you. And if it all sounds too futuristic and too good to be true, it isn't.
The Cybex e-Priam motor works wonderfully and takes the edge out of otherwise tiresome pushing when I tested it around the various contours London's streets. Had I been using my previous stroller, the journeys I took would have been a lot harder on my arms, legs and body.
To activate the assistance, it's just a simple case of moving the switch on the back axle that's next to the footbrake (which is also easy to flick on and off) with your foot. You'll see the lights flash on for a moment and then you're all set. And it takes approximately six hours to charge the battery, which attaches on to the back of the rear axle, providing you with up to around 30 miles depending on the terrain – in other words, it has plenty of battery life.
Complete convenience
The e-Priam is a 4-in-1 travel system that's useable from birth right up to around four years (17kg). The seat that comes with the frame, which has no-fuss three-point harness, can be used as both front- and rearward facing. It also has nice little foot rest and with one hand, you can tilt the seat completely flat for when your toddlers wants to sleep.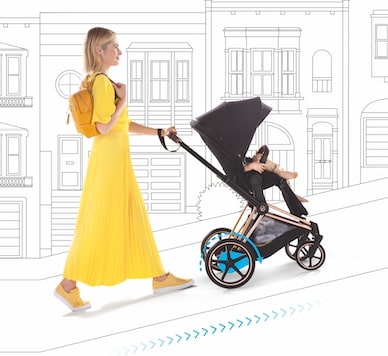 What I especially love about the the Cybex e-Priam is that, when swapping the seat for the Platinum Lux Carry Cot (£269.95), you don't then have to swap over the leather-styled bumper bar and (very) extendable sun canopy like on some other strollers. It makes the whole process much more convenient when you're short on time, as parents tend to be!
The ventilated Lux carry cot is certainly one of, if not the, roomiest cots for you baby to comfortable lie in. For example, I could easily slip my baby in and out of their outwear suit while they were in the cot. Again, making parenting life that bit more convenient. Likewise, the Cloud Z iSize car seat (from £224.95) is easy to put on the stroller with the help of a couple of adaptors.
I also like the fact that, when the car seat is on the stroller, you're able to extend the seat backwards so that your baby can lie flat. It's easy to then unclip the seat from the stroller and put into a car with one deft move. It's worth noting that the car seat can be safely attached to you car using seatbelts – or you can use the Cybex car seat base Z (£184.95) if you prefer.
Added bonus
The Platinum Lite Cot (from £134.95) is another neat available add-on. It lets you turn the standard seat into a cot that's suitable for your newborn and is easy to attach once you've had a flick through the instructions. Although it's not quite up to the spacious comfort standards of the Lux Cot, it's still comfortable in its own right and my baby slept just as soundly and securely in it when on our travels.
The bonus with the Lite Cot is that it will save you space around the home as it up folds nice and small when not in use. And then, once your baby has outgrown it (approximately six months) and is using the standard seat, it can be use as a handy protection against the wind and other inclement weather.
Verdict
The gorgeous-looking Cybex e-Priam is everything a parent could want in a stroller. The sturdy frame, huge back wheels and all-over wheel suspension provide a priceless reliability. You just know that when you step outside, it's going to be an easy, pleasant ride for both you and your child. And that's before you even get to the USP: the more-than-helpful electric motor sets this stroller apart from everyone else in the luxury parenting market.