From packed lunches to nappy changing necessities, Skip Hop's new parenting products will always have you covered.
Skip Hop, the innovative lifestyle brand for parents, has come up trumps again with their new selection of essential parenting products.
Stainless-Steel Lunch Kits, RRP £18
Pack your little one's lunch, snacks and more in this handy stainless-steel kit. Designed to stack and lock together, the set includes one large and one small container with secure lids for on-the-go convenience. Choose your favourite ZOO character and match it to your backpack, lunchie and more mealtime must-haves in the collection.
Skip Hop ZOO Stainless Steel Lunch Kits are available in five adorable ZOO characters, including Marshall Monkey, Ferguson Fox, Blossom Butterfly, Darby Dog and Eureka Unicorn, and are suitable from three years old. Plus, they are dishwasher-safe.
Features include two stackable and lockable stainless-steel containers with secure lids and a hinged lid that's leak-proof and with easy-to-use clips. It also fits perfectly inside ZOO Lunchie lunch bags.
Sort & Spin Yeti, RRP £28
The new Skip Hop Explore & More Sort & Spin Yeti will be your little one's learning buddy. It's an interactive pal to teach, play and keep them engaged for hours of fun.
Teach your toddler shapes and colours in three stages. The interactive Yeti talks, spins and more as little one explores. As baby learns and grows, it switches to a shape sorter and game mode with rewarding lights, music, phrases and giggles.
Stage one – Little ones learn the names of the shapes and colours as they press the light-up buttons on his chest.
Stage two – Yeti becomes a free-play shape sorter. Tiny learners get to know each shape and where they fit.
Stage three – It's game time! Yeti is the quiz master and the child is directed to find the shapes and colours themselves.
Suitable from nine months up until the age of three years, your little one's abominable friend requires four AA batteries (not included).
Nursery Style Nappy Pail, RRP £75
The new Nursery Style Nappy Pail assists parents in their day-to-day changing needs. Sleek and streamlined, this space-saving nappy pail features an odour-resistant steel bin and a dual air-lock disposal system that traps smells inside, meaning your nursery stays fresh.
The tall and slim design stands flat against the wall or next to your changing station and fits standard bin bags – so there are no special bags needed. This means that you'll save money too, as you won't have to purchase any highly priced specialised bags. The built-in storage compartment keeps changing essentials within easy reach.
Features include:
Easy disposal system with no direct exposure to dirty nappies.
Universal bin bag compatible.
Built-in bin for holding diapering essentials.
2-stage air lock keeps odours in at all times.
Steel body absorbs less smells than plastic bins.
Taller design means no need to bend over when disposing of dirty nappies.
Wipe-clean surfaces.
Designed to fit with modern nursery décor.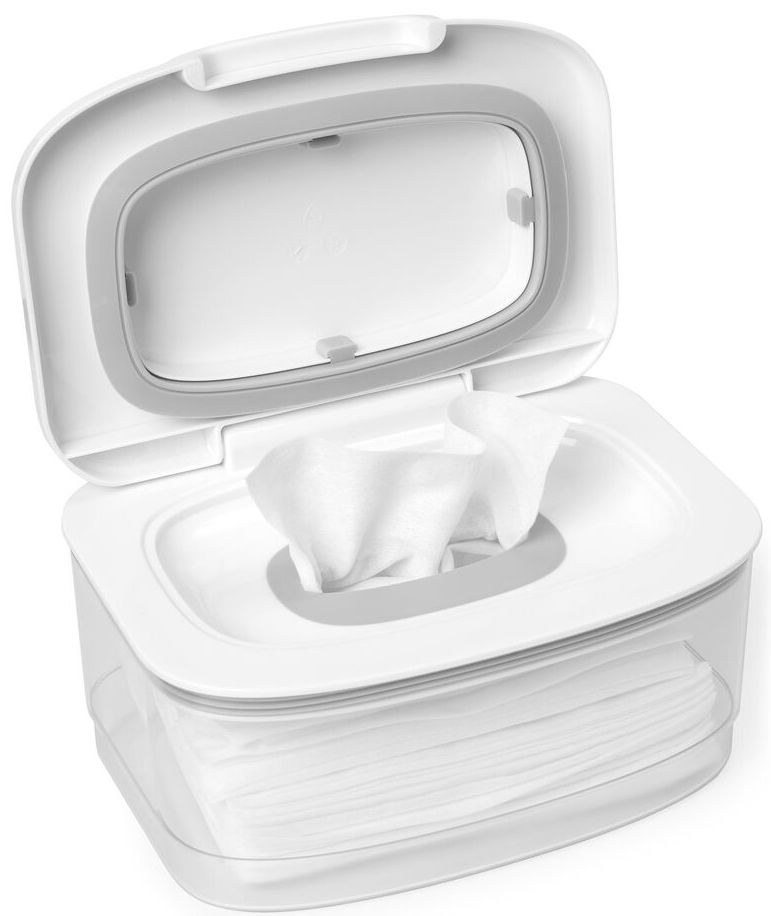 Nursery Style Wipe Holder, RRP £12
The clear solution for keeping wipes fresh, handy and ready to go Skip Hop's décor-friendly wipes holder features quick and easy single wipe dispensing and a secure lid to seal in moisture. Plus, it fits perfectly onto the Nursery Style Nappy Pail.