Children need stimulating environments to be able to learn and grow to their full potential and where better to start than by designing their room?
Children's bedrooms can be turned into a realm of imagination where you let your decorating creativity run wild. The latest trends in children's rooms are all about having fun – from the ceiling to the floor. You may prefer the minimal look, with clean, straight lines and neutral colours, but your child will much prefer somewhere exciting where they can unwind and play happily.
There's no reason why your child's bed can't double up as a pirate ship, a tree house or a castle. Imagine the games that can be played if your child can jet off into imaginary space from their bed to visit the moon, not to mention that bedtime might be more appealing to children if their bed feels like a fun and relaxing place to be. Playful children's furniture is all the rage and many of them come as an all-in-one complete with a bed, a reading area, a play area and lots of handy storage space.
Children-sized furniture is important for your child because they can use it with ease, but it is also practical – it's easier to fit it all in and leaves plenty of floor space for stepping over stray toys. For lots of us, space can be an issue, so choosing a loft-bed maximises available floor space and creates a cosy private sleeping area for your child.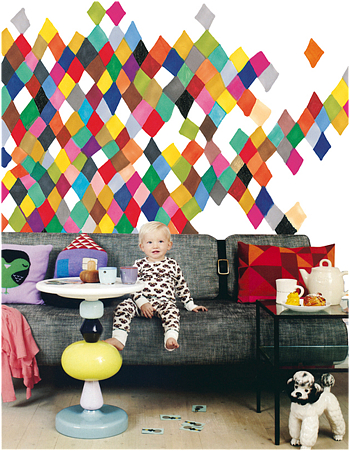 Looking at the walls, it's big and bold that's making a move right now. Geometric colour blocking like harlequin patterns in vivid colours is both fun for the kids and its retro feel can keep you – as a sophisticated parent – happy too. The lively colours take away the feeling of a gender specific room making it a fashionable solution to avoiding gender stereotypes or a perfect choice for siblings with differing tastes!
Another trend for your children's walls is 3D wall art. This is one you can turn into an art project with your child. Placing paper figures like origami birds on the walls makes for a pretty and unique feature, and one that you can change easily and cheaply if you get bored with it. As a busy parent, murals are a quick and simple choice whilst still looking great.
If you're not into folding paper and murals aren't your style, remove the glass from an old frame, place the frame on the wall and put a toy car, some old building blocks or a forgotten teddy bear inside it.
The ceiling is often forgotten but why not include it in your decor? The colour blocking can be continued onto the ceiling on one side of the room, creating the feeling of separate spaces. This is a good choice for differentiating the 'sleeping and winding-down area' from the 'exciting play area' for those children who need more clarity. Your origami birds could continue up the walls and hang over your child's bed.
Painting it red and white and hanging colourful garlands from the centre across the ceiling will make your child's room feel like the inside of a circus tent. Young children love to learn and grasp quickly when they are seeing something daily so how about a ceiling full of glow in the dark stars with the planets hanging from it. Making the planets distinctive in size and colour and engaging your child in pointing out the names of each one can be fun and help that hungry brain learn.
You and your partner know your child better than anyone. If he loves the beach how about a seaside theme, if she loves safari parks why not use wild animals as your inspiration? Get them involved and watch their ideas come alive. Get decorating and create a room that really inspires your child's imagination – it's all about the fun!