Combining bold looks and practicality, the Karoq redefined standards in the compact SUV sector when it arrived at the start of 2018.
The brand's second-generation compact SUV joins the fastest-growing sector of the new car market and introduces a host of fresh ideas, advanced powertrains and a further evolution of the brand's acclaimed design language.
Practical
Positioned below the Kodiaq in Skoda's emerging SUV range, the Karoq offers real practicality for families on the move. Thanks to its wheelbase of 2,638mm, you and your passengers will enjoy plenty of legroom, while the Varioflex seating system (standard on the SE L model we tested), allows you to adapt the rear of the car to meet your needs. The system consists of a trio of separate rear seats that can be individually adjusted or removed to create a maximum load volume of 1,810 litres.
Stylish
The Karoq also takes Skoda's design language into new territory. Sporting a bunch of styling features first introduced on the Kodiaq, the Karoq stands out from the crowd thanks to its pleasing proportions and well executed details. The striking front end, for example, houses LED headlights (with an adaptive front light system on the SE L model we drove), along with a broad radiator grille that incorporates the front assist radar system.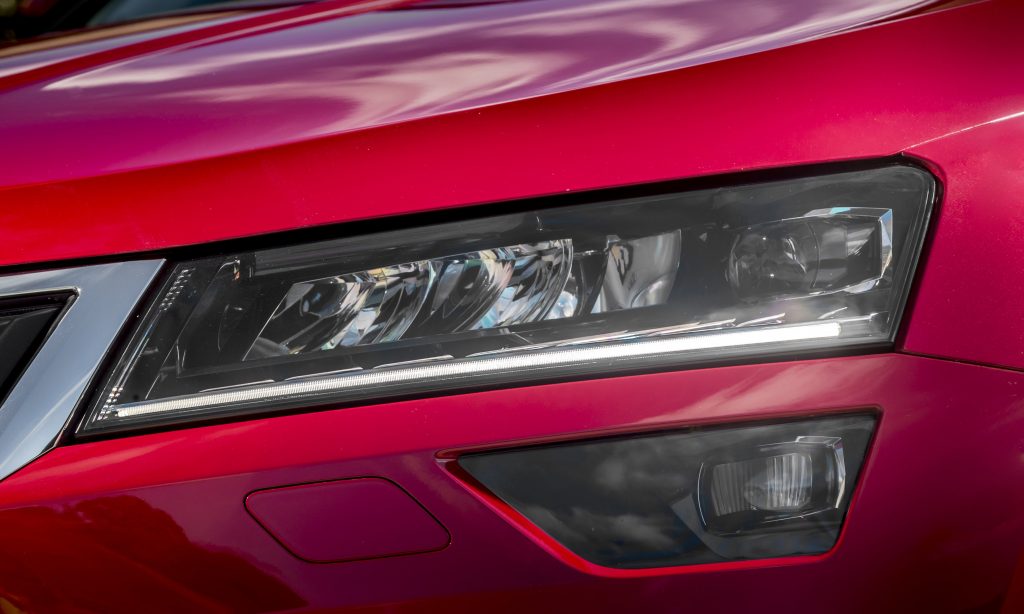 Powerful
You can choose from four engine options – two TSI petrol units with outputs of 115PS and 150 PS, and two TDI diesels also with power outputs of 115PS and 150PS. The most powerful 150PS engines are available with four-wheel drive.
Connected
The Karoq also introduces decent levels of connectivity, thanks to its range of feature-packed infotainment systems. All models are equipped with Smartlink+ and a touchscreen display system as standard, with all except the SE offering units with navigation. Range-topping Edition, SportLine and Scout versions are fitted with Columbus systems featuring a 9.2-inch touchscreen display with Gesture control.
All Karoqs can be specified with Skoda Connect – a suite of advanced features that integrate mobile online services, navigation, information and entertainment. Skoda Connect can also be used remotely and delivers exceptional levels of assistance.
Well-Equipped
The Karoq is available in six trim levels; SE, SE Nav Plus, SE L, Edition, SportLine and Scout – with each grade offering good levels of equipment. Standard features fitted across the range include alloy wheels, privacy glass, LED rear lights, dual-zone climate control, front assist, pedestrian monitor and driver fatigue sensor. An additional SE Technology trim designed to meet the demands of business and fleet users is also available.
Capable
We drove the 2.0 TDI 150PS 4×4, which is the sort of car you'll love if you like to cruise. It'll also handle a little bit of towing and some gentle off-roading. It's perfect if you live in the countryside and for driving in bad weather. But, on road, the Karoq is a comfortable car for starters, with little intrusion from the pitted road surfaces we must endure in the UK. It's also capable in the corners, with very little body roll.
There's one thing you might be questioning – is there a direct-shift gearbox
(DSG) option? Indeed there is – it was fitted to our test car, and we'd vouch for it if you need an automatic transmission. It suits the Karoq well and is a smooth-shifting unit.
Great Value
Skoda is excellent at value-for-money, and starting off at £23,220, the Karoq is no exception. It's well-equipped, comfortable, practical and economical (we managed just north of 40mpg in our 2.0 diesel 4×4 model). It really is a good bet if you're looking for a family-focused SUV, and because it's a Skoda, you're likely to get a very good deal on one, too.