The latest fourth generation Yaris is a car that meets the stresses and strains of urban life, but also provides enjoyment on the open road.
It has been designed to be agile on confined urban streets while providing a spacious, comfortable and high-quality interior. What's more, a new platform is central to the Yaris's improved dynamic performance, giving a lower centre of gravity and much greater body rigidity.
Hybrid Electric Powertrain
The car uses the latest evolution of Toyota's fourth generation hybrid electric powertrain. This gives the supermini better fuel economy, lower emissions and an enhanced capability to operate on its electric power alone, at higher speeds and over longer distances. Indeed, on urban journeys, the Yaris can operate for a significant amount of the time with zero emissions, just like a battery electric vehicle, but with no concerns about recharging.
One Of The World's Safest Small Cars
Reinforcing its reputation as a segment leader in safety, the Yaris again raises the standard. True to Toyota's commitment to democratising safety, it benefits from a greater range of Toyota Safety Sense active systems as standard. Tech includes Advanced Driver Assistance Systems (ADAS), such as Lane Trace Assist, Emergency Steering Assist and Intersection Turn Assistance.
But that's not all. The functionality of the Pre-Collision System has been increased so that it can detect pedestrians by day and night – and cyclists in daytime driving. The new Yaris also offers segment-first Intersection Turn Assistance to recognise collision risks with oncoming traffic and pedestrians when making a turn at a junction. What's more, it's the first Toyota to be equipped with centre airbags. These help prevent you and your passengers colliding with each other in – God forbid – a side impact.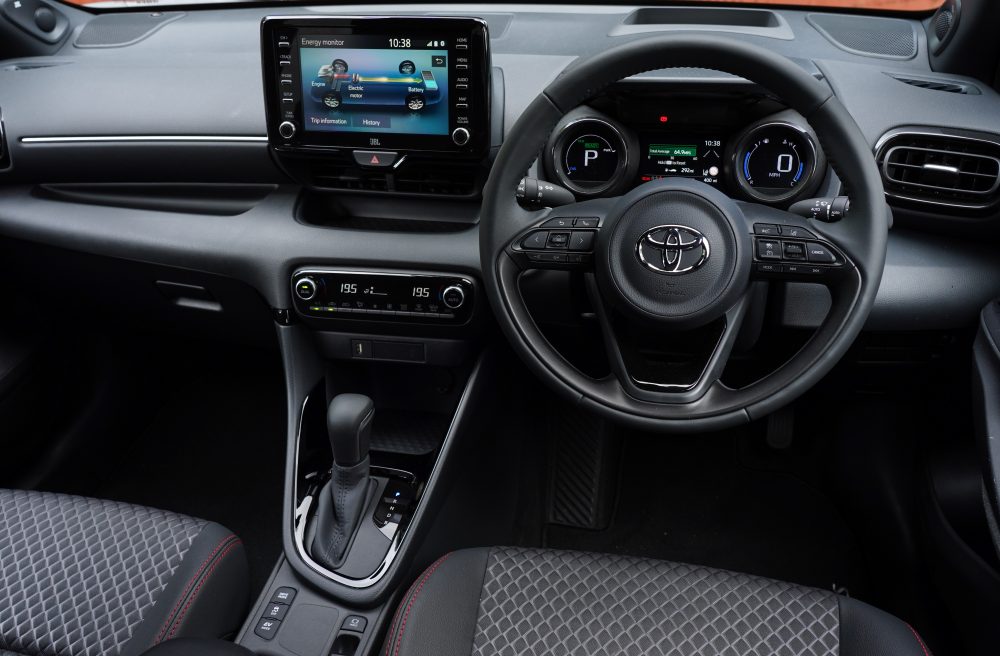 So, dads, listen up: with these provisions and the benefit of increased body rigidity from the new platform, you'll be driving your kids around in one of the world's safest small cars. Plus, the three-cylinder 1.5-litre hybrid car I drove returns a money-saving 65mpg. But efficiency doesn't equal boring – the Yaris gets from 0-62mph in a nippy 9.7 seconds and it has a top speed of 109mph.
What are you waiting for, guys? The schools are back open – and this is the perfect school-run motor. Believe me, with three kids of my own, I know what I'm talking about. You'll get them all in the car – and you'll find the reversing camera in the Yaris makes it easy as pie to park at busy school drop off and collection times.