Small isn't always delightful, and that's possibly why the Ford Fiesta has ballooned in the 45 years it's been on the market.
I don't think many motorists hanker after a Fiesta, but I'll wager many have driven the hatchback at some point. This is because the Ford is stress-free to pilot; it's cheap as chips to maintain and it's undemanding to find one to buy or lease. Besides, in the case of second-hand Fiestas, if they ever break-down, there's always someone around who can repair them.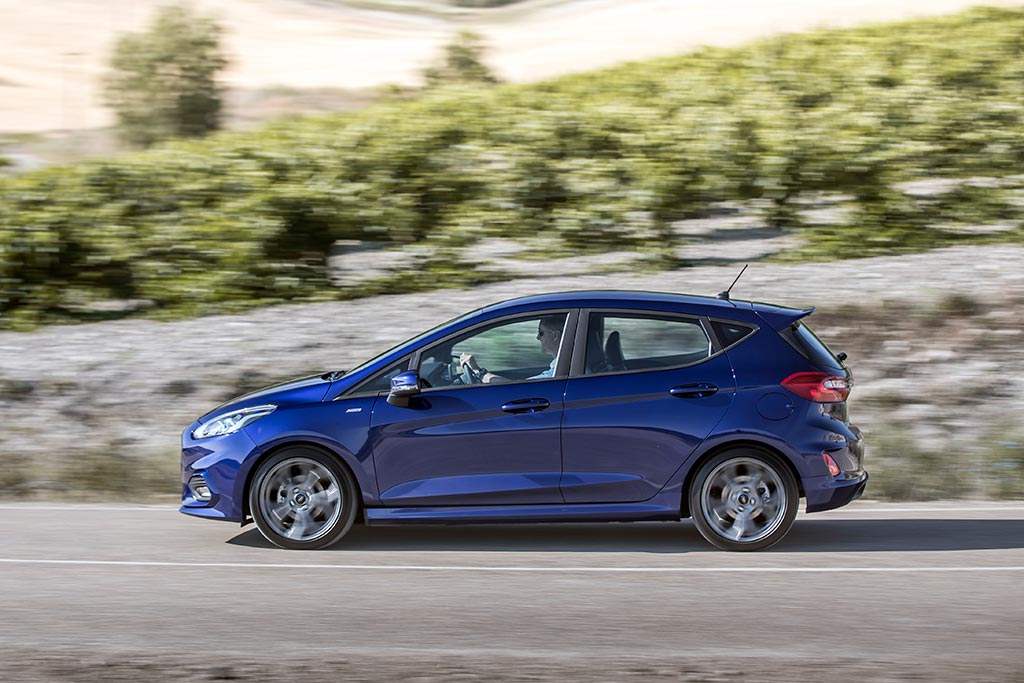 Lifestyle
In my student years, I drove a battered 1979 Fiesta 1300 Sport. It was silver with black stripes, ending with a satisfied 'S' on the flanks. It was more brown than silver, due to corrosion. But it was a lovely little car that got me through a hard-up final year of student journalism. That was in 1993, but nothing much has altered, in terms of what the Fiesta fundamentally offers. Certainly, today's Ford Fiesta will suit any lifestyle.
The new version of the car is buttressed by a group of features and technologies. Across the range these consist of: tech to detect pedestrians, hands-free parking, and a banging audio system.
Sweet Magic
When you first look at the latest Fiesta face on, it's not radically different, but gawp at its backside and it's a different tale. Wider, flatter taillights give the car a sweeter presence than before. And, vitally, it soon becomes apparent that the Ford is now more commodious.
I couldn't get behind the wheel of every Fiesta for this review – that would have been gluttonous. So, I went for the venerated ST Line Edition trim, with the compelling 125 PS Mhev (Mild Hybrid Electric Vehicle) variety of the reputable 1.0-litre three-cylinder petrol unit. ST Lines get a supplementary portion of magic, thanks to a body kit with deep front bumpers, a rear spoiler and side skirts.
Cabin
Inside the five-door hatch, extra wheelbase length creates more room for rear seat passengers' legs. The boot is also decent (for the car's size) at 292-litres, and everything has been transformed in the Fiesta's cabin. Most of the low-priced plastics of old are gone; the indiscriminate assortment of buttons has disappeared and the outmoded, one-colour screens, have been exchanged for full colour ones. It's a much chicer deal inside the Ford Fiesta these days. There are cushioned, soft materials in most places and the rest of the hatch feels solidly manufactured.
The most conspicuous bit of tech in the Fiesta is the substantial touchscreen which is sat atop the dashboard. It looks stuck on, and it could've been integrated more pleasingly, but it's clear and instinctive to use. You can also pair your smartphone via Android Auto and Apple Car Play.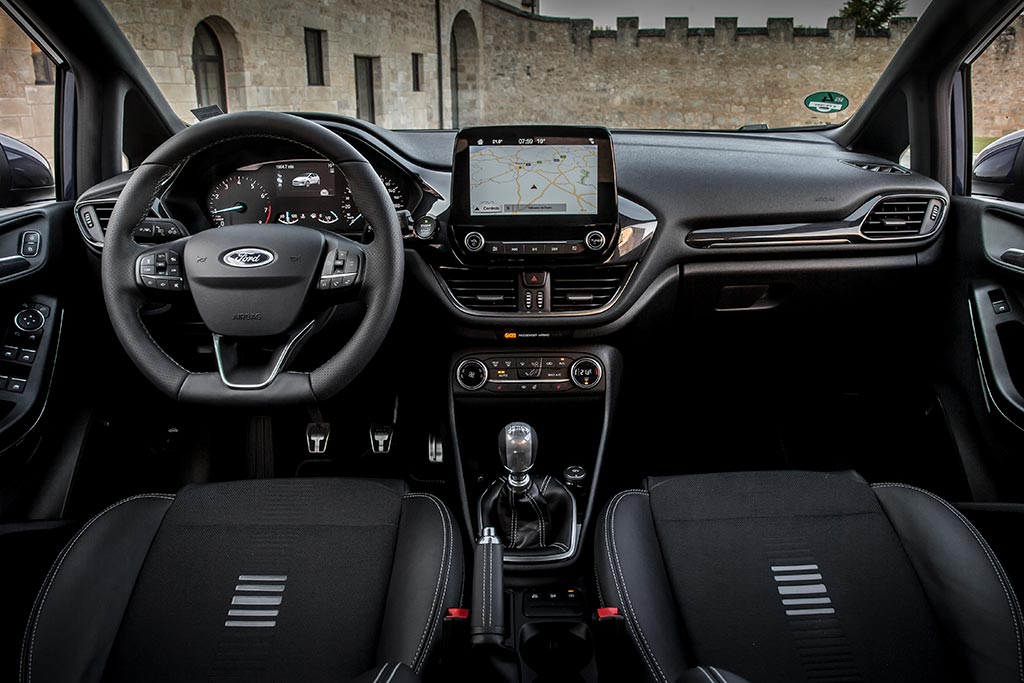 The Drive
But what's the Fiesta like on the move? Well, the ST Line rides lower and firmer, and that means you get a good, flat, line through corners. But the suspension isn't so rigid that you're uncomfortable – indeed, it does a fine job of absorbing any lumps and bumps caused by traumatised tarmac. Additionally, the driving position is outstanding, with good seat and steering wheel adjustment, and the gear lever and pedals are placed so you never feel misaligned in your seat.
The 1.0 Mhev six-speed manual ST-Line edition is very muted, and it's no sloth, with zero to 62mph arriving in 9.4 seconds. More relevantly for most motorists, you can coax between 45-62mpg out of the petrol tank. This is thanks to the mild hybrid element, which offers a small amount of electrical support to the engine. It's clearly efficient, but don't go thinking it's enough for the Ford to run on electric juice alone.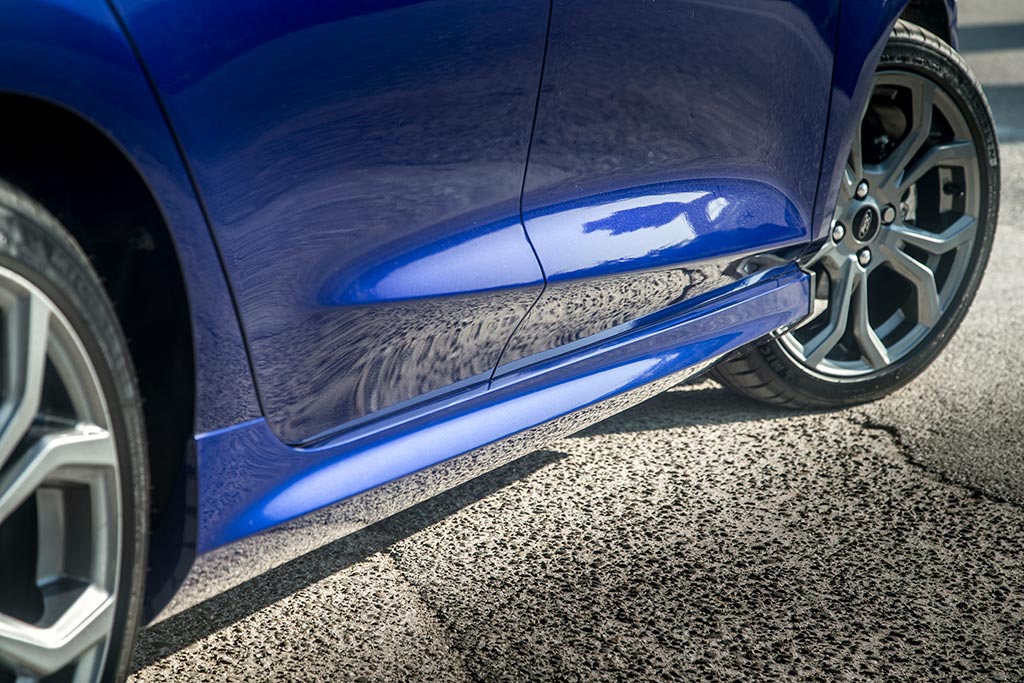 To cut a long story short, the latest Fiesta is one of the most important cars for the United Kingdom, and it's clear to see that this version of the hatchback isn't going to disillusion. It is a blast to drive, yet it's real-world and cost-effective. It essentially ticks all the right boxes – if a small family car with a bit of 'vigour' is what you're seeking.
Fast Facts – Ford Fiesta 1.0 Mhev ST-Line Edition as tested:
Max speed: 126 mph
0-62 mph: 9.4 seconds
Combined mpg: 45.6-62.4
Engine: 999cc three-cylinder petrol turbo + electrical assistance
Max. power (PS): 125
CO2: 117 g/km
Price: £21,160