The Alpine A110 places absolute agility and driving pleasure front and centre, without compromising on everyday comfort.
Designed and manufactured in France, the mid-engined, two-seater coupé features aluminium construction to keep weight to a minimum and sophisticated double-wishbone suspension. The A110 Pure, as driven here, is powered by a turbocharged, 1.8-litre, four-cylinder petrol engine, which develops 252PS. Like all Alpines, it's rear-wheel drive.
The Alpine project was announced in 2012 and four years later, in 2016, the Alpine Vision show car was unveiled in Monaco. A year later, the road-going A110 Première Edition made its public debut at the Geneva Motor Show. Conceived as a responsive, fast-moving standalone brand under the Groupe Renault umbrella, Alpine has its own dedicated design and engineering teams.
As well as a rich heritage in building agile sports cars that are in their element on winding mountain roads, Alpine is also well-known for competing at the highest level of international motorsport. Its crowning glories include winning the 1973 World Rally Championship title and outright victory at the 1978 24 Hours of Le Mans.
Everyday Usability
The A110 is above all else a true Alpine. Designed from a blank sheet it has been engineered to thrill and engage you at all speeds, prioritising driving pleasure above lap times and outright power. It does this without compromising on everyday comfort, and it can be enjoyed by drivers at all levels of experience or ability.
The A110's 44:56 weight distribution – perfect for a mid-engined sports coupé – is helped by the fuel tank being located immediately behind the front axle line. This means the A110 is perfectly balanced in cornering and you feel at one with the car at all times. With its very pliant ride quality and suite of driver aids – including ABS, traction control and stability control – the A110 remains useable, safe and comfortable day-to-day.
The 100-litre storage space in the front is generous enough to accept a pair of airline carry-on cases side-by-side, while the 96-litre rear storage compartment can accommodate two full-face helmets plus an overnight bag.
Access to the high-quality cabin is among the best in the sports car sector thanks to the low and narrow sill. The floating centre console gives a sense of purpose and lightness, while the fixed bucket sports seats keep weight to a minimum. The aluminium pedals, meanwhile, and passenger footplate mirror the car's featherweight construction.
Proudly displaying a numbered plaque on the centre console, each A110 comes fully-equipped as standard. Navigation, climate control and cruise control ensure the car is as effortless in everyday use as it is fun to drive.
The A110 tested here also came equipped with MySpin mobile phone connectivity, which 'mirrors' your smartphone to allow safe and simple use when on the move, further underlining the car's day-to-day usability.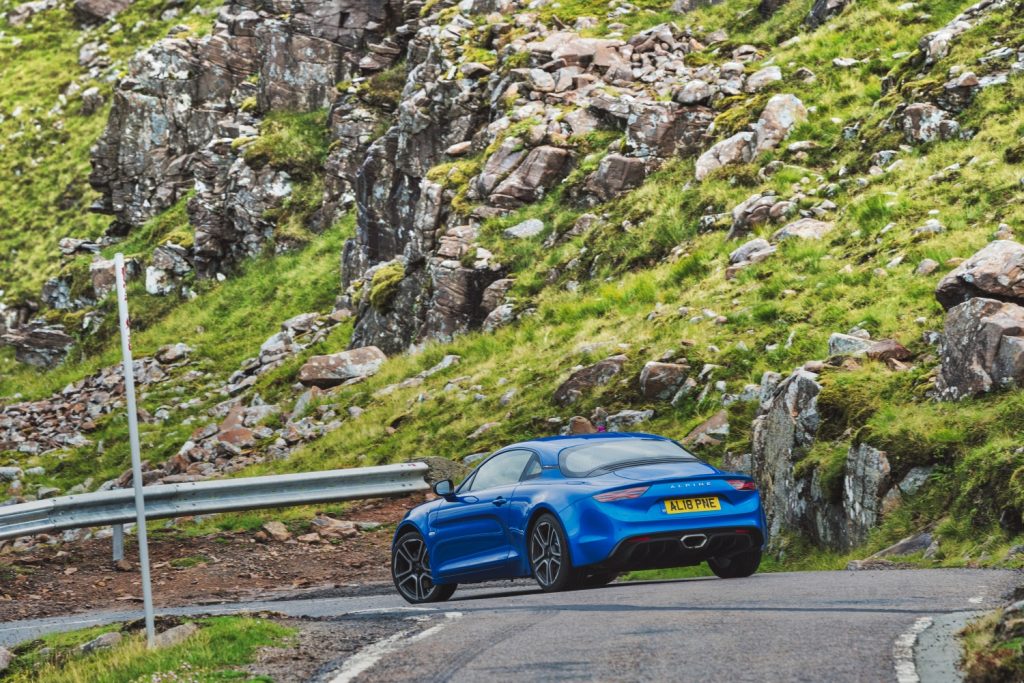 Dads, if you're after a family car, well, this isn't it. But, if you're after an additional fun car for yourself – and maybe one passenger – then this is one hell of a boy's toy to buy. You may be a father, but you're still allowed to be you. So, if you've got the cash and you've got the space to park up a little Alpine, then, there's only one question you've got left to ask yourself: "why the hell not?".
Fast Facts – Alpine A110 Pure as tested:
Max speed: 155 mph
0-62 mph: 4.5 secs
Combined mpg: 44
Engine layout: 1798cc four-cylinder turbo petrol
Max. power (PS): 252
CO2: 156 g/km       
Price: £49,225