It is a Mustang – but not as you know it.
Yep, folks, this is a high-riding all-electric SUV – and it's about as far from a muscle car as you can get.
Well, what I mean by that is, it's not a gas-guzzler and it doesn't have a V8 lump under the hood. What it does have, however, is a whopping electric motor and a battery back big enough to produce brain-liquidating acceleration.
I know, you're right, Steve McQueen would be turning in his grave right now if he could see the new Mustang Mach-E. But, hey, life moves on – and the electric revolution is here.
By 2030 the UK won't allow the sale of new petrol or diesel cars – and Ford, as well as other major automakers are getting in there early. It's right that they are, because emissions regulations are getting tighter, and 2030 isn't that far away – not in the great scheme of things.
The Mach-E hasn't been on UK roads that long, and I got the chance to go for a spin in one. The new Blue Oval badged car is quiet. What's more, even though the electrified SUV looks big and feels large inside, it's nimble enough to navigate city streets – and, somehow, it's compact enough to chuck U-turns without hassle.
Is it a beast, though? Well, "yes" is the short answer. My head snapped backwards as I floored the pedal. It stays flat in corners and it's hushed – very hushed. The quality of the cabin is bang on, too.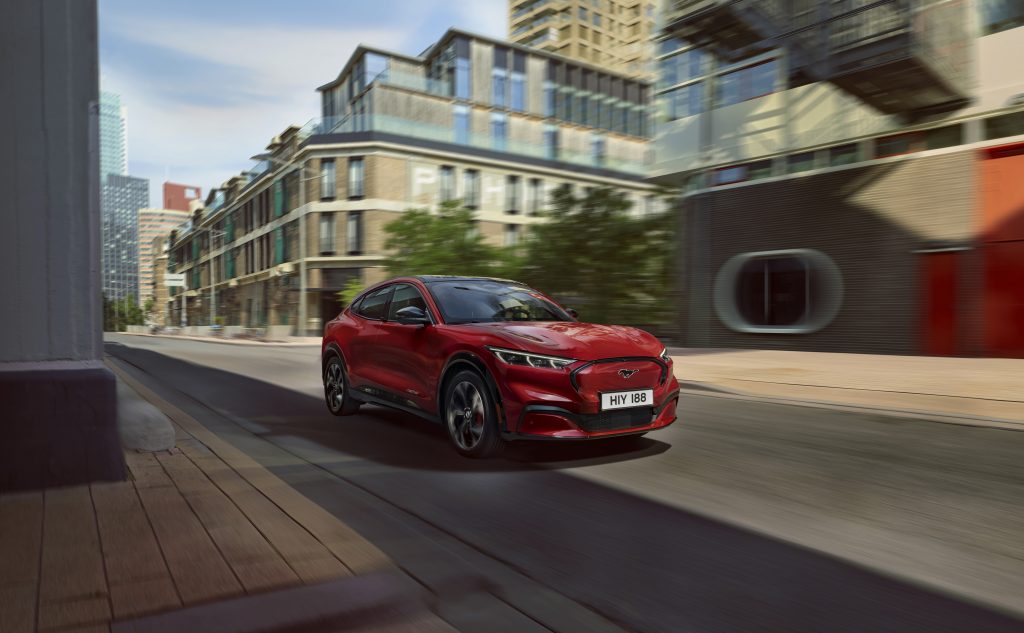 But what about all the electric gubbins and stuff? Well, the Mustang comes with standard and extended-range battery options. It is also be fitted with rear-wheel drive and all-wheel drive.
As I've mentioned, it picks up the pace rapidly – but more importantly it has a range of up to 370 miles. Ford has also recently launched a performance GT variant, capable of zero to 62 mph in sub five seconds.
The sporty high-rider delivers a trio of drive modes – Whisper, Engage and Unbridled – each offering driving dynamics parcelled with a sensory experience. Features encompass, ambient lighting, sportier steering controls, sounds and animations that are allied to driving behaviour.
Making its first appearance in the Mach-E is the next-generation SYNC entertainment and communications system. This interface understands driving preferences quickly and makes it easier to access information with a pinch or a swipe. Furthermore, due to cloud-based connectivity and voice recognition, the system makes music, navigation and connecting a 'phone to the car faster.
Using an all-electric architecture that positions batteries inside the underbody, engineers and designers have been able to fashion a machine that's not only true to Mustang but also maximises room for five-up.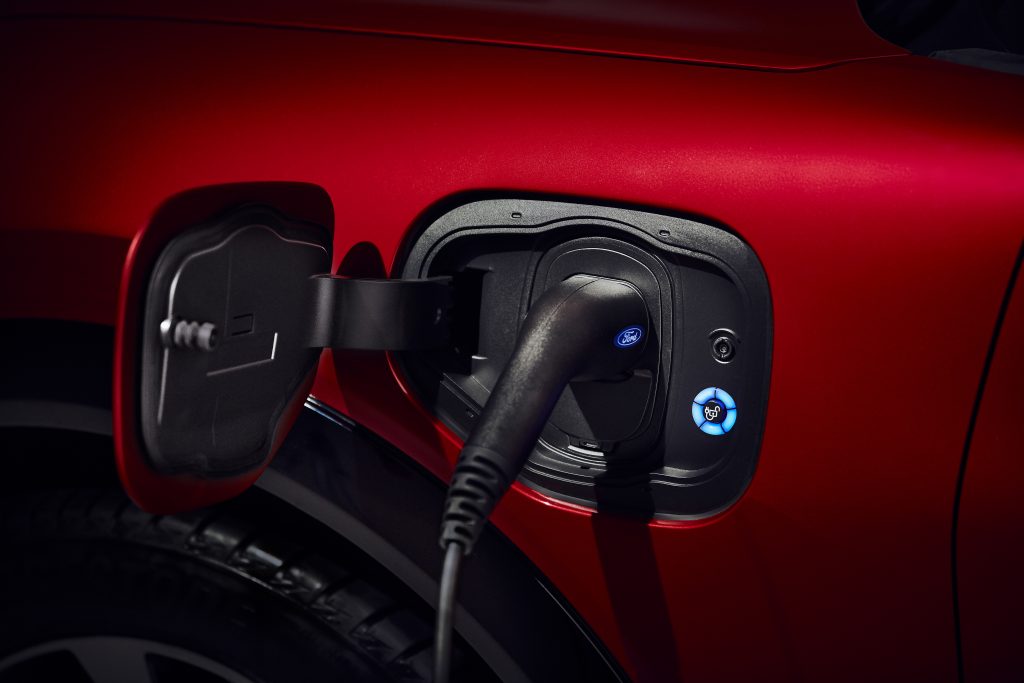 The Mach-E is just about recognisable as a Mustang, thanks to its long, sturdy bonnet, rear-haunches, aggressive headlights and tri-bar taillamps. Smart engineering and design deliver surprising rear-seat roominess and civilised load space.
The Ford holds another revelation under its bonnet: a drainable front boot. Providing 100 litres of space, the front cargo area is sizeable enough to hold a carry-on luggage bag. And because it's drainable, it's a suitable place to chuck wet or muddy sports clothing in.
As well as the front boot, a rear load compartment boasts 402 litres of cargo capacity. But with the rear seats folded, the Mach-E enjoys 1,420 litres of space. That's more than enough for camping gear, luggage or whatever else you may want to cart around.
Everywhere inside the Mustang Mach-E represents a meld of modern design and functionality. A B&O sound system includes speakers integrated across the front, floating above the air vents like a soundbar. A flip-up armrest doubles as a place to keep bags or purses. Time-honoured Mustang design cues, like the double-cowl instrument panel, finish the interior off nicely.
Finally, getting in and starting up the SUV is a breeze with 'Phone As A Key' technology. Using Bluetooth, the Ford can sense your smartphone as you approach, unlocking the Mach-E and allowing you to drive away without getting your 'phone out or using a key. A reserve code can be tapped into a keypad on the SUV to unlock it, and a separate one can be entered into touchscreen to start and drive the vehicle, in the event your phone battery conks out.
As electric vehicle drivers do around 80 per cent of their charging at home, Ford offers a connected wall box, delivering five times the charging ability of a domestic socket. This means you can add an average range of 38 miles per charging hour. The home charge cable, included with the Mach-E, can add around nine miles per charging hour using a mainstream domestic outlet. 
In addition, the connected navigation system will spot public charging locations during trips. It'll also encourage you to charge up at the most suitable points on each drive – all to help make sure you don't sweat buckets about range.
The Mustang Mach-E certainly heralds a new age for Ford – but it symbolises more than just zero-emission driving; it's about anxiety-free experiences, driving fun – and genuine peace-of-mind.