The G70 embodies Genesis' commitment to Europe through its body style, coupled with an expression of the athletic elegance demonstrated in all the luxury marque's vehicles.
The saloon is sexy, has room for five-up and delivers power in spades. Yes, this is a motor that will sort you out on your commute and the school run. But it's also a car you can hoon around bends on your own all day long.
The interior demonstrates an authentic blend of comfort, sophistication, and state-of-the-art technologies. It is clear that quality materials have been used, and, along with an exceptional finish, a fighter jet cockpit appearance emerges.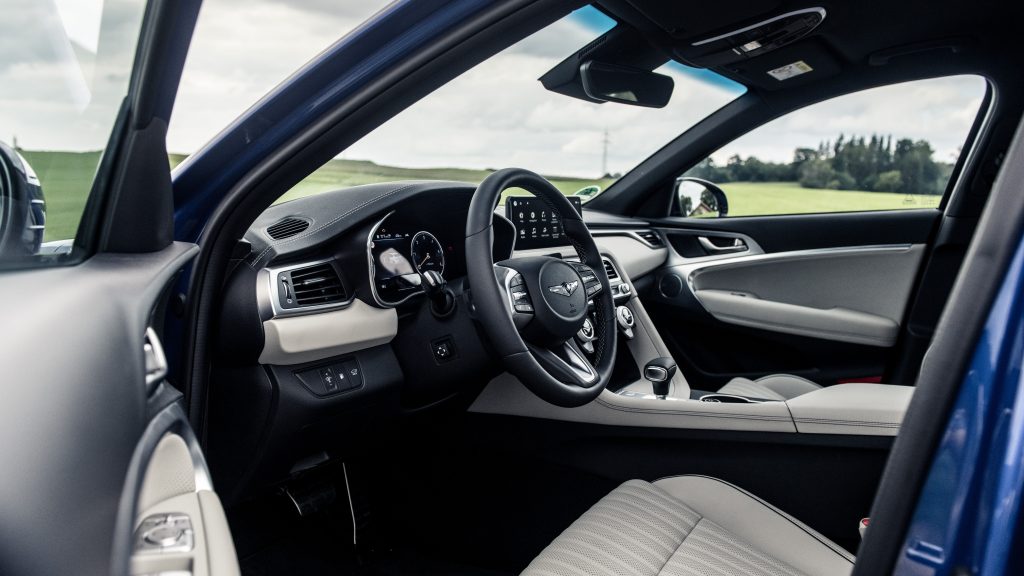 Award-winning technology and class-leading safety come as standard for the G70. Furthermore, with a dedicated Genesis Personal Assistant as well as home delivery and collection, you'll be guided through the entire buying and ownership experience.
Like all Genesis models, there is a firm focus on driver engagement and entertainment. Yet, the G70 is also fortified with the versatility and functionality that allows it to meet the varied needs of motorists with active lifestyles.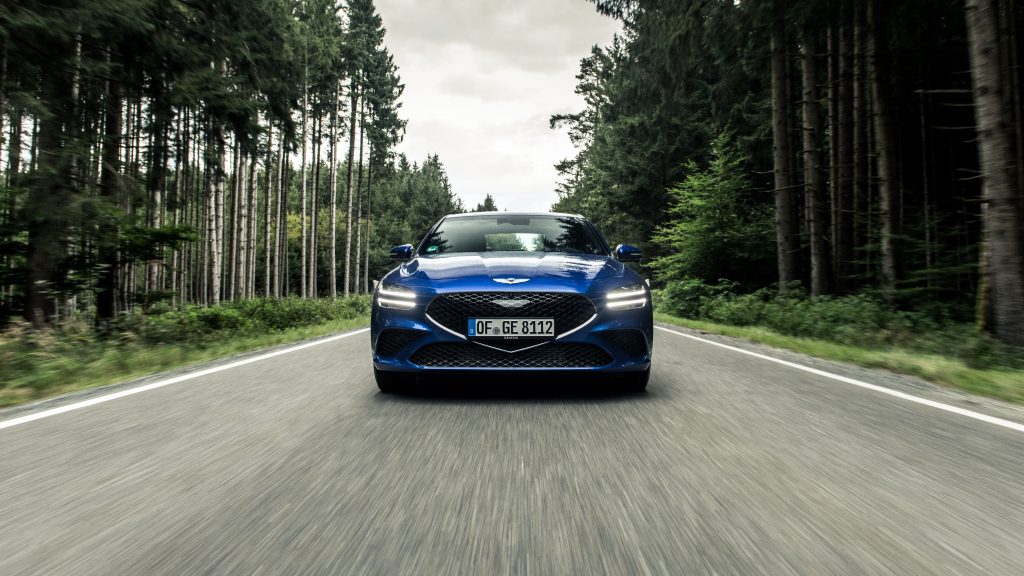 Thump is derived from a couple of commendable four-pot units. You can have a 2.0-litre turbo petrol or a diesel with 2.2 litres of turbo-powered get-up-and-go.
I got behind the wheel of the diesel-driven version. See, new, heavy oil propelled motors aren't dead yet (at least until 2030 in Britain!). The powerplant makes light work of cruising, and, with bags of torque, you get the feeling the car could pull a tree out of the earth (or something comparable, if you get my drift).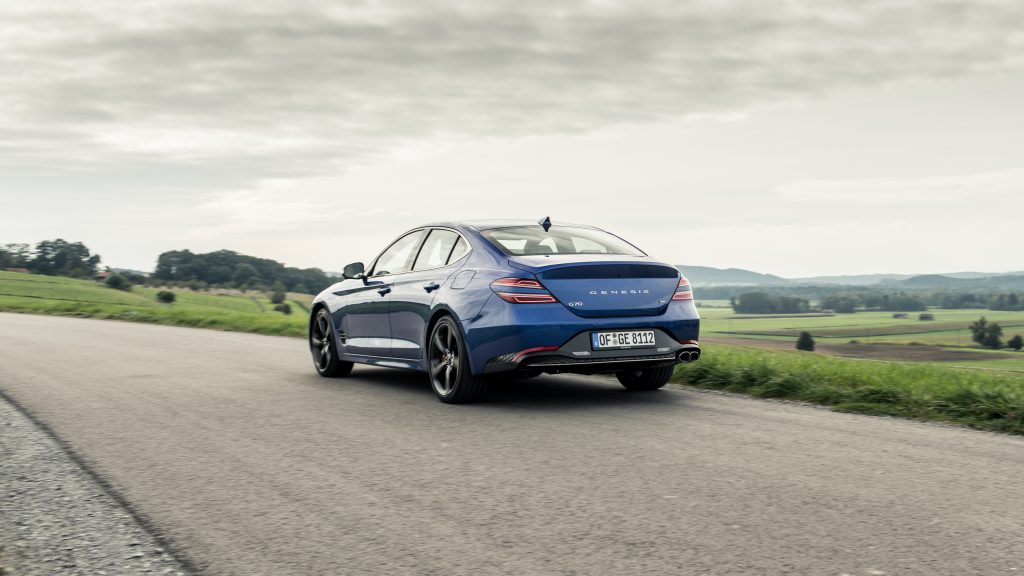 But it is no agricultural sounding diesel – this is a refined saloon car. The eight-speed automatic gearbox changes as effortlessly and slickly as peanut butter spreads on warm toast. And, on a straight section of blacktop with your shoe buried into the shag pile (almost) carpeting, you'll find 62mph is accomplished in just 7.4 seconds.
But, as touched on earlier in this piece, this Genesis G70 also makes light work of bends. And the incisive steering generates confidence about what's going on between rubber and tarmac.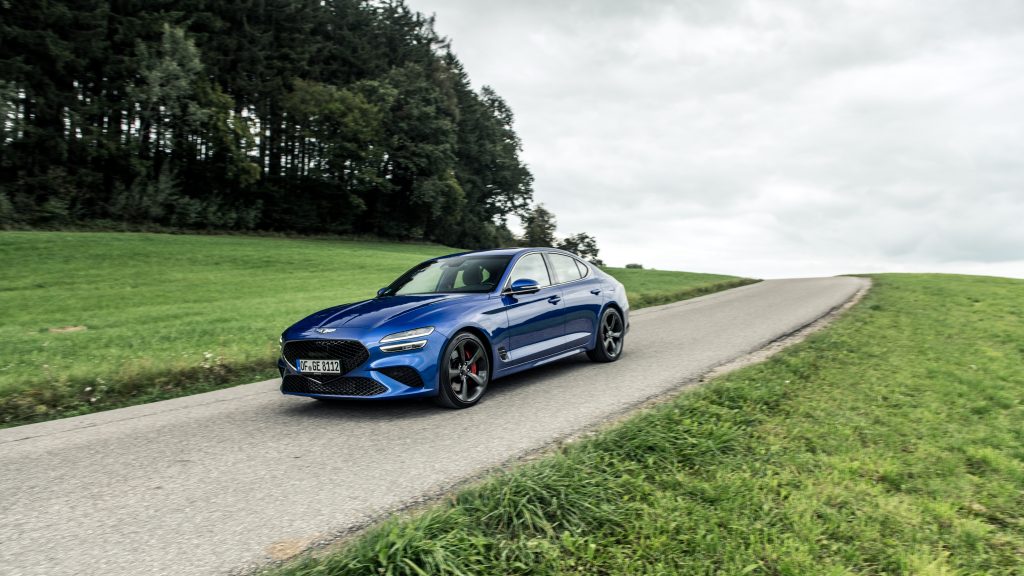 Developed with the Genesis brand's trademark attention to detail, passion, and excitement, the all-new G70 also packs the same technological features and luxurious character as its brother – the G70 Shooting Brake.
In summary, if you're thinking about a new car and picture a German compact executive saloon, then think again and check out Genesis. The South Korean G70 is a worthy competitor and should be on your shopping list, alongside the likes of Mercedes-Benz's C-Class, Audi's A4 and BMW's 3 Series.
Fast Facts – Genesis G70 2.2D Sport Line Auto as tested:
Max Speed: 143 mph
0-62 mph: 7.4 seconds
Combined mpg: 41.8
Engine layout: 2,199cc four-cylinder turbo diesel
Max Power: (PS): 200
CO2: 171 g/km
Price: £40,480