NHS Property Services (NHSPS) and the Royal Devon University Healthcare NHS Foundation Trust (Royal Devon) have partnered with the RSPB to create beautiful, welcoming green spaces at their clinical sites.
The RSPB has been working closely with NHSPS and the Royal Devon, supporting their efforts to go wild with gardens and grounds. The organisations have previously collaborated on various therapeutic gardens at the Wonford site in Exeter, and now they are working on transforming Okehampton Hospital – an NHSPS-run site.
The RSPB and NHSPS have been planning the latest project for months, and this week, they worked together to weed, compost, and plant new shrubs, trees, and bulbs at the hospital's front entrance. The focus has been on creating a welcoming environment for staff, patients, and visitors while supporting nature.
The RSPB has carefully selected nectar-rich plants for bees, giving long flowering times for many colours and 'wow' moments. It has also tried to ensure that there will be flowering all year round, so even in winter, there will be something for everyone to enjoy.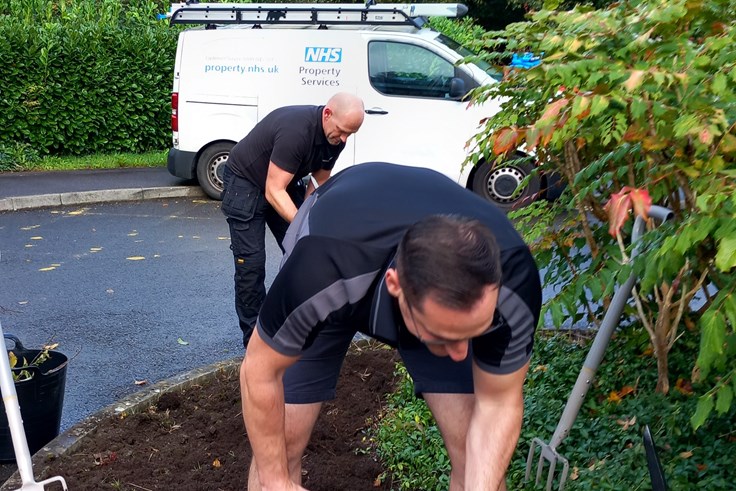 James Unwin, Senior Estates Manager for NHS Property Services (NHSPS), expressed his excitement about the project.
He said: "We are so pleased to be able to volunteer our time and pay for this project with support from Bow Garden and Aquatic Centre, and we value the RSPB for their expert guidance. NHSPS hopes the green spaces now warmly welcome everyone who uses this hospital."
James continued: "NHSPS is keen to do its bit for the planet – and, crucially, help create therapeutic and relaxing spaces for patients and staff to enjoy."
Luke Mitchell, Energy and Sustainability Manager at the Royal Devon said: "It has been great to collaborate with NHSPS and RSPB on this fantastic green project.
"By working together, we have been able to positively impact biodiversity and wildlife, while creating an improved environment for patients. We're proud of what we've achieved and aim to continue making a difference across our community sites."
RSPB's Green Infrastructure Champion Jane Taylor added: "It was such a fun few days – everyone pitched in together, and the results speak for themselves.
"Most importantly, we have tried to ensure there will be something flowering all year round – so even on those cold frosty months when we all need a little lift – there should still be flowers to brighten the day."