Introducing the latest baby and toddler car seat in one.
The award-winning Norwegian car seat brand BeSafe, is introducing its brand new iZi Turn B i-Size – a baby and toddler car seat in one, suitable from birth to four years old. 
Like a true Scandinavian brand, BeSafe prides itself on its innovation and design, with a spirit of adventure at the heart of everything it does. The company enables you to travel at ease, with the knowledge that your children are safely secured in the car. 
A couple of the key features of the new iZi Turn B i-Size include:
360 degree rotation, that makes the transfer in and out of the seat simple and easy, reducing stress for everyone involved.
This seat is fitted with a BeSafe Baby Shell and Newborn Hugger. The Baby Shell is a one-of-a-kind baby insert that provides an ideal sitting angle custom-made for babies. The Baby Shell adds an extra layer of side impact protection to keep babies safe. The additional Newborn Hugger that is placed inside the Baby Shell has a combination of soft material on the sides of the baby and a cleverly placed wedge to keep new-borns snug and supported. It also allows them to lie even flatter by lifting their back instead of the bottom.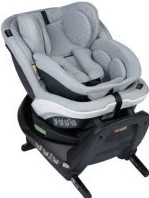 For more information visit: www.BeSafe.com.