If your baby is almost ready to wean, check out these great items from Beaba to get you both started.
Feeding a growing and increasingly hungry baby can be one of the biggest challenges parents face every day, especially when trying to provide nutritious and healthy meals quickly.
Making your own baby food may sound quite daunting, but it's super easy, fun and very rewarding. Plus, you know exactly what's been put in it, so you can be sure of no 'hidden nasties'.
To help get you started on your weaning journey, Beaba, the innovative parenting brand best known for its baby food preparation and feeding ranges, has bundled up* two fabulous weaning starter kits brimming with practical, stylish products which are available exclusively through Argos now.
*Products also sold separately.
Beaba Weaning Essentials Kit (RRP £45)
What's included…
Prepare nutritious and simple dishes during your baby's weaning journey with the BEABA Your Baby's First Food cookbook. This full-color book is a great recipe resource for those who like to cook and want to prepare healthy and wholesome meals for their little ones. From super smooth purees and first tastes, to chunky textures and something a little more adventurous, kids will enjoy eating their five servings of fruit and vegetables every day.
The Silicone Multiportions are stylish and convenient premium quality silicone trays that have six individual compartments to enable you to freeze different tasting recipes at the same time. Food portions are easily controlled for the age and appetite of your baby and can be quickly 'popped out' when needed for defrosting. The moulds can also be used in the oven or microwave, and after baby grows up, can be used as a fun-shaped cake mould.
Beaba's Clip Containers are the perfect solution for freezing, storing, transporting and heating meals for your baby. The set of six clip containers are available in different sizes to help with portioning and minimising waste.  Their clever design makes them stackable and secure when transporting. Perfect for sweet or savoury purees, liquids and finger foods, they are super handy as you can feed your baby straight from the pot if you are out and about. There are four 60ml portions and two 120ml portions.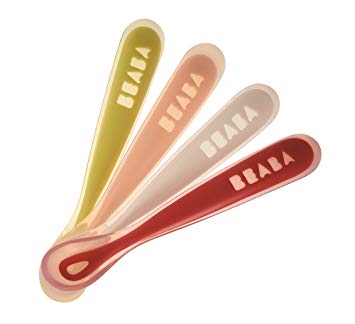 And of course, no weaning set is complete without the addition of a set of four soft silicone spoons, which are especially designed to introduce your baby to solid foods.
The Beaba Accessories Set (RRP £40)
What's included…
Beaba's Silicone Meal Set (4PCS) is the perfect starter set to help you introduce table manners and positive eating habits. The suction cup and easy-to-grip spoon will help babies from four months onwards to build confidence during mealtimes, as well as help prevent any unnecessary accidents through slipping or falling over. Made from durable plastic, the set is long lasting and hard wearing. The set comprises of 1x cup, 1x plate, 1x bowl & 1x spoon. They are dishwasher and microwave safe.
The reusable and refillable BabySqueez' Portion silicone flasks offer you an environmentally friendly, squeezable alternative to disposable pouches. It's simple and convenient to fill the bottles with nutritious, smooth homemade or shop-bought foods like yoghurts, purees or other compotes.
The bottles provide the perfect sized portions for babies to enjoy and the airtight mouthpiece preserves the meal for later, if it is not consumed in one go. Perfect for day trips or long-distance journeys with the peace of mind that the food inside will stay fresh and delicious.
A set of three (420ml, 240ml and 120ml) Baby Portion Conservation premium quality jars, are perfect for storing food items, whether at home or on the go. Plus, they are stackable too so you can fill your fridge or freezer ahead of the game, so you are ready to go.
And of course, don't forget the wonderful Beaba Babycook (available now, RRP £120) designed to help you steam, cook, blend and reheat all of your baby's food to ensure a healthy diet for them.