Can it really be true that 42% of UK children would prefer to stay indoors and play computer games, rather than venture outdoors and play?*
Technology is wonderful for many reasons and is something we simply cannot live without, but it's also important for our young generation of 'whizz kid technophiles' to value the great outdoors; understanding why it's so amazing to see a sunrise, smell freshly cut grass, bound around fields and watch wildlife doing its thing in our gardens!
As parents, we can be held accountable for not encouraging our youngsters to play outside as much as they should – but life is pretty hectic! Both you and your partner work, there's constant homework to do, we ferry the kids here and there to parties and the technology boom means we are always contactable by email. It's all too easy to say 'Johnnie, just watch the TV for a bit while Dad answers his work emails.' It can be hard to switch off from the pressures of life and much more convenient at weekends to think 'I need a break….let's all watch a movie.'
Then, if we can afford a family holiday, we often decide to treat ourselves and venture abroad – but is there really any need? Right on our doorstep in the UK is some of the most mind-blowing and untouched scenery, the perfect setting for a family camping experience.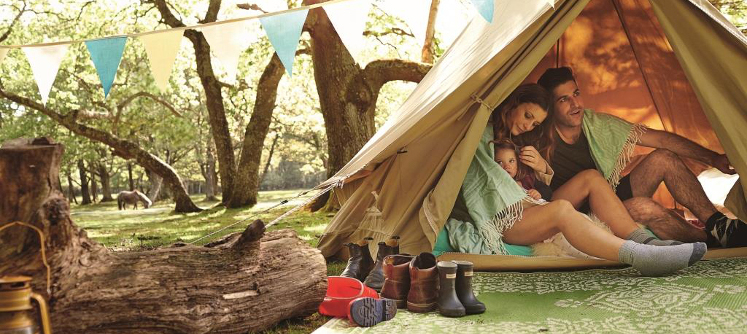 Camping has long been one of the most cost-effective family holidays and for children, surely has everything – what child wouldn't want adventure, to make dens, sleep under the stars and spend the night in a tent on the ground? For dads, this is also the opportunity to channel your inner Bear Grylls, living off the land (sort of!) and reminiscing back to those heady childhood days of treehouses and makeshift castles.
So, you're sold on camping – now, where do you go?
Camping in the Forest is a collection of 16 campsites across England, Scotland and Wales which really couldn't be more perfect for the whole family.
Each site is unique. Most are dog friendly, all welcome caravans, campervans, motorhomes and tents; some have fishing or horse riding on your 'tent step' and all have beautiful woodland trails. Within the 16 sites, you are sure to find the right one for you. If you like rural camping, verging on the wild side, a campsite such as Matley Wood would suit you down to the ground. Others – like Holmsley – feature nature trails which lead to amenities such as a good country pub or local shop (for those who don't fancy becoming too primitive!).
As though the pleasure of spotting and enjoying the abundance of wildlife, including free roaming ponies and deer in the New Forest, wasn't enough, each site also has plenty of local activities for the family.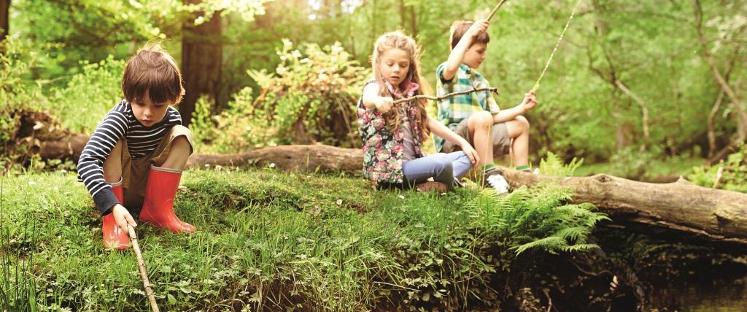 Whichever you decide to pick, all 16 have something in common – a sense of pure escapism from the mania of work and life at home. You just pitch up in nature and spend quality family-time together – what are you waiting for?
To make life a little easier, here are ten great tips for first-time camping:
Tents – opt for a bigger tent than you think you will need for the extra comfort and space.
Bedding – a good night's sleep is vital, choose sleeping bags for convenience, but if you like your home comforts, take your duvet and a blow-up mattress.
Cooking – consider how many people are in your party. Would a single-burner or a double-burner be better?
Lights – a reliable light source is an absolute must on a camping trip so take a good torch or two. LED or solar lights are a really good option!
Clothing – make sure you are kitted out for the unpredictable British weather. Even in the summer, think about packing fleeces, wellies and waterproofs.
Camp Chairs – can be more important than the tent. Sitting on the ground gets boring quickly!
Camp Box – create a separate camp storage box, packed with your utensils, matches, torches, spare batteries, sun cream, insect spray, spare pegs, tomato sauce, coffee, tea bags, cling film, foil, long life food stuff, spices, oil etc.
Good Pocket Knife or Multi-Tool – there's always a tin to open or something to cut.
Take lots of plastic bags – good for sitting on, storing wet clothes or separating the dirty ones. Also, take good bin-liners for rubbish.
Wet wipes & talc – especially for kids or if you don't fancy the campsite showers!
*Research by JCB Kids – Fresh Air Campaign