FIFA 15 will be included in a number of next-gen console + game deals this year, so how does the latest version of the football gaming institution stack up?
Let's be honest, much like the Call of Duty franchise, FIFA enjoys an enduring popularity amongst its fan-base that means regardless of what is said ahead of its release, there will always be diehards queuing up outside shops across the country to get their hands on it.
This year was no different, as EA Sports debuted the first 'real' next-gen game of the franchise, with the slightly enhanced version of FIFA 14 that made its way onto PlayStation 4 and Xbox One last year hardly counting. This time around, the developers had time to focus on designing specifically for the new consoles, making FIFA 15 a marker for what to expect in the coming years.
Getting back to basics
First things first, this is without doubt one of the most cohesive and enjoyable FIFA games for years. Quite a success, when we consider that FIFA 14 was generally felt to be one of the weaker additions in the series' recent history. In the past, the developers had chosen to revolutionise huge aspects of the game, whether that be gameplay, completely new modes or online, but this year they opted for refining the platform and it has paid off.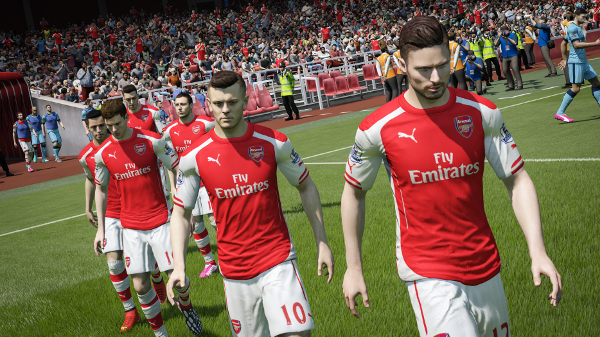 As no gamer ever wants to find themselves saying "I'm so bored, but doesn't this game look amazing", the actual gameplay was where FIFA needed drastic improvement and EA Sports have delivered. We're not talking about cramming in new features or innovative modes, just playing a football game that feels more like a football game.
If we're frank, some fans of the franchise would still buy the game if the only things they changed year-to-year were the teams and kits, partly because the exclusive licences mean potential competitors like Pro Evolution Soccer have always fallen by the wayside. Nevertheless, taking to the field in FIFA 15 brings a refreshing sense of joy that has been missing for quite a while.
Gameplay
For those pessimists out there, yes, you can still play the ball out wide, sprint down the line with someone fast and cross the ball in for your striker to simply nod home, but that has been possible since the inaugural game in 1993.
Overall, the whole game feels much more fluid and players intuitively move into space, something that comes as quite a shock when you're fully accustomed to having them rooted to the spot or dragging opposing defenders towards you. This adds a whole new level of creativity and satisfaction to attacking – something that has been sorely lacking – and build-up can quickly involve your own brand of tiki-taka, whether you're playing as Barcelona or Accrington Stanley.
The refined and responsive control of players lets them turn their man with a clever touch, escape tight spaces or even bully defenders away, a balance that FIFA fans have been craving. Previous games have seen the repeatedly agitating moment of a defender entering the attacker's vicinity and instantly stealing possession, regardless of contrasts in speed, strength and skill.
Of course, much like when playing football, all the brilliant attacking in the world comes to nothing if you can't get the defending right. Although there are clear improvements from previous years when it comes to realistic reactions and sluggish tackling, this is still the one major disappointment of this year's game.
Yes, defenders do track their men a little better, but their positional play is virtually non-existent and as you can't control the entire back four at the same time, one man leaving his marker free from a cross leads to an inevitable goal. It would be nice to see some of the AI given to attacking players translated across to defence in future. Putting in a committed tackle without sacrificing your entire position is also difficult and the refs are far too quick to reach for a card – though it could be argued that only adds to the sense of realism!
Feel The Game
Where FIFA 15 truly excels is in creating moments of footballing joy that have you jumping off your sofa looking for someone to celebrate with, only to discover it's your day off and no-one's home. Stylish play through the midfield, a perfectly weighted through-ball met sweetly on the volley that flies into net past a helpless Thibaut Courtois has you completely lost in the emotion of the moment, and that is a very rare quality for a game to have. The customary sliding celebration in front of the fans just puts the icing on the cake.
"Feel The Game" was the message FIFA wanted to push this year and much has been made of their improvements to the atmosphere of matches and crowd development. Although it may sound quite gimmicky, the combination of your team's song echoing from the terraces once you've scored and improved in-game commentary, really does enhance the realism. Another creation with the authenticity in mind is the role of player's emotional intelligence during games, with shoves of frustration and negative reactions occuring when things aren't going so well. This is a pretty pointless mechanic at the moment and just reminds us of why we hate modern footballers, although trying to link the players emotionally to games could have some potential moving forward.
As expected, FIFA 15 includes a host of different game modes, from Career Mode and Pro Clubs to Tournaments and Skill Games. Unsurprisingly, EA have also pushed the highly popular FIFA Ultimate Team, a mode that fuses old-school trading cards with fantasy football, and is fast becoming the linchpin of the series.
FIFA 15 is a return to form for the franchise, putting gameplay and creating an enjoyable experience to the forefront means we finally have a game that can stir the emotions as football should. If they stick to this blueprint of evolution not revolution, the future for the series looks bright.