2021 marks 45 years since the Golf GTI was launched!
The idea for the Golf GTI was formed in 1974 when six people wanted to develop a "Golf sport". The car was shown to the world at the 1975 IAA International Motor Show in Frankfurt and launched, just a year later, in 1976.
Initially only 5,000 units were planned for production and some said that was a tall order. In all, 461,690 Mk 1 Golf GTIs were produced, and since then over 2.3 million Golf GTIs have been sold around the globe.
Engines and Milestones: Golf GTI Mk I – Mk VIII
Mk I: 1976 – 1984
Launched with 1.6-litre 110 PS
1977 – first UK registration (LHD cars)
1979 – first right-hand drive cars go on sale
1982 – 1.8-litre 112 PS introduced.
Mk II: 1984 – 1992
Launched with 1.8-litre 112 PS
1986 – 1.8-litre 139 PS 16-valve engine launched
1989 – introduction of 'big bumpers'
November 1990 – 1,000,000th Golf GTI is produced.
Mk III: 1992 – 1998
Launched with 2.0-litre 115 PS
1993 – 2.0-litre 150 PS 16-valve engine introduced.
Mk IV: 1998 – 2004
Launched with 1.8-litre 125 PS and 1.8-litre turbo 150 PS
1999 – 2.0-litre 115 PS is introduced
2002 – 1.8-litre turbo 180 PS and 1.9-litre TDI PD 150 PS engines introduced for Edition 25.
Mk V: 2004 – 2008
Launched with 2.0-litre 200 PS TFSI
January 2007 – 30th anniversary of the GTI marked by the launch of 2.0-litre 230 PS GTI Edition 30
May 2007 – six-litre twelve-cylinder bi-turbo 650 PS GTI W12-650 design study unveiled – the most powerful Golf ever made by Volkswagen. Jeremy Clarkson drove it on Top Gear in October 2007
May 2008 – 2.0-litre TFSI 230 PS GTI Pirelli launched to commemorate 25th anniversary of the original Mk I Pirelli variant.
Mk VI: 2009 – 2013
Launched with 2.0-litre 210 PS TFSI
September 2011 – 35th anniversary of the GTI is celebrated as the Golf GTI Edition 35 goes on sale to UK customers, a 235 PS special
March 2012 – Golf GTI Cabriolet unveiled, combining the agility and dynamism of the Golf GTI with an electric roof system taking nine seconds to operate.
Mk VII: 2013 – 2020
April 2013 – the new GTI goes on sale with a 2.0-litre 220 PS TSI engine, while a performance pack was also offered, boosting output to 230 PS and adding a mechanical limited slip differential and larger brakes with red calipers with GTI logo. The Clubsport 40 edition launched in April 2016 and the limited-edition Clubsport S in August of the same year, just 150 units were available in the UK
February 2017 – the facelift Mk 7.5 is launched with a 230 PS 'standard' GTI and 245 PS GTI Performance model available. Two years later, in February 2019, the GTI TCR went on sale with 290 PS.
Mk VIII: 2020 – today
Eighth-generation Golf GTI launched with 245 PS standard model shown in early 2020 and first sold in the UK in September of the same year
Golf GTI Clubsport arrived in December 2020, while the Clubsport 45 anniversary special was available to order from April 2021, with deliveries commencing imminently.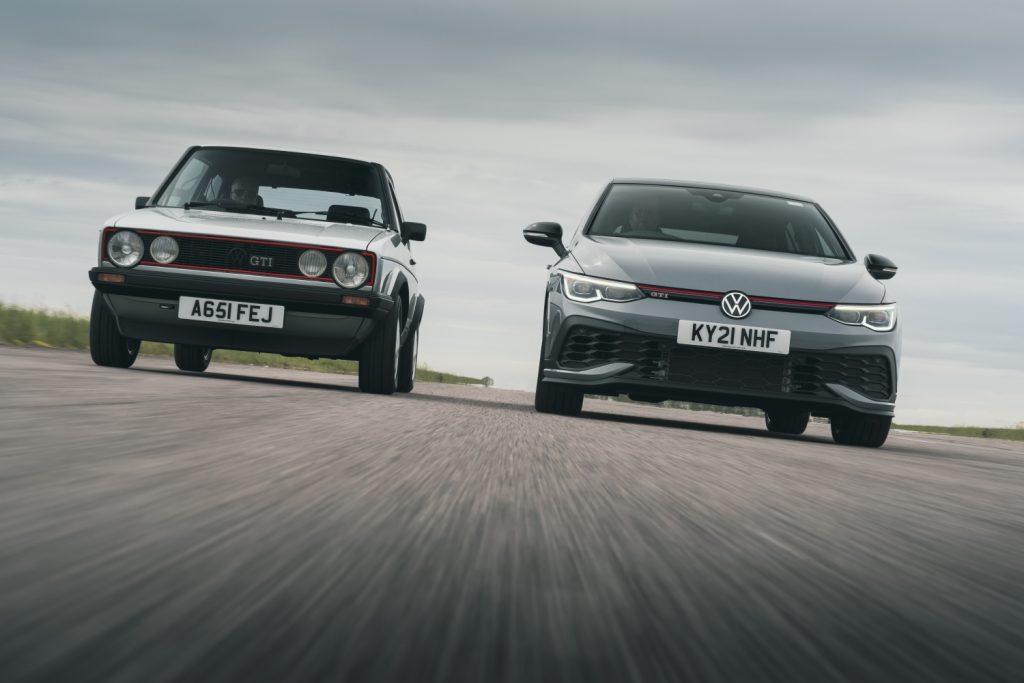 Golf GTI UK Engine Range: 1977 – 2021

Generation
Engine Size
(litres)
Power (PS)
Top Speed (mph)
0-62 mph (secs)
Mk I (77 – 83)
1.6
110
112
9.1
1.8
112
114
8.2
Mk II (84 – 92)
1.8
112
116
10.3
1.8 16V
139
124
9.0
Mk III (92 – 98)
2.0
115
122
10.4
2.0 16V
150
134
8.3
Mk IV (98 – 04)
1.8
125
125
9.9
1.8 T
150
134
8.5
2.0
115
119
11.2
1.8 T
180
138
7.9
1.9 TDI
150
134
8.6
Mk V (04 – 08)
2.0 T
200
146
7.2
2.0 T
(Edition 30/Pirelli)
230
152
6.8
Mk VI (09-13)
2.0 T
210
148
6.9
2.0 T (Cabriolet)
210
147
7.3
2.0 T (Edition 35)
235
153
6.6
Mk VII (13-20)
2.0 T
220
152
6.5
2.0 T (Performance Pack)
230
155
6.4
2.0 T (Clubsport/Edition 40)
290
155
5.9
2.0 T (Clubsport S)
310
165
5.8
2.0 T (facelift, GTI)
230
155
6.4
2.0 T (facelift, GTI Performance)
245
155
6.2
2.0 T (facelift, GTI TCR)
290
162
5.6 (DSG)
Mk VIII (20-now)
2.0 T
245
155
6.4
2.0 T (Clubsport/45)
300
166
5.6 (DSG)