We all fell in love with 'Percy the Park Keeper' and now Nick Butterworth's Q Pootle 5 has taken TV by storm.
Q Pootle 5 – the loveable alien – started life as a book character, but has most recently been catapulted into life on the screen. The show was launched in July 2013 on CBeebies and has since captured the attention of kids across the UK – becoming one of CBeebies' highest rated programmes by reaching over 5.5 million viewers.
What is quickly becoming a Q Pootle 5 Empire has only gone from strength to strength, with an exciting new product line featuring playing cards and puzzles – not to mention the upcoming release of two Q Pootle DVD's, including a Christmas Special. The Q Pootle 5 magazine will also be launched in November, marking an interesting new chapter for the charismatic alien.
Josephine Dwyer-Mann caught up with Nick to find out all about Q Pootle 5, the transformation to screen and what we can look forward to seeing from the much-loved alien and his friends.
What do you think makes Q Pootle 5 such a great character to transition from books to Television?
I think part of it is that he's international because he is intergalactic. Percy the Park Keeper did get published internationally, but he has a quintessential Englishness which meant he was not quite so accessible. One real plus is the children being able to see the spaceship whizzing about and space noises are just great on TV, it really lends itself to the screen.
What do you think brings such a big audience?
What people love – or at least what I've heard them say – is that they find children's TV for pre-schoolers can have many things that make children anxious – programme makers call this jeopardy. Now I believe that something must go wrong in order to make it right, but a program needs positive values, it needs to feel non-threatening even when difficult moments might appear. It's important that adults like it too because if they don't they'll say, 'Oh, Lets watch something else!' and they need to be able to trust it so children can watch it on iPlayer without their parents worrying.
Some people create characters and shows purely to entertain, whereas others want to teach children something. Did you have specific aims when making Q Pootle 5 as a TV series?
We wanted to give kids a good time, we did that in knowledge that what we were intending to bring were positive values. I think you always bring your own values to writing, so I brought mine and also the values of my son, Ben – without him the Q Pootle 5 series would not be out there! I also looked for other writers who shared those values so they became embedded in the series. They are not made to teach as such, but still bring things which children can learn, like how to react kindly, be unselfish and have warm friendships.
Any examples?
In one episode, Q Pootle 5 crashes his spaceship and looks for a new one, but in the meantime his friends repair his old one, presenting it as a new spaceship and he's tickled pink! It shows he's not always looking for something new, he's satisfied with what he's got. You could also say there's a recycling element, but it's not a programme with upfront clip-on morals and an ending that says 'So children…' because that would be alien to the way I had created the books, but I do hope children can take positive values from it.
Walker Books will launch two TV tie-in books (Great Space Race and Groobie's Space Wash) on 6 November. What we should expect?
I hope you'll really love them! They are really unusual as far as a TV tie-in as they look much more like a picture book. They are also bigger in page size and 32 pages long.
How does a TV tie-in work? Is it a huge difference to your creative process?
It's very different to my normal process where I spend months at the drawing board, as these books are using images from series, but we didn't just do screen grabs. I asked the animators if they could set up scenes from the episode but make some changes because with screen grabs you'll have the exact moment you want, which works brilliantly in animation, but when it's just the one image, you end up with a tree or a telegraph pole growing out the top of their head! I spent a lot of time reposing images with animators and I'm thrilled with them, they've just come out as such great quality.
Did you ever envisage Q-Pootle being on puzzles and playing cards?
It certainly wasn't at the front of my mind, though I did consider the possibility that he might make the jump from page to screen one day, but it wouldn't work to try and do a book that's just meant for televising as you'd end up with something that doesn't really work as a book. One thing at back of my mind was that the publishers only wanted to stick with Percy the Park Keeper because he's already been successful, but it's so time consuming drawing all the characters and complicated backgrounds that it takes the best part of a year to produce the illustrations. I had lots of ideas but no time, so when it came to doing Q Pootle 5, I wanted to do something simpler so I could do more writing.
But the world you've created is pretty vivid?
Well the problem was that when I produced a great big poster with a complicated background after the simple book the publishers said 'Ah yes, this is what we like!' and the next Q Pootle 5 books had to have more background. Though that did help with the TV series, where the enriching of the background really came forward – they've produced really believable planet landscapes. I'm rather pleased with the way it's been developed, you hope your characters will go this far but just to see children reacting to it is very rewarding.
Would these puzzles and cards etc. alongside the series have been something you would have enjoyed as a child?
I would have loved it! I had my favourites when I was a boy, I remember when the film Ivanhoe came out and they produced little metal figures of knights, I absolutely loved them! I liked the film and being able to play with the knights, particularly my favourite, 'Ivanhoe – the black knight'; I would have enjoyed playing cards with my Mum and Nan getting involved.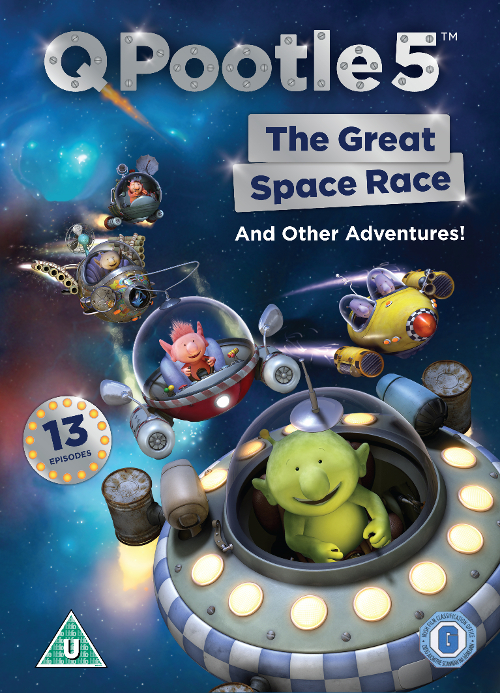 The first DVD entitled Q Pootle 5: The Great Space Race and other Adventures! will be released on 6 October and The Christmas Special will launch in November. Can you describe them for our readers?
The first is 13 episodes and I just thought I want to give really good value with plenty of choice and some favourites where children can say 'Yay, put on that one!' We're also including the 'Making of', Okidoki Karaoke and more. The 'Making of' is great, it's like a documentary filmed while we were making the series and you get introduced to the actors, see behind the scenes, so lots of stuff that both children and adults will find interesting. The second is the Christmas special which has just been put to bed this week. I'm so thrilled with it and even the sound effects and music have a real flavour of Christmas. It's great fun and I just hope they'll love it!
The Q Pootle 5 magazine will also be launched in November. How did that idea come about?
Once we made the series, we had the opportunity to have expressions of the series in other formats. Someone contacted us to suggest doing the magazine and it has been done really well. I am really pleased how quickly they responded to Q Pootle, sometimes it takes people a while to see how the characters relate and you don't realise how possible it is to get something wrong until someone does, but it's ended up with lots of inventive things to do on every page.
Will it be something parents can get involved in?
Yes! On the pages there are little symbols that show the parts where parents can get involved, so they're not just sticker books for kids. When children have finished the activity side of the magazine, there's other things to do like a mobile they can make, so there's also things to talk about which I feel is lovely to share with children.
Finally, any tips for parents with budding young illustrators?
Watch your children draw – I must say, I love the way children draw – I just think they have this real confidence to get something down on paper without thinking too much about what it's going to look like, and it's only later when they start thinking about 'Ooh, is this right?' that they then start to think 'Oh, I can't draw' and it becomes stilted. Picasso said it took him a lifetime to draw like a child and he meant to draw with that kind of simplicity and confidence children have. There's a great story of a little girl who was drawing a detailed picture and when asked what she was drawing, she replied 'I'm drawing God.' The teacher said, 'But no-one knows what God looks like' and the child replied 'Well, they will in a minute.' It's just that lovely confidence that children have, they're willing to have a go, to just do it and see what happens. So, my advice is to help sparingly and appreciate copiously and say, "Wow, that's brilliant! Tell me all about it!"
Q Pootle 5: The Great Space Race and other Adventures! is available on DVD and digital download from 6 October. You can also pick-up puzzles and games now at Amazon. The Christmas special DVD and Q Pootle 5 themed books and magazines will be available to buy from November.