Some toys just never grow old and part of the magic of Christmas can be watching your children play with the same toys you did when you were young. We've put together some absolute classics for you to enjoy rediscovering with your little ones – although this time it might be you queuing at midnight for the last Furby available!
From Barbie houses, to supercool tracks for your Hot Wheels cars and exciting toy kitchens – here are the toys that always bring a smile on Christmas morning.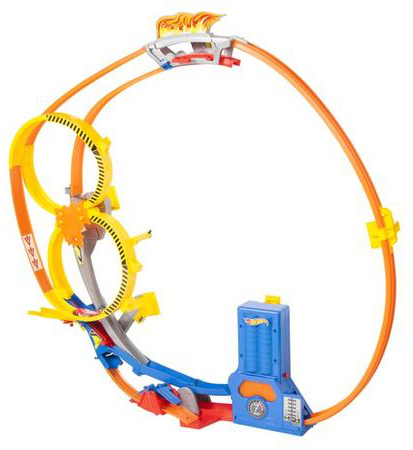 HOT WHEELS SUPER LOOP CHASE
Get ready for the fastest chase on a huge loop! The new boosted Hot Wheels Super Loop Chase Race track set launches your cars at top speed for gravity defying action. See your wheels brave it and try to make it up and around a spectacular 3-foot tall loop. Send multiple cars racing at once for a thrilling high-speed chase! Who will take the hair-raising shortcut competing for the lead? Will the shortcut cause a mid-air crash and send your car flying off of the set? This floor based boosted set is a must have for racing fans who love huge crashes and big wins. Connect more sets to keep the race going! Suitable for ages 5+
THINGS WE LOVE ABOUT THIS TOY
This track is both impressive and big! You will need to be aware of the size. It is a good idea to set it up before you have a tipple, perhaps even the night before, because we assure you, it takes a little while. Assembly aside, it is well worth it for the joy the children will get from playing and the sheer speed is pretty amazing. It can be a quite noisy, but as a bonus, it can be attached to other tracks to expand it. All in all, this will deliver everything you need for your little motor-heads.
RRP £44.99 PRODUCT INFO HOT WHEELS WHERE TO BUY AMAZON TWITTER @Hot_Wheels
FISHER PRICE LAUGH & LEARN CRAWL AROUND CAR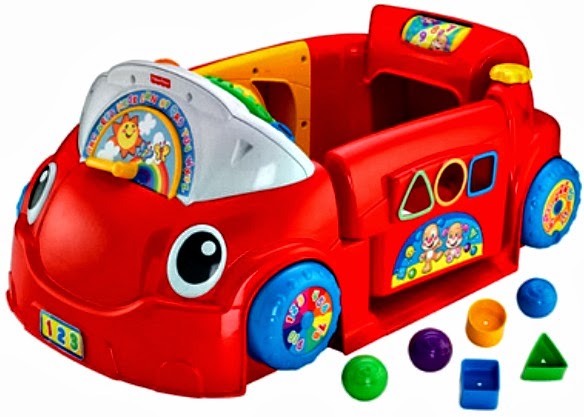 The Fisher-Price Laugh & Learn Crawl Around Car puts baby in the driving seat of a fun-filled stationary vehicle with all-around learning and play. Featuring new Smart Stages technology with 3 levels of learning content which changes as baby grows at their own natural pace. The interactive lights and sounds dashboard keeps baby busy with a light-up baby "GPS", horn to honk, gears to shift, and more. With over 75 songs, tunes and phrases, and three modes of play (Learning, Music and Imagination) there's plenty of fuel for fun adventures and discovery. Suitable for 6 months+
THINGS WE LOVE ABOUT THIS TOY
The amount of different lights and buttons and levers are really great for getting babies involved. This is a great toy for helping babies understand cause and effect. You may need a cushion to support babies that are a bit wobbly sitting as the frame goes round them on the floor rather than a chair. It takes a bit of time to put together so it might be worth doing this the night before! Great fun guaranteed for your little one with plenty of interactive elements to keep them occupied.
RRP £69.99 PRODUCT INFO FISHER PRICE WHERE TO BUY AMAZON TWITTER @FisherPrice
BARBIE MALIBU HOUSE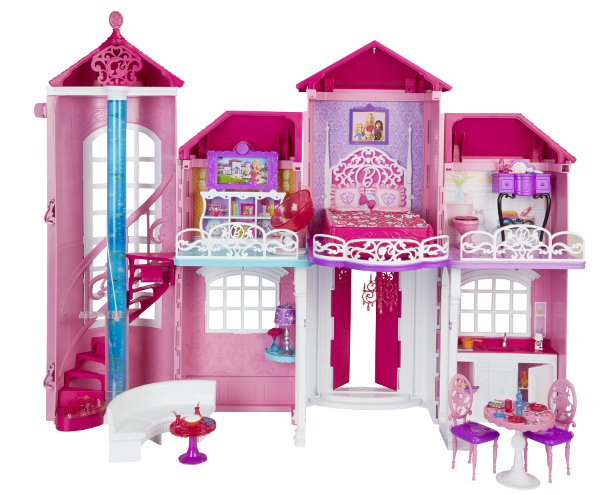 For the ultimate present this Christmas, you can look to the beautiful Barbie Malibu House. With all the iconic details from the Barbie Life in the Dreamhouse web series that girls would expect to find, this two-storey home is the perfect place for them to recreate their favourite Barbie scenes or create their own stories. It's also the perfect place for Barbie to relax and enjoy time with her friends and family. With six rooms that are all full of fabulous details and stylish furniture, there's plenty of space for Barbie to entertain and lots of fun accessories to bring stories to life. All come with a special plug 'n play feature to keep them in place. Suitable for ages 3+
THINGS WE LOVE ABOUT THIS TOY
If you've got a little one who loves pink and glam then they'll love this house! It's pretty big so you will need the space for it, but because of the size it does create a nice little world for your children to play in. It is relatively simple to put together, which stops your children having to wait around for hours before they can enjoy their new present. It doesn't come with a huge amount of accessories, but this can be a big plus if you've already got a lot of Barbie bits around. The ultimate part of this house to us is the space provided for your smartphone so it seems like Barbie is watching real TV!
RRP £99.99 PRODUCT INFO MATTEL WHERE TO BUY AMAZON TWITTER @Barbie
BOOMco RAPID MADNESS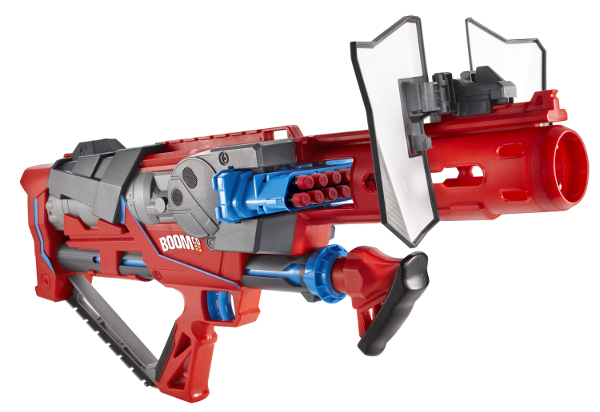 BOOMco is looking for the bold, the daring and those ready to raise their game – those seeking the next generation of adrenaline-fuelled fun! If you're powered by the need to break loose and play on the edge, then you're halfway there: all you need is the right blaster in your hands! BOOMco introduces the amazing Rapid Madness, the ultimate blaster on every kid's wish list! Not only is it air-powered (no batteries required), but it features two awesome ways to blast; single-shot for accuracy or 20 darts in seconds, firing up to a staggering 50 feet! Suitable for ages 6+
THINGS WE LOVE ABOUT THIS TOY
If you've got a child who likes action and craves a good shoot-out then the BOOMco Rapid Madness is their dream come true! It's surprisingly fast though the bullets are soft, which is lucky because – although you are provided with a target – children are likely to invent their own, possibly you. The target (when used) is very effective and the darts stick to it well. It's big and looks exciting, but is light enough for a child to carry. It might be good to get some extra darts because if they are being fired around the garden, they may get lost! This is a great blaster – always a popular present – with no batteries needed, which is always a big bonus!
RRP £49.99 PRODUCT INFO MATTEL WHERE TO BUY AMAZON TWITTER @BoomCo_Official
PLUM COOKIE INTERACTIVE KITCHEN
Unwrap their inner chef this Christmas with the ground-breaking, beautifully crafted wooden interactive kitchen from Plum. The new interactive range is the first of its kind, blending tradition with technology to let your little one's imagination fly this Christmas. Sprinkle on some extra fun by inserting your tablet into the kitchen's secure compartment and downloading the free Plum app for fun, lights and cooking ideas. Enjoy the traditional key role play features that inspire their imagination – children can cook up a party with the realistic hobs and clicking knobs, then use the wooden cooking accessories to fry, simmer and stir their feast. 3+
THINGS WE LOVE ABOUT THIS TOY
The Cookie Interactive Kitchen is a really exciting toy that encourages lots of role-play and imaginative games. It's great for those impromptu tea parties or simply for children who love 'cooking' as they've seen you do! The colour is appealing and it has a great retro feel to it despite the modern twist. The app also has some fun features, like cleaning up exploded food in the microwave, however if that's not your thing it isn't a necessity. Perfect for a budding chef this Christmas!
RRP £149.99 PRODUCT INFO PLUM WHERE TO BUY AMAZON TWITTER @Plum_Products
BAA BAA BARN FROM B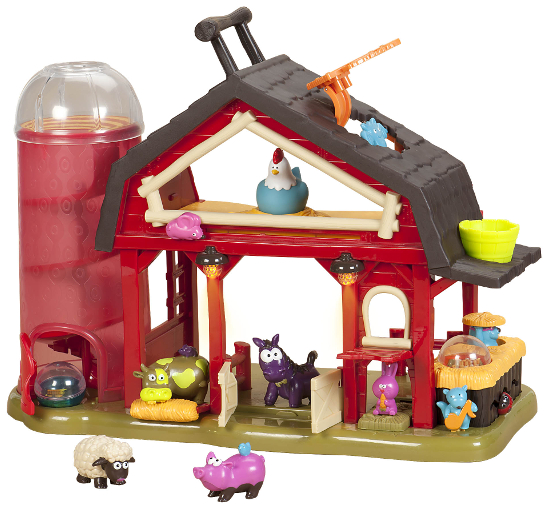 Voted Best Speciality New Toy for 2014, the interactive Baa Baa Barn from B by John Crane Ltd is great fun for kids. When you place the cow, pig, sheep or horse inside the barn doors you can hear them sing! The barn has four different songs depending on who is on the floor, the balls swirl down the silo and the ladybird travels back and forth. When you slide the mouse along the chicken jumps! B Toys are different, the packaging is recycled including the plastic and they try to make as little impact on the earth as they can. 2 years+.
THINGS WE LOVE ABOUT THIS TOY
A lovely toy to keep your toddler occupied this Christmas. The Baa Baa Barn features well-made animals which look really cute and appealing to children. Unlike some children's toys, it's quite clear which animal is which and they have been made with features that link them to stereotypes making them easy for children to recognise! This is an engaging toy that also encourages imaginative play.
RRP £64.99 PRODUCT INFO JOHN CRANE WHERE TO BUY JOHN CRANE TWITTER @JohnCraneLtd
LOOM TWISTER SET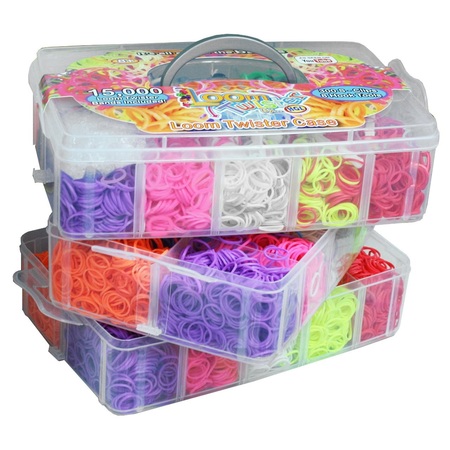 This must-have accessory is great fun for kids to teens. Have loads of fun creating your own unique friendship bracelets, charms, rings, necklaces, key rings and more with easy to follow, simple instructions. There are endless cool, funky designs to make and so many various combinations of colourful bands to use! Each set includes 10,000 assorted bands, Loom, Finger Loom, 200 S- Clips, Loom hook and 6 charms, all neatly packed in a handy Looms storage case. There's so much fun to be had creating your own individual designs.
THINGS WE LOVE ABOUT THIS TOY
These are popular every single year! The Loom Twister Set can create hours of fun and is a fantastic activity to keep everyone busy this Christmas. Your children will really enjoy creating little keepsakes for themselves and their friends, and unlike so many of the virtual things on offer, they will have something tangible to show for all the time and pleasure they put into it!
RRP £10 PRODUCT INFO LOOM WHERE TO BUY THE WORKS TWITTER @OzbozzToys
FURBY BOOM CRYSTAL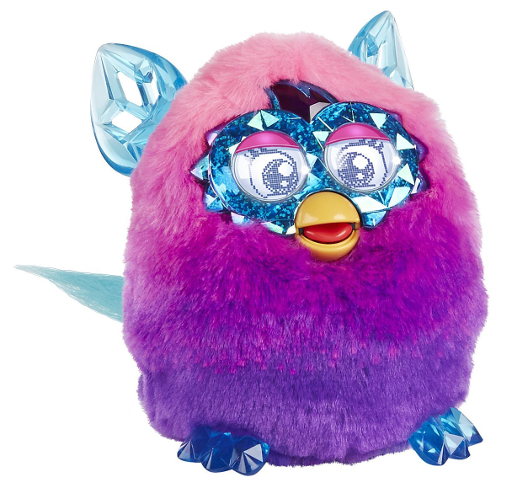 A whole new generation of Furby critters is about to hatch! Dust off your Furbish dictionary and get ready to party with your Furby Boom creature! Your Furby has a mind of its own, and the way you treat your Furby will shape its personality – so the more fun you have with it, the better! It speaks more English the more you play with it. Tickle your Furby, talk to it and feed it with your finger. You can also download a free app to have a Furby Boom adventure and translate Furbish. Take care of your Furby, get virtual eggs and hatch and raise the Furblings!
THINGS WE LOVE ABOUT THIS TOY
An absolute classic! The Furby Boom Crystal is a wonderful toy to engage your children throughout the holiday season. It is so interactive and is constantly learning new things, which really encourages children to keep playing. The app is a sleek touch and there are plenty of things which your Furby will react to. The range of colours are pretty amazing and you're sure to find a great combination for your child. Cute and friendly, the Boom Furby Crystal is a brilliant playmate for Christmas and beyond!
RRP £49.99 PRODUCT INFO HASBRO WHERE TO BUY SMYTHS TWITTER @OfficialFurby