The new Jaguar F-PACE SVR is now faster, more dynamic and more refined than ever.
2021's F-PACE SVR is available exclusively with Jaguar's 5.0-litre V8 Supercharged petrol engine, which produces 550PS and 700Nm torque – an increase of 20Nm. This uplift in torque delivers enhanced performance, with the F-PACE SVR capable of accelerating from 0-60mph in 3.8 seconds, three-tenths faster than before, and a top speed of 178mph – an increase of 2mph. As well as the improved torque and acceleration, CO2 emissions are reduced from 281g/km to 275g/km with fuel economy now up to 23.1mpg.
Dynamic
The transmission and dynamics systems have also benefitted from incremental tweaks. The uprated Dynamic mode features unique tuning, delivering a focused and honed driving experience. A new Dynamic Launch feature also uses driveline inertia to maintain power to the wheels during gear changes, contributing to the SVR's sharper acceleration from a standstill.
Enjoyable
At the same time, the F-PACE SVR is now more comfortable and enjoyable to drive at a relaxed pace, without compromising its high-speed dynamics, further underlining the new model's duality of purpose. The steering system is enhanced with a new electronic power-assistance system, delivering greater immediacy. Brake feel has also been improved in the new F-PACE SVR. The front and rear two-piece disc brakes are now supported by a new Integrated Power Booster which, along with a recalibration of the system, delivers a sportier and shorter brake pedal.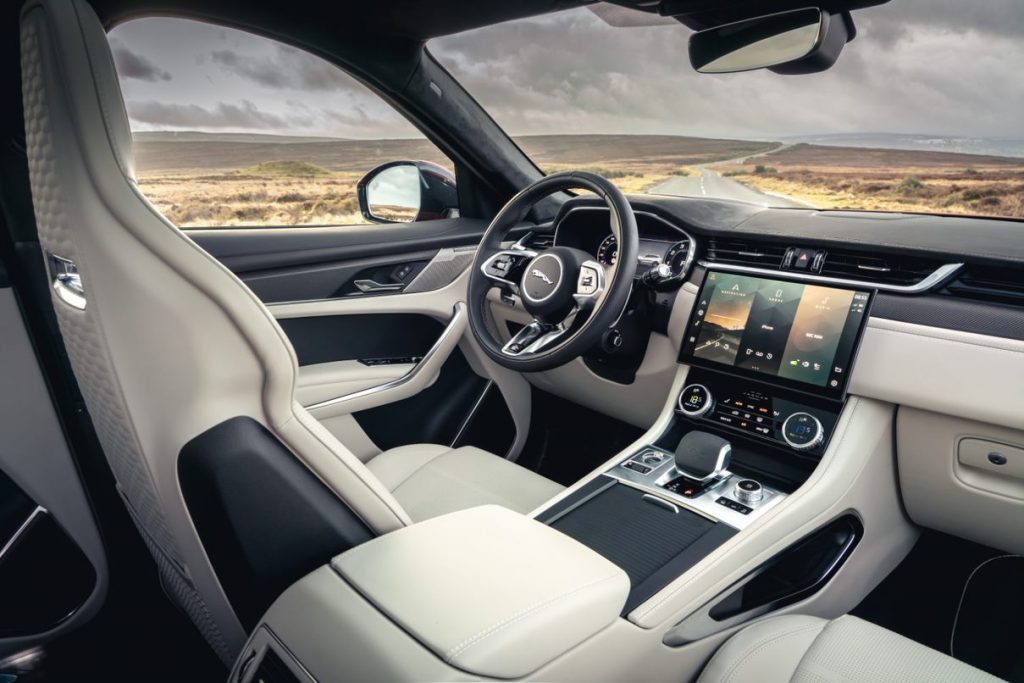 Effortless
The powerful engine is paired with Jaguar's ultra-responsive eight-speed automatic transmission, which delivers rapid gearshifts for effortless performance, while adapting the way power is delivered to suit the driving situations. What's more, Jaguar's All-Wheel Drive with Intelligent Driveline Dynamics is fitted as standard. Adaptive Dynamics suspension technology ensures a precise, dynamic set-up coupled with a supple ride, while Configurable Dynamics provides enhanced appeal by enabling you to set up the vehicle to suit your personal preferences. A stopwatch, G-Meter and pedal graph also help you to monitor performance in Dynamic mode.
Luxurious
The interior of the new F-PACE SVR is comprehensively redesigned, with materials enhanced to heighten the dynamic character of the revised cabin and its controls. Seat and door inserts are finished in Alcantara, with elements such as the central cubby and leather midroll wrapped in luxurious Windsor leather. The 12.3-inch HD Interactive Driver Display is cloaked in Alcantara with ebony stitching, while aluminium patterned finishers feature as standard.
Focused
Jaguar's new Drive Selector has a more performance-focused feel for the F-PACE SVR, finished in leather with heritage logo-inspired detailing and debossed SVR logo. The new SVR split-rim steering wheel is finished with tactile zinc-alloy shift paddles, providing heightened driving engagement when making manual gear changes.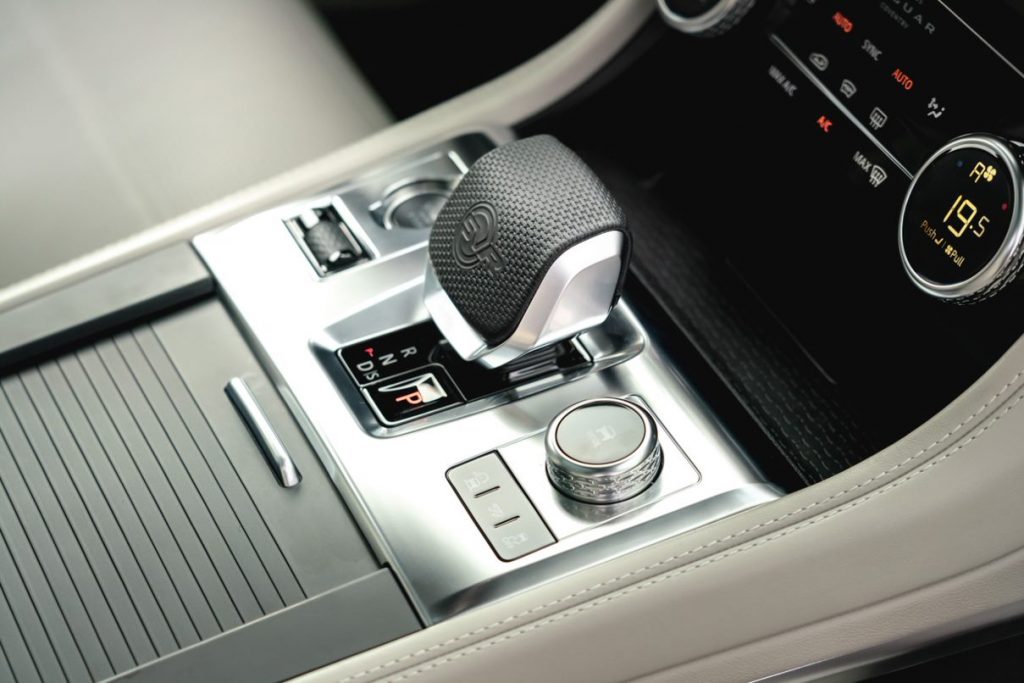 Advanced
The new F-PACE SVR features all the advanced technologies found in the latest F-PACE, ensuring it's always connected and always up-to-date. The tech includes intuitive Pivi Pro infotainment, Software-Over-Air capability, Active Road Noise Cancellation and the latest Advanced Driver Assistance Systems and optional wireless device charging.
Available
If you're a dad with a fondness for powerful SUVs, then you've got to check this motor out. You'll get the family in without any dramas, and you'll be able to burn the boy racers off at the lights. So what are you waiting for (apart from a bank loan)? The new Jaguar F-PACE SVR is available to order now, priced from £77,595 on the road.