With summer just on our doorstep, it's the perfect time to plan ahead for your first trip as a family. However, parents can often find heading off with their children a daunting prospect.
Whether it's a long car trip, a jam-packed day of excursions or just enabling their comfort when you need a rest, it's great to know in advance the best destinations to visit, what each has to offer families and what to bring with you on the journey. One thing is for certain, holidays shouldn't be about stress, but instead a relaxing time for you and your loved ones. Preparing beforehand is a great way to make it one to remember for all the right reasons and hopefully create memories your little ones will cherish for years to come.
Barcelona, Spain
First up on the list is Barcelona, the Catalonian city that has charmed travellers from all walks of life. A vibrant city, there's plenty to do and it's the ideal alternative to holidays in Spain. Impressive beaches, child-friendly attractions (Picasso Museum, Sagrada Familia), exquisite cuisine and the Montserrat Mountains boast seriously stunning views, meaning there's pretty much something for everyone.
The best place to stay is definitely in the Gothic quarter, otherwise known as Las Ramblas, which is arguably the beating heart of the city and is rife with incredible restaurants, iconic landmarks and an authenticity that's hard to match. Your best bet is getting an apartment overlooking the square, so that you're fully immersed in the local culture.
It's worth remembering moving around a busy city like Barcelona can be quite difficult, especially with infants, but one thing that could ease this is the Kool-Di Sun & Sleep Pop-Up Travel Bubble Cot. With it fitting neatly into a bag, it goes everywhere with you, from parks to beaches, meaning you can enjoy yourselves without having to worry about your child's comfort. Picking out places to stop and recoup is important for every day-trip you take, ideally choose spots which have all the facilities you need and offer shade if it's sunny.
Normandy, France
If you're looking for more of an outdoor experience this summer, Normandy in France is the ideal destination. Chateau de Lez-Eaux is a fun family-friendly campsite set in the grounds of a 19th century chateau. With swimming pools, tennis courts, a fishing lake and organised games, there really shouldn't be dull moment.
There are also numerous local attractions to visit, including the remarkable port town of St Malo, the island commune of Mont Saint-Michel and lots of fantastic beaches including such as the one at Carolles, which is a reasonable distance from the campsite.
If you do decide to head to the beaches, the LittleLife Beach Shelter is always a helpful piece of equipment to bring along. Protecting you from the sun and the wind whilst ensuring your privacy, it can easily be stored away and instantly creates a great spot for any necessary naps. Another tip for heading to the beach is create a list of all the practicals you need before your holiday, including sun lotion, towels and a change of clothes – sand literally does get everwhere!
West Country, UK
If you're looking for a holiday destination closer to home, the West Country is an excellent choice. Counties such as Cornwall, Dorset and Devon are all prime locations and each offer their own unique experience. One option is to work on a farm, a great family activity that's sure to delight all members. You'll get the chance to bottle-feed lambs, collect eggs, milk cows and much more.
However, if you're looking for a more relaxing experience, there are also plentiful campsites to choose from, where you can embrace the countryside and escape the hustle and bustle of the city. Not only is the West Country an easier destination to visit, but is also considerably cheaper and the perfect answer for parents wanting to treat their kids without breaking the bank.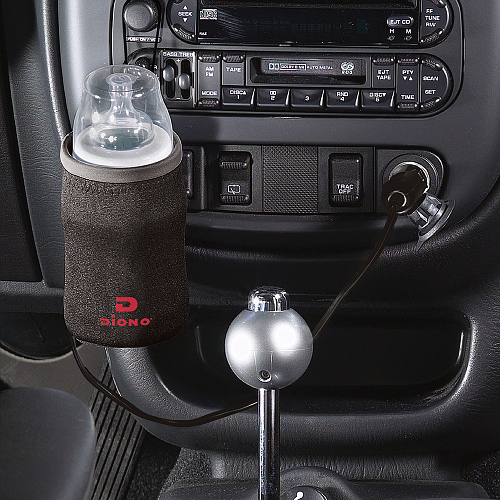 With driving probably the fastest option, you need be prepared for the many problems that can arise on a car-trip with infants. The Diono Stow 'n Go organiser is a useful product, hooking onto the backseat and featuring seven pockets and two cup holders, ideal for carrying all the necessities for journeys with young children.
The Warm 'n Go can also help, as it's designed to ensure bottles stay warm when travelling and conveniently attaches to the 12V socket. Another great option is the Easy View Plus Mirror, which attaches to a seat in the back and offers 360° rotation, not to mention coming with a light so you can even check on your baby in the dark. Knowing you can always see what they're up to can really give you peace of mind.
All of these products are designed for making any journey on the road as smooth as possible and when it comes to driving long distances with your little ones, comfort should always be at the forefront of any plans.
Algarve, Portugal
Usually an area synonymous with bland holiday packages, the Algarve offers some truly exceptional alternatives for a great family holiday. Set in the Rio Formosa nature reserve is the Quintamar complex, a family-run business that is sure to amaze all visitors. Up to two apartments and two houses, it's a quieter experience that is deeply embedded in the natural environment.
There are alsp loads of activities to keep children entertained from a playground, pirate ship, sandpit and a menagerie of rabbits, guinea pigs and chickens. The location's most acclaimed attraction however is the natural swimming pool, where you'll see frogs, reeds and lilies. The local beaches are just a short boat-ride away and are a truly mesmerising site, whilst the local fishing village of Santa Luzia is known for its incredible seafood restaurants.
Whatever excursions you're thinking of taking when here, a range of sunshades from SnoozeShade can be perfect items to bring, especially when tackling the hot weather. Protecting infants against both the sun and mosquitoes, they can cover everything from prams, pushchairs to travel cots.
Rome, Italy
Rome is one of the most beautiful cities in Europe and home to some of the most iconic monuments in European history. Take a step back in time and see the remains of the Roman Empire, which are sure to wow your kids no matter what their age. The Colosseum and The Forum are a must and are ideally placed side-by-side meaning both can be visited on the same day.
The Vatican City, the world's smallest city-state has been home to the Catholic Church since the 14th Century, with lots to feast your eyes on. Most visitors focus on three main aspects: St Peter's Square, the Basilica and The Vatican Museums (which is home to the Sistine Chapel). Italy is also renowned for its cuisine, which is sure to please any weary traveller after a long day of sightseeing.
The best way to get around Rome is definitely by walking, which means taking something like the BabyBjörn Carrier One can really come in handy. Practical and ergonomically supportive, you can carry your baby in four different positions so it's ideal for long excursions.
If you're more of buggy fan however, the Diono Buggy Buddy can also be quite useful, as it attaches itself to all buggies and prams, allowing easy access to all your essentials with zipped pockets, insulated cup holders and an insulated cargo bin. When in locations that are unfamiliar, keeping both your children and valuables close at all times are an absolute must – so always try to have a plan for each day's activities.
Wherever you decide to head this summer, remember it's always best to plan ahead, especially if you're travelling for the first time with your youngsters. There's no doubt it can be a considerable challenge but also an incredibly rewarding experience – with the right preparation, introducing your kids to new parts of the world and unique adventures can be one of the real joys of parenthood.