Things have never been so good for sports fans.
It's not just that athletes' performances are constantly improving thanks to new understandings of how the human body works, and what is required to reach and maintain peak performance levels. There is also, thanks to the Internet, a record number of events from all around the globe to watch every day.
And there is no surprise with the uptake in mobile and online audiences; any and everything to do with sports has experienced an enormous boost. This can be seen from ever-increasing player listings for all mainstream and emerging online betting companies to streaming of sporting events and movies. Here, we've put together a list of the best sporting movies based on true stories.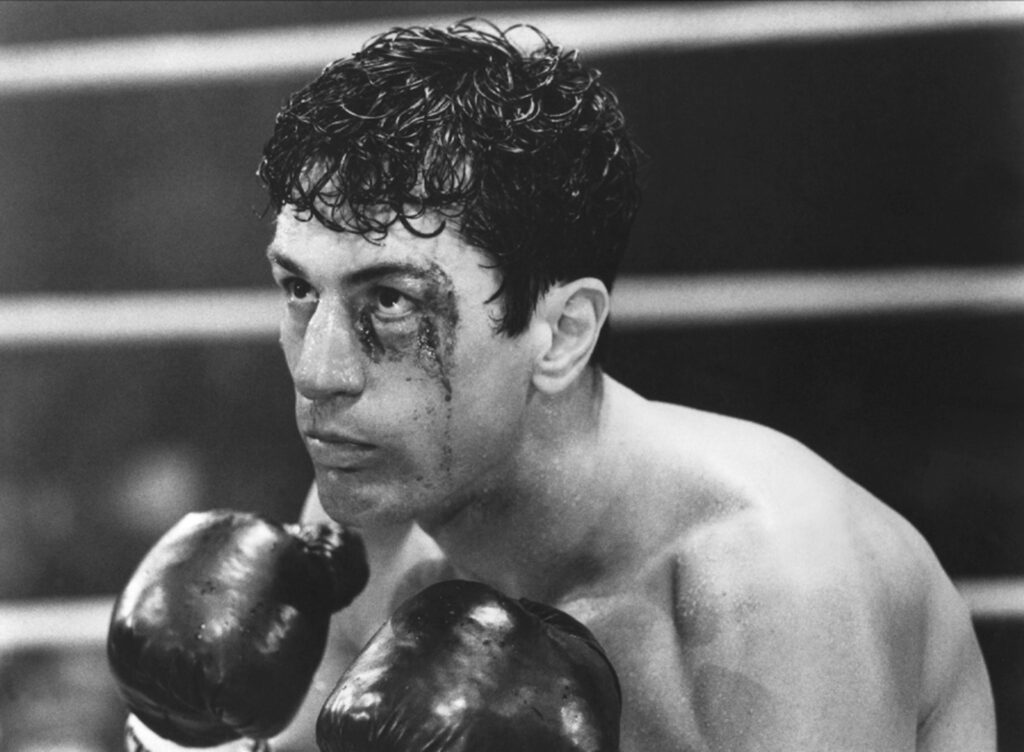 "Raging Bull" (1980)
Robert De Niro gives a masterful portrayal of Jake LaMotta, world middleweight champion between 1949 and 1951, in this Martin Scorsese masterpiece. Most definitely one of best and will be included in anyone's Film & TV list of the all time greats. "The Bronx Bull", as he was also known, was a street brawler who owed his success in the ring as much to his ability to take punishment as to dish it out. And he was no less pugnacious in his private life, responding with his fists to anybody, including his wife and brother, who triggered his violent temper.  
"Seabiscuit" (2003)
Telling the story of the American racehorse Seabiscuit, this Academy Award-nominated picture is based on the best-selling novel Seabiscuit: An American Legend (1999) by Laura Hillenbrand. After a bumpy start to his career, winning only 10 of his first 40 races, Seabiscuit went on to become the top money-winning racehorse of the time. As thoroughbred racehorses go, he was on the small side, only 15.2 hands high, and it was his diminutive stature and dogged determination that led to him becoming a symbol of hope during the Great Depression.
"Glory Road" (2006)
Glory Road tells the story of the  University of Texas at El Paso or UTEP basketball team in the run-up to the 1966 NCAA University Division Basketball Championship. Head coach Don Haskins made history by coaching and fielding a team with an all-black starting lineup – a first for the NCAA. The film explores the topics of racism and discrimination through the lens of student athletics.
"Hoosiers" (1986)
High school basketball championships don't usually draw much attention. But thanks to "Hoosiers", starring Gene Hackman as Norman Dale, the new coach of Hickory High's underdog basketball team, everybody is familiar with this David-vs-Goliath story. The new coach breathes fresh life into the team, and they go on to beat favourites Muncie Central in the 1954 state basketball championship.
"Concussion" (2015)
Dr Bennet Omalu is a forensic pathologist who first drew attention to the issue of brain trauma in American football players while he worked in the Allegheny County coroner's office in Pittsburgh. This is a serious issue and one the sport has been trying to sweep under the carpet for years. Will Smith's powerful performance as Dr Omalu in the 2015 film Concussion has helped raise public awareness of the dangers the sport poses to the health of the players.