Not all family cruise holidays are created equal – here's our guide to picking the right one for you.
Andy Harmer, Cruise Lines International Association's UK and Ireland director, recently told FQ that the British cruise market saw an impressive 1.97 million passengers in 2017. (And while the figures for 2018 are due this spring, it's looking likely to exceed two million.) He also went on to note the recent trend in grandparents taking their grandchildren away with them on cruise holidays, known as skip-gen travel.
When it comes to cruising and families, then, the relationship between the two appears to be strengthening. But with so many cruise companies and ships to choose from, let alone destinations, how do you know which type of cruise will suit you?
Whether you're planning a trip together with your kids or are planning to wave them off at the port with their nan and grandad, we've highlighted six cruise options, each with a specific family charm…
Ideal for younger kids
P&O Cruises provides parents with hassle-free holidays. They have some of the biggest kids' clubs at sea as well as dedicated family cabins on most ships. One huge draw for parents keen on a well-deserved break is the complimentary night nursery that runs between 6pm and 2am for children aged six months to four years. Kids' activities range from puppet shows and craft classes through to sports challenges, baking classes, drama workshops and music sessions for older kids. Plus, there are kid-specific excursions such as dolphin watching, waterparks and boat rides. With five family cruise ships on offer you'll find a solid choice of destinations, from the serene Mediterranean to the scenic Norwegian Fjords.
Visit pocruises.com or call 0344 3388003 for more info.
Ideal for teenagers
Norwegian Cruise Line's casual atmosphere, relaxed dining, and buckets of kid-friendly activities has long led the way when it comes to family cruising. Its newest ship, Norwegian Bliss, launched in April 2018 and still found new ways to impress even the most hard-to-please kids. How about a 1,000ft electric go-kart track or open-air laser tag? A water park with spine-tingling slides that bulge over the ship's side and allow side-by-side racing? Seriously, what teen could resist?
Visit ncl.com or call 0333 2412319 for more info.
Ideal for education
If you're wanting an educational slant to your cruise holiday, then Princess Cruises are a great choice. Hands-on science experiments with Discovery Science, Animal Planet excursions, Culinary Academy baking classes and destination immersive activities on nature and culture are just some of the learning opportunities available on its newest ships. Princess has also introduced the Ocean Medallion, a new piece of wearable tech that allows kids to buy food and message family members, plus helps parents find them, meaning that children have even more freedom – and parents even more breathing space.
Visit princess.com or call 0344 3388663 for more info.
Ideal for Lego?!
MSC Cruises has done some neat partnership work, especially by teaming up with Lego. The beloved Danish toy brand designed the onboard play areas so that kids between seven and 11 years can play with Lego. All. Day. Long. They also have Lego competitions, Lego tech, Lego theatre and a once-per-cruise Lego Experience Day: an entire day dedicated to Lego for children and parents alike. Other tie-ups include baby brand Chicco with its quality parenting accessories and baby toys, an innovative kids' sports programme called DOREBRO and Cirque du Soleil shows. And if that weren't enough, there are F1 simulators, 4D cinemas and bowling available. Sheesh.
Visit msccruises.co.uk or call 0203 4263010 for more info.
Ideal for thrills
Known for its huge floating resorts, Royal Caribbean International doesn't do anything by half – something that definitely applies to its huge array of onboard activities. Its newest ship, Symphony of the Seas, usurped sister ship Harmony of the Seas as the world's largest cruise ship by gross tonnage. Families will find a surf simulator, a nine-deck high zipline, a 30ft climbing wall, adrenaline-fuelled waterslides including the Ultimate Abyss with a 100ft plunge, bumper cars, a DJ Academy… The list feels endless.
Visit royalcaribbean.co.uk or call 0344 4934005 for more info.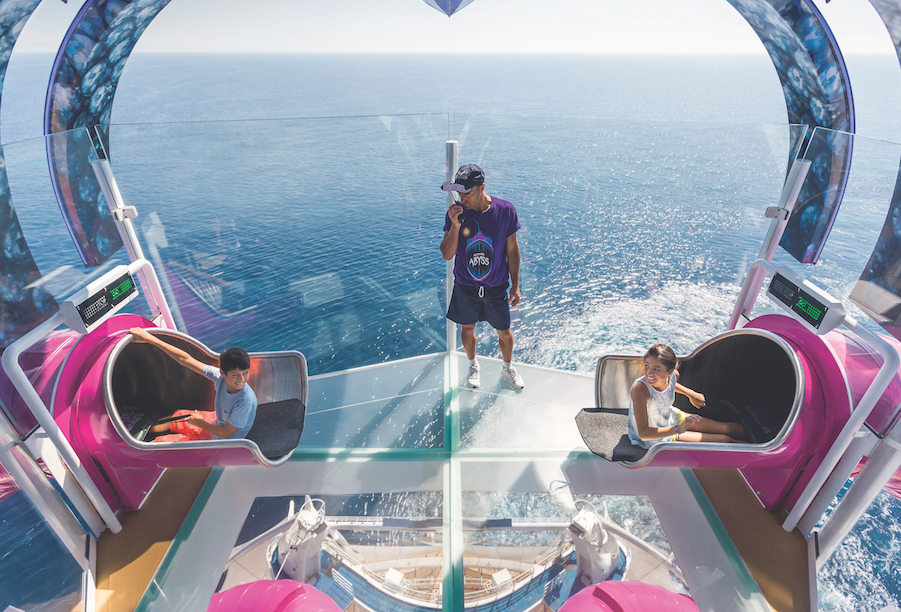 Ideal for that Disney magic
It's impossible not to include these iconic guys when talking family cruise holidays, particularly if you have younger kids. Each of Disney Cruise Line's four casino- and library-free ships has an opulent Walt Disney Theatre onboard with Broadway-quality productions on offer. Plus, there are cinemas showing (obviously) Disney films. The water parks are perfectly aimed at families and kids – not forgetting parents – also have the chance to meet, greet and collect autographs from a host of Disney characters hanging around the decks, from Frozen to Star Wars and Mickey Mouse. Imagine a concentrated Disneyland on water and you'll be close enough to a Disney cruise.
Visit disneycruise.disney.go.com or call 0800 1712317 for more info.