Looking for the perfect gift for the person who has everything?
Then choose Fatso, the dark chocolate brand that gives you more in every bite.
For the ultimate chocoholic, who loves the finer things in life, Fatso is a top present. Choose from three chunky bars that are packed with quality ingredients and the biggest flavours to leave any recipient beaming.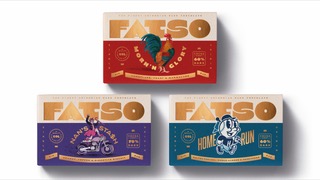 Morn'n Glory: Choca-doodle-doo. This breakfast-inspired combination delivers a dark chocolate bar with 60% Colombian dark chocolate, filled with crunchy cornflakes with a side of toast and orange marmalade.
Home Run: Fatso's ode to the humble baseball game. Bumper chunks of salted pretzel, whole almonds and honeycomb wrapped in 60% dark chocolate.
Nan's Stash: We all know Grandmas are the OGs of sneaky snacking, so it only seemed right to raid Nan's Stash in tribute to these old-school Fatsos. 70% cacao is packed with crunchy peanuts, chewy toffee and buttery digestive biscuits from Nan's secret stash.
Sourcing the best cocoa from family-run Luker's Farm in Colombia, Fatso chocolate is True single origin with Fino de Aroma accreditation and grown with the fair and sustainable future of the local community and planet Earth in mind.
Find Fatso nationwide or visit www.sofatso.com to buy online.