The Alfa Romeo Stelvio Quadrifoglio, with its 510PS 2.9-litre V6 twin-turbo engine, isn't slowing down. The supercar-esque performance of the showcase SUV comes with some upgrades for 2020.
The QV, as we often abbreviate the name to in the UK, is like BMW's M, Audi's RS or Mercedes' AMG. The green cloverleaf badge signifies blistering clout and rapidity – as well as quite a few stops at the petrol pumps.
Of course, if you're a petrolhead at heart, you won't care much about efficiency – you'll care more about performance and maybe a few other things, too. Whatever the case, we've got it covered in this review.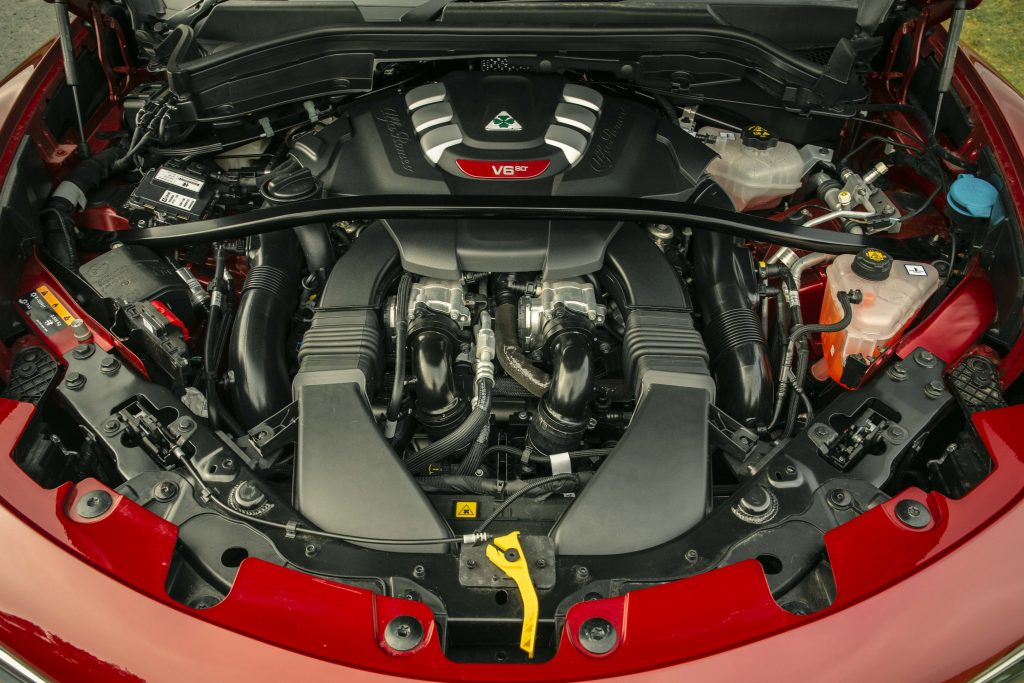 Performance
This is a bloodthirsty Alfa, and extreme performance is at hand. No surprise there, though – the Italian automaker has an admirable motorsport legacy. What's more, Alfa Romeo doesn't want folk to forget that it knows how to make motors that feel amazing to drive. As a result, 2020's Stelvio Quadrifoglio, or QV, is one of the lightest mid-size SUV's around, as well as having excellent power-to-weight ratio and well-balanced weight distribution.
If you're into your cars, you'll know that the above is essential if you want a vehicle that's exciting and engaging to drive. However, without a solid powerplant, it all means very little. Thankfully, the engine on offer here is stonkingly good. It's a 2.9-litre V6 turbocharged petrol lump joined up to a reassuringly grippy four-wheel-drive system.
Pushing out 510PS, the mass under the bonnet enables this SUV to get from 0-62mph in 3.8 seconds. Yes, you read that correctly – this Stelvio will do the benchmark gallop in sub-four seconds. Drive it somewhere without speed limits, like a disused airfield or a racetrack, and you'll feel like you're about to take off. Why? Because the Stelvio QV can reach an eye- popping, brain dissolving 176mph.
It's also worth mentioning that the soaring soundtrack accompanying the Stelvio Quadrifoglio comes courtesy of a twin mode quad exhaust system. You can even fit the QV with an Akrapovič exhaust if you tick this option. This is a titanium dual-mode system and comes with carbon fibre tailpipes and an even more guttural sound than the standard pipes.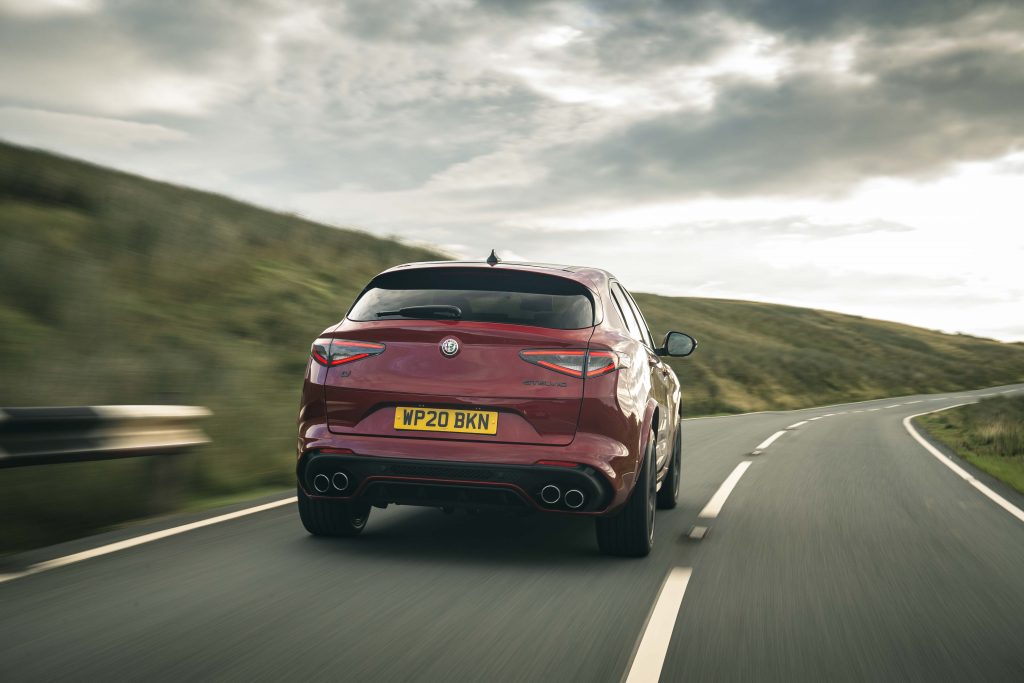 Ride & Handling
It is not very often that you get into an SUV and realise how much of a laugh you're having, but the Stelvio QV is one of those rare high-riders that is fun to drive wherever you are. It is grin-inducing when driven quickly on rural roads or the motorway, and it's a pleasure pootling around town in.
Lots of praise should be heaped upon the engineers in charge of delivering the Alfa's low weight and 50/50 weight distribution. Why? Well, because the Stelvio Q feels like an SUV that's meant to knock your socks off. That's rare in this corner of the automotive market.
The steering is direct and quick, and the amount of grip from the tyres feels reassuring and virtually everlasting. Alfa's all-wheel-drive arrangement favours feeding power to the back wheels, so it handles similarly to a rear-wheel driven car for much of the time. Power is only sent to the QV's front wheels when traction levels plummet.
Usually, the downside for this athleticism is a harsh ride, but the Stelvio QV balances a smooth and comfortable ride with its agile, performance-orientated tendencies.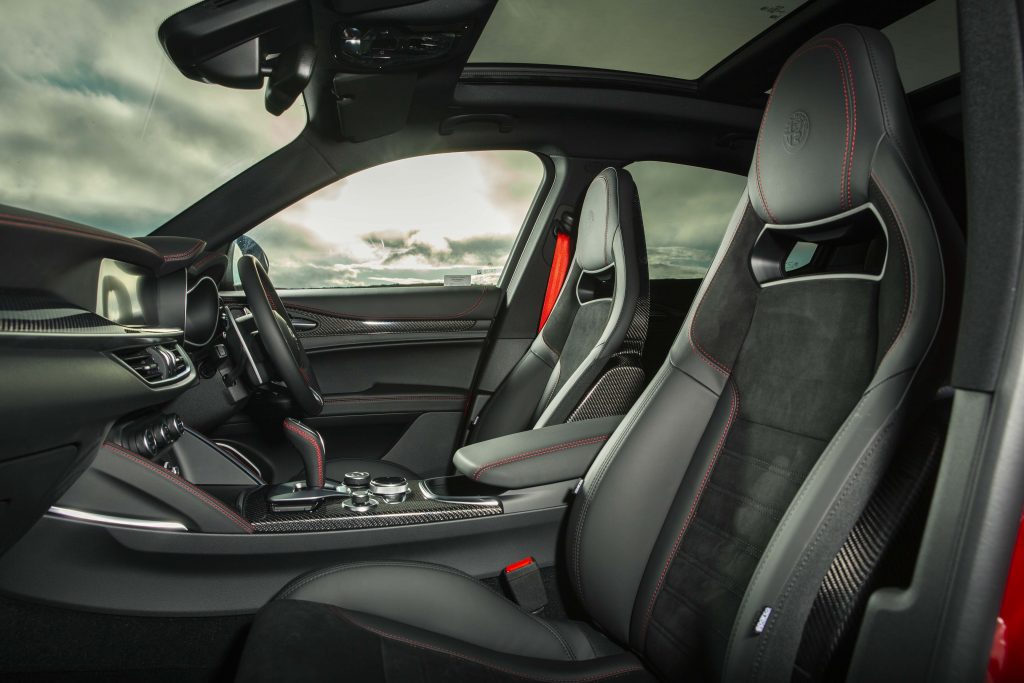 Refinement
Yes, an SUV is meant to be refined, particularly when you're splashing out north of £73,000. This is the area where the likes of beast-like BMWs, Jaguar and Audis prowl. Therefore, SUVs parachuted into this crowd need to have the ability to hold their own. While the engine in the latest QV is roaringly good – you can hardly call it quiet. However, the Stelvio's cabin makes up for this. Comfy seating with loads of adjustment, a bunch of gadgets such as climate control, cruise control, DAB radio, navigation and a slick eight-speed automatic transmission makes the Stelvio QV rather comfortable in the company of other SUV models.
While the interior quality isn't flawless, it's still a better effort than when the Stelvio first came out. The Alfa's centre console has been tweaked to offer a greater visual and tactile impact, while also providing extra storage room.  A fresh leather-wrapped gearstick and steering wheel are also now standard. Oh, and you can select green or red seatbelts over the traditional black ones if you want to. 2020 sees perforated upholstery making itself available on the Quadrifoglio, too. You also get Alcantara and leather sports seats – although you can tick the carbon shell Sparco seat option box if you feel the need.
Behind the Wheel
It's pretty obvious, but behind the wheel is the best place to be inside the new Stelvio QV. The SUV is meant to be driven for joy, and the driver's seat position, which is bang on, reflects this. The leather and Alcantara seating is a joy to sit in. It looks the part, for sure, and the shift paddles behind the steering wheel add another splash of refinement. The overall quality still isn't quite as high as in a Merc or an Audi, but it's not far behind. 
The QV's onboard tech has also been enhanced this year to include an all-new infotainment system with an 8.8-inch touchscreen display. It features a new interface design and connected services. Only available on the Quadrifoglio, the new Performance Pages show torque delivery, the temperatures of mechanical components and turbo pressure. You also get digital chronometers that measure throttle input and maximum speed, allowing you to view the vehicle's status and performance levels in real-time.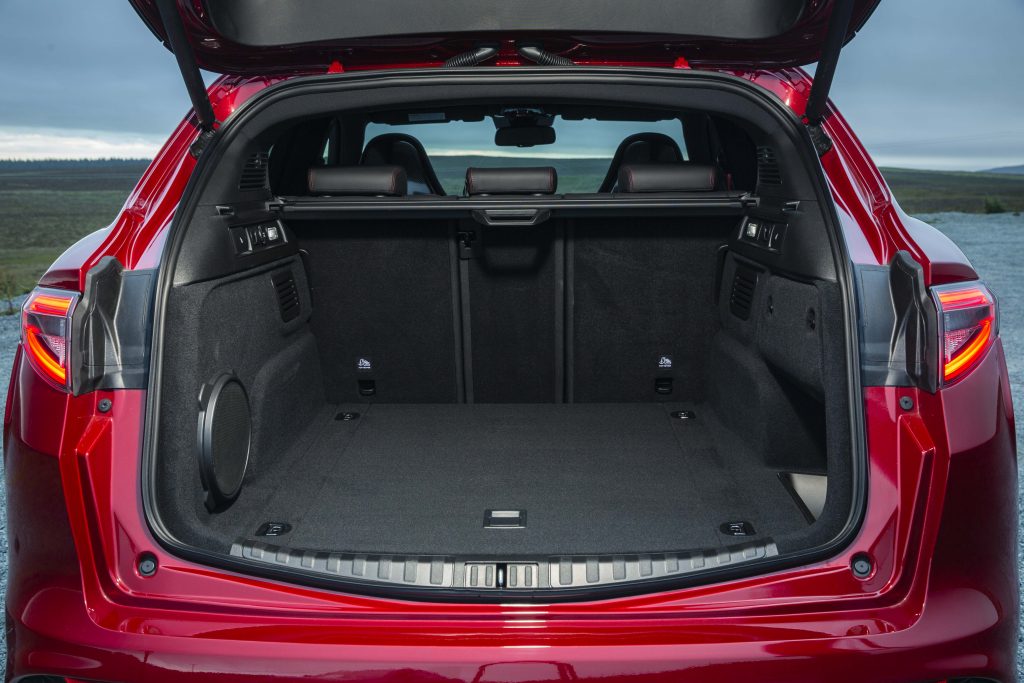 Space & Practicality
This is the dull bit of car review writing. But we need to know how much room we've got to cram passengers and belongings into our motors. Alfa Romeo realises this as much as any other automaker, and it has ensured there's plenty of practical elements within its stylish five-door Stelvio QV. In total, you get 525-litres of cargo capacity, and the rear seats fold down to boost room, should it be wanted.
For the transport of passengers, this sporty SUV does a good job in providing plenty of leg and headroom in the rear, which isn't always easy to achieve in this kind of vehicle. Two adults will be more comfortable in the back than three, though, due to an overly flat and less than supportive centre seat.
Having the all-wheel-drive system is also very practical. It gives you that additional bit of traction and security on the road. We're heading into the autumn now, so rain showers, mud, fog and even frost will kick in before we know it.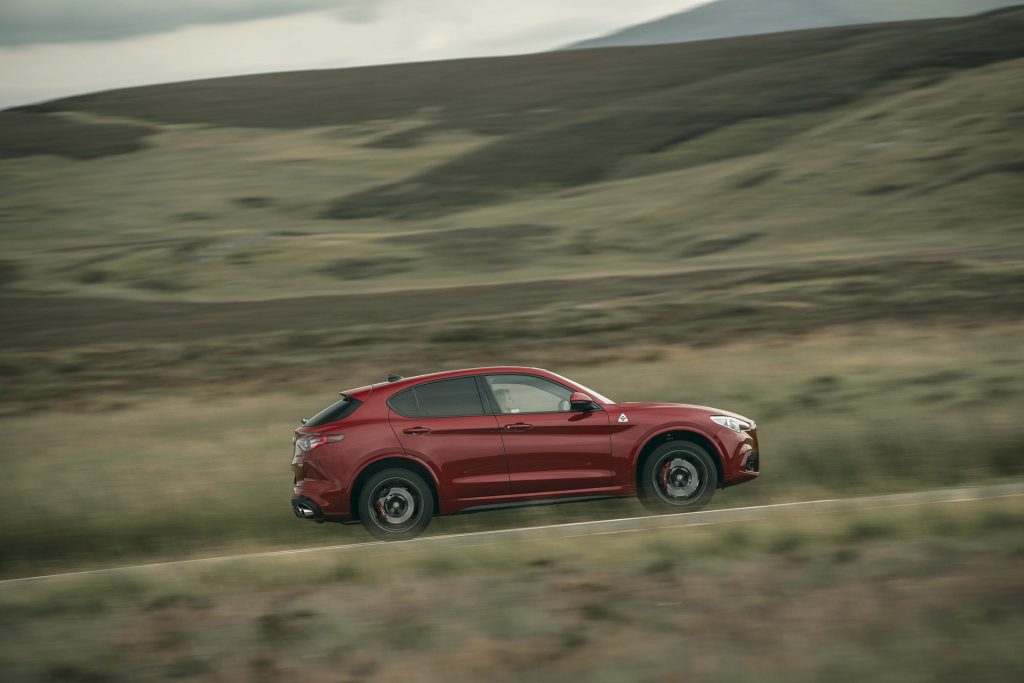 Running Costs
SUVs haven't always had the best reputation for running costs – especially £73,195 performance-oriented ones. Indeed, the 510PS 2.9-litre twin-turbo V6 petrol lump won't break any records for efficiency.
Alfa claims that the QV will do as much as 28mpg on average, but low 20s mpg is perhaps more realistic – especially in busy, congested Britain. There's also the obvious temptation to be a tad heavy-footed with the accelerator – especially when you and the Stelvio have only just met. You'll soon start to keep an eye on the fuel gauge, though – and the speedo!
Quality & Reliability
Alfas don't have quite the same build quality as the predictable German suspects. Therefore, the only way Alfa Romeo will be able to build its presence in this mighty sector is by improving on its track record. Currently, it isn't clear precisely what the future holds for the brand in this regard, but the chat coming out of Italy is positive, and the latest Stelvio QV we've tested does feel a step up on the initial model.
The industry is quietly optimistic about Alfa Romeo's future, but we'd like to see the brand offer a warranty that's longer than three years. Mind you, the mileage is unlimited – and that perhaps shows Alfa's faith in itself more than anything else.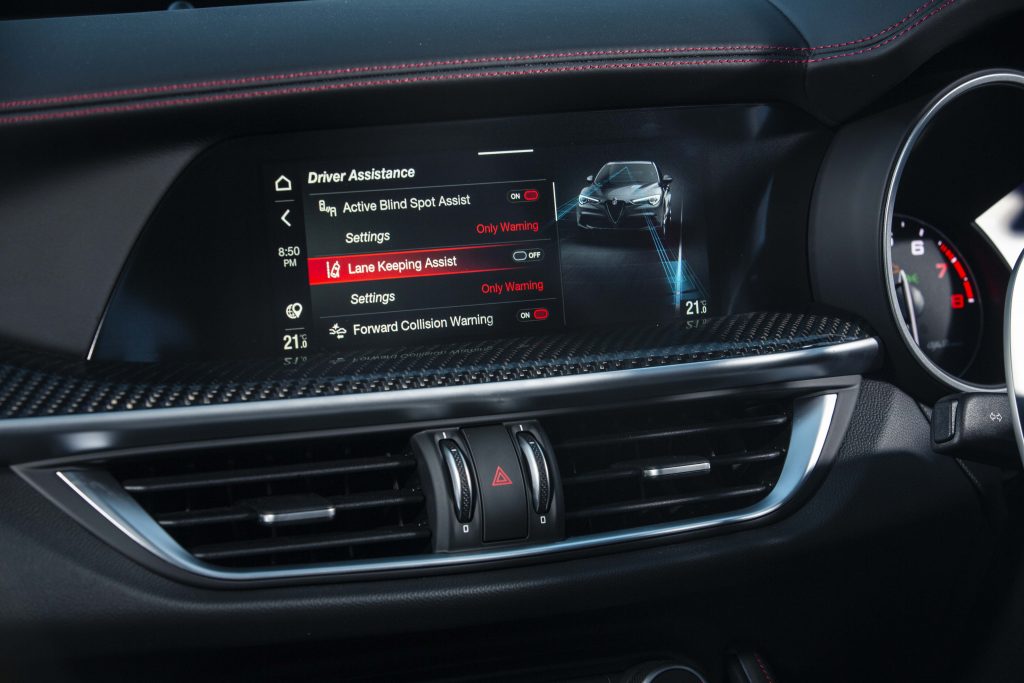 Vehicle Safety
You wouldn't usually expect Alfa Romeo to be leading the way when it comes to safety, but the Stelvio is a very safe and secure vehicle according to Euro NCAP crash tests. The SUV was awarded the top five-star rating, and it holds an impressive 97 per cent score for the protection of adult passengers.
This means there are more airbags than you can shake a stick at, as well as the following safety aids: Lane Keep Assist, Active Blind Spot Assist, Active Cruise Control, Traffic Sign Recognition and Intelligent Speed Control. Traffic Jam Assist and Driver Attention Assist. Basically, should you have an accident in the latest Stelvio QV, you're about as well protected as you can get.