Nissan has reinforced its position as the leader in the European crossover segment with the launch of the all-new, third generation Qashqai. Over three million units of Qashqai have been sold since Nissan invented the segment in 2007.
For this new iteration, Nissan has retained the guiding principles that have driven the concept, design and development of the two previous generations of Qashqai: elegant design, enhanced packaging and efficient powertrain, combined with elevated quality and a driving experience from a higher segment. Thanks to the new Alliance CMF-C platform, a showcase of engineering, innovation and advanced technology, the new Qashqai is set to raise the bar again in the crossover segment.
Elegant Design
As with the two previous generations, the design for the all-new Nissan Qashqai came out of Nissan's European Design Studio in London.
Although unmistakably Qashqai in its styling, the third generation is more muscular, sharp and modern. On the exterior, the car's enhanced body stance is more purposeful, with prominent shoulder lines, an extended wheelbase and imposing 20-inch alloy wheels introduced to the Qashqai for the first time.
The wheelbase of the car has increased by +20mm with the overall length increasing +35mm. There's a marginal increase in height (+25mm) and width has increased +32mm for improved presence on the road.
The front end of the all-new Qashqai sports an enlarged Nissan V-Motion grille, finished in chrome with a secondary pinstripe of satin chrome to emphasise its precision. This is flanked by slim, full LED advanced matrix headlamps with boomerang signature daylight running lights. Super tight gaps between all these details create a premium and precise impression.
The forward lighting on the new Qashqai has been enhanced from the previous model to feature a slimmer, sharper design, thanks to the use of LED technology.
From the side, the new Qashqai appears more athletic and dynamic, with a single 'fast line' that strikes through the car from the front to the rear, giving a very horizontal presence, but also conveying a sense of dynamism.
The new Qashqai is also available in 11 body colours with five two-tone combinations, creating 16 variations to choose from.
Interior Ambience
Connected, comfortable and commanding, the cabin of the new Qashqai sets a new segment standard for premium feel, distinctive design and enhanced usability.
Creating a reassuring and calming environment, new white ambient lighting is used throughout the cabin, with its uniformity giving a harmonious impression.
Extensive attention has clearly been paid to the ergonomic and aesthetic quality of the switchgear, too. There's a high quality, tactile feel, giving you a sense of confidence and refinement.
What's more, the new Qashqai offers an advanced infotainment system with a bunch of connected services, including effortless integration of smartphones and in-car WiFi for up to seven devices.
An innovative new 10.8-inch Head-Up Display (HUD) also provides the biggest-in-segment image size. Key navigation, driver assistance and road information are projected onto the windscreen within your line of vision.
Furthermore, if not using your phone's navigation, you can access 3D Maps & Live Traffic, which includes navigation features such as over-the-air map updates, real-time traffic conditions, Google Street View and fuel prices.
And, at last, connectivity extends to all occupants with the console box now offering front and rear USB charging connections with both USB-A and USB-C ports. This means your kids can happily plug in their devices and stay quieter for longer – yay!
Commanding Comfort
The new Qashqai continues to give you a commanding sense of your environment with improved forward, side and rear visibility. Enhancements include a wider windscreen opening angle, thinner front pillar design and side mirrors mounted on the door, instead of the a-pillar, reducing zones of obscured visibility.
The longer wheelbase of the car combines with efficient packaging to create even more room for everyone. Knee room for rear occupants has grown by 28mm to 608mm, with more distance created between driver and front passenger. Front and rear headroom has increased by 15mm, thanks to the small increase in exterior dimensions.
Practicality Personified
A powered hands-free tailgate makes accessing the boot effortless when hands are anything but free. Overall luggage capacity has increased by over 50-litres from the previous generation model, thanks in part to the cargo floor being lowered by 20mm.
Popular features of the outgoing Qashqai, for example the side storage compartments over the wheel arches and the Flexible Luggage Board System, are carried over and enhanced for the new model. Now you get reshaped boards, as well as durable carpet on one side and wipe-clean plastic on the other.
And this is an important one, dads – you'll appreciate that the rear doors now open to 85 degrees, allowing easier access to babies and toddlers in child-seats. Praise be!
Electrified Powertrains
The new Qashqai is not only available with a 1.3 DiG-T petrol engine equipped with mild hybrid technology, but it also represents the European debut of e-POWER, Nissan's innovative powertrain that draws technologies from the pioneering Nissan LEAF electric vehicle.
With both 2WD and 4WD variants, six-speed manual or new Xtronic transmissions, and pure-electric motor driving, courtesy of e-POWER, the Qashqai's powertrain options cater for every requirement, with driving pleasure at the heart of all the powertrain configurations.
In our opinion, the Xtronic auto transmission is the one to go for. There's enough stress involved in being a parent, so why bother with clutch and gearstick action when you can let the car effortlessly swap the cogs for you.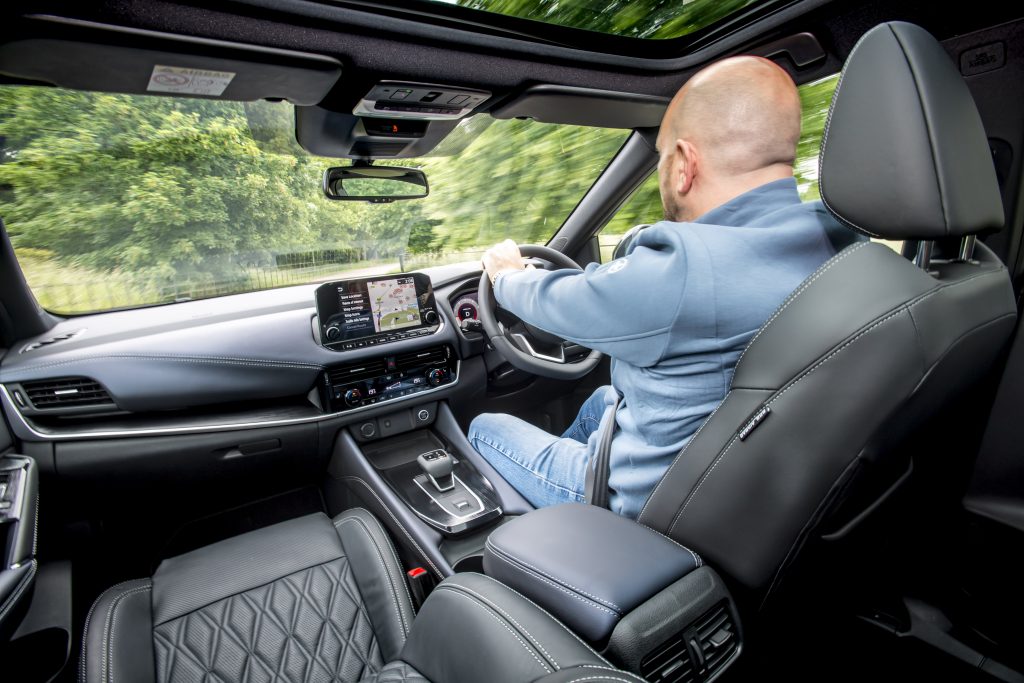 1.3 DiG-T Petrol 138hp/156hp 12V Mild Hybrid
The 12V mild hybrid system available on the new Qashqai is a more affordable hybrid technology that provides torque assist, extended idle stop, quick restart and coasting stop [Xtronic only], with improvements to both fuel economy and CO2 output (-4g/km).
The positive impact of the mild hybrid's energy management on CO2 is competitive and the 1.3-litre engine delivers more power and torque than key competitors, making the petrol engine variant a compelling offer. The mild hybrid system adds just 22kg to the overall vehicle mass.
When decelerating, energy is recovered through regeneration and stored in the Lithium-ion battery. This charged energy is then supplied during Idling Stop, Coasting Stop (Xtronic versions only) and Torque Assist.
When coasting to a stop, at speeds of less than 18kph, and 'brake on', the engine will switch off and the stored energy is used to power the vehicle's electrical equipment. This allows engine stop to be extended and fuel consumption lowered as a result.
The mild hybrid system is mated to the refined and reputable 1.3 DiG-T petrol engine that was introduced to the Qashqai in 2018. This engine has been improved further for the new Qashqai with 50 newly designed components and Euro6-d full compliance.
The 1.3-petrol motor is offered with two power outputs – 138hp and 156hp. 2WD is available on both versions, whilst 4WD is only available on 156hp Xtronic models. A new 4WD control system and driving selection mode is more intuitive and intelligent, adapting itself to external conditions with five driving modes – Standard, ECO, Sport, Snow and Off-Road. In case of any wheel slip, the time in which the 4WD system acts has been reduced by a factor of five to around 0.2 seconds.
e-POWER
The new Qashqai's e-POWER system is comprised of a high-output battery and powertrain integrated with a variable compression ratio petrol engine, power generator, inverter and 140kW electric motor of similar size and power output as found in Nissan's electric vehicles. It's a unique solution that combines the enjoyable, seamless linear acceleration which is characteristic of an EV, but without the need for charging.
The Qashqai's e-POWER installation has been upgraded to a 1.5-litre petrol engine, with a final power output of 140kW (187hp). The unique element of the e-Power is that the petrol engine is used solely to generate electricity, whilst the wheels are completely driven by the electric motor. This means the engine can always run within its optimal range, leading to superior fuel efficiency and lower CO2 emissions compared with a traditional internal combustion engine.
Thanks to the pure electric motor drive, there's no delay as with an internal combustion engine or traditional hybrid. The instant response delivers exhilarating high torque feel and best level acceleration at different speeds to make overtaking or merging onto a motorway easier and more confidence-inspiring.
Similar to the LEAF, the new Qashqai e-POWER benefits from an entirely new 'one pedal' driving experience called e-Pedal. You can start, accelerate and decelerate using only the accelerator pedal.
You could say the all-new Qashqai is the ultimate family car, but it's also a crossover that's fun to drive once the kids have been dropped off at school! Whatever the case, the latest Qashqai will continue to offer a rewarding driving experience – building on its reputation as a refined and cossetting drive, and enjoyable when the road turns twisty.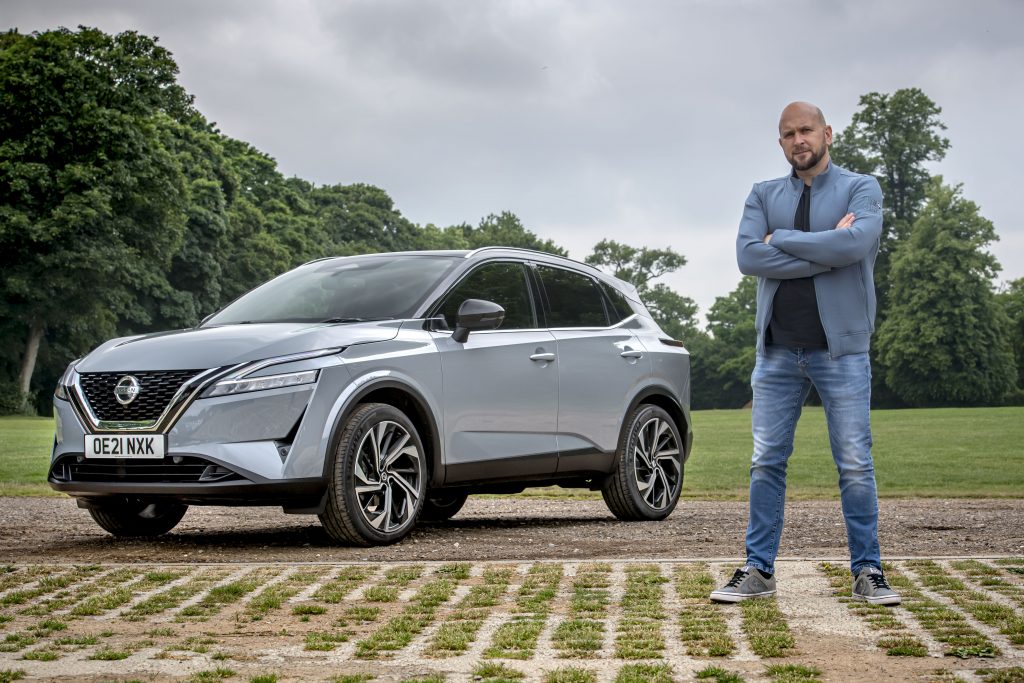 For more information on the all-new model, click here.