If you're looking for an electric car that stands out from the crowd, you might want to look at the Citroen eC4.
The eC4 is a crossover that combines a coupe's sleek lines with a hatchback's practicality and adds a dash of Citroen's trademark quirkiness.
But is it any good to drive, and does it make sense as an electric car? Let's find out.
The Citroen eC4 comes in three trim levels: Sense, Sense Plus and Shine – and we're driving the entry-level Sense model, which still comes with plenty of features.
You get 18-inch alloys, LED headlights and taillights, rear parking sensors, automatic air conditioning, cruise control and a ten-inch touchscreen with Apple CarPlay and Android Auto.
It also comes with a six-month subscription to Citroen's Connected Services, which lets you access various functions of the car remotely via an app.
The eC4 is powered by a single electric motor that produces 136PS and 300Nm of torque, which propels the front wheels through a single-speed automatic gearbox.
Its battery has a capacity of 50kWh, which gives the car a claimed range of 219 miles, while charging the battery from 0 to 100% takes around 7.5 hours on a 7.4kW home wallbox or 30 minutes for a 0 to 80% top-up on a 100kW rapid charger.
The eC4 is a striking-looking car with a sloping roofline, angular headlights and a large grille that hides the charging port.
At the back, a distinctive spoiler extends over the rear window, giving the car a sporty appearance.
The bodywork features various plastic cladding panels to protect the Citroen from scratches and dents.
Multiple body colours range from sober greys and blacks to vibrant blues, reds and oranges.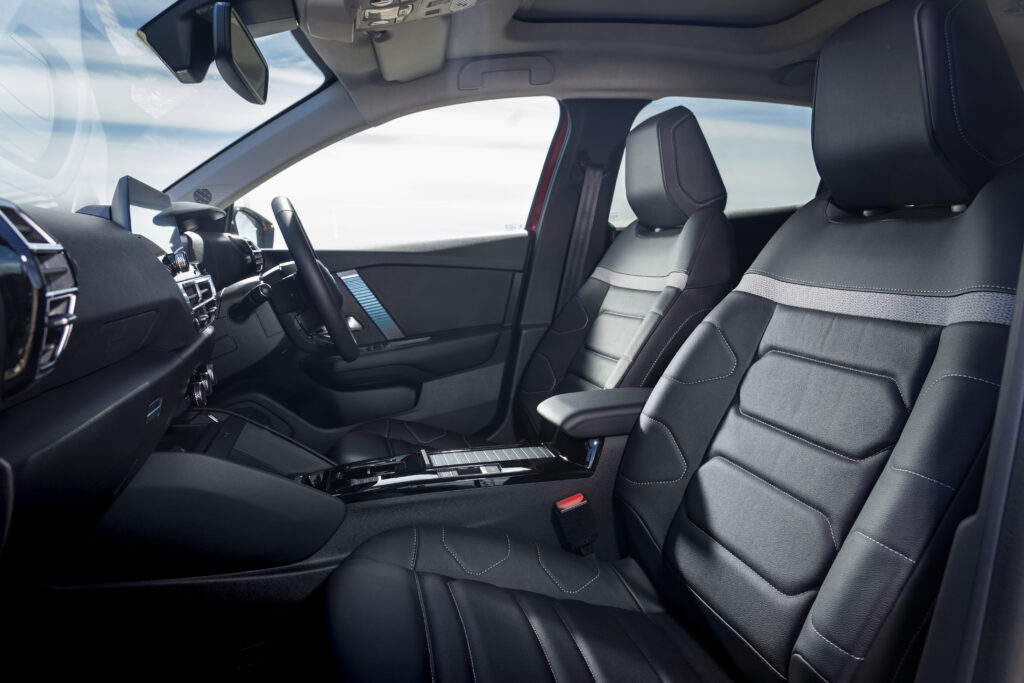 A burst of torque from the electric motor delivers instant acceleration, making the French vehicle feel nippy around town, although it makes hard work of the final seconds as it approaches 70mph.
There are three driving modes to choose from: Eco, Normal and Sport, with Eco limiting the power output and maximising the regenerative braking, which helps to extend the range.
Normal mode balances performance and efficiency and Sport sharpens the throttle response and steering.
The suspension system is one of the highlights of the eC4, as it features Citroen's Progressive Hydraulic Cushions technology. This means that hydraulic bump stops at each end of the suspension travel absorb shocks and vibrations from uneven roads.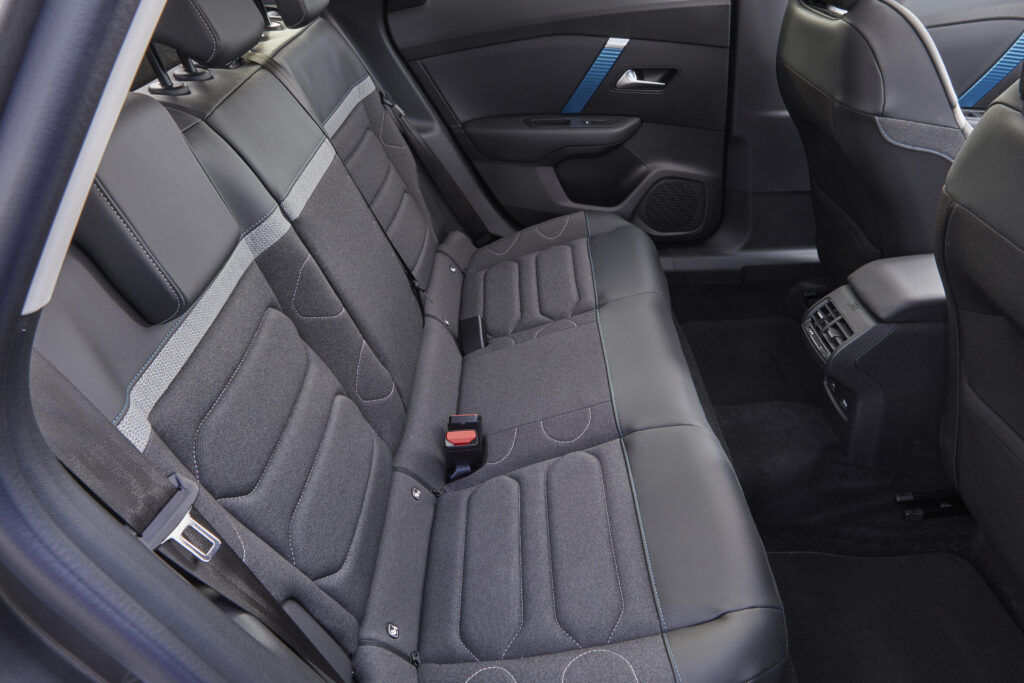 The result is a very comfortable ride quality, especially on rough surfaces, making the eC4 feel smooth and refined.
In terms of handling, the eC4 does okay, with light but precise steering and reasonable body control. The Citroen feels stable and composed in corners, although it's not as agile or fun as some challengers.
On the inside, the eC4 is spacious, with a minimalist dashboard and a digital instrument cluster, which looks stylish if a bit plasticky in places.
The Sense model has supportive cloth seats in grey or blue, with contrasting stitching and piping. Plus, there's plenty of headroom and legroom for front and rear passengers.
The boot space is decent, too, offering 380 litres of room with the rear seats up and 1,250 litres folded down in a 60/40 split. What's more, it has a height-adjustable cargo floor for added convenience.
The infotainment system is easy to use, with clear graphics and intuitive menus. It is responsive to touches and prods, with physical shortcut buttons below for quick access to different functions. The only downside is that some of the settings are buried in submenus, which can be distracting while driving.
The sound quality from the six-speaker system is good, too, although you can upgrade to a premium Focal system on higher trims.
The eC4 is an economical car to run, as it has zero emissions and low running costs. Citroen says you should be able to do 219 miles on a full charge but, as with nearly all-electric cars, expect less than this in practice.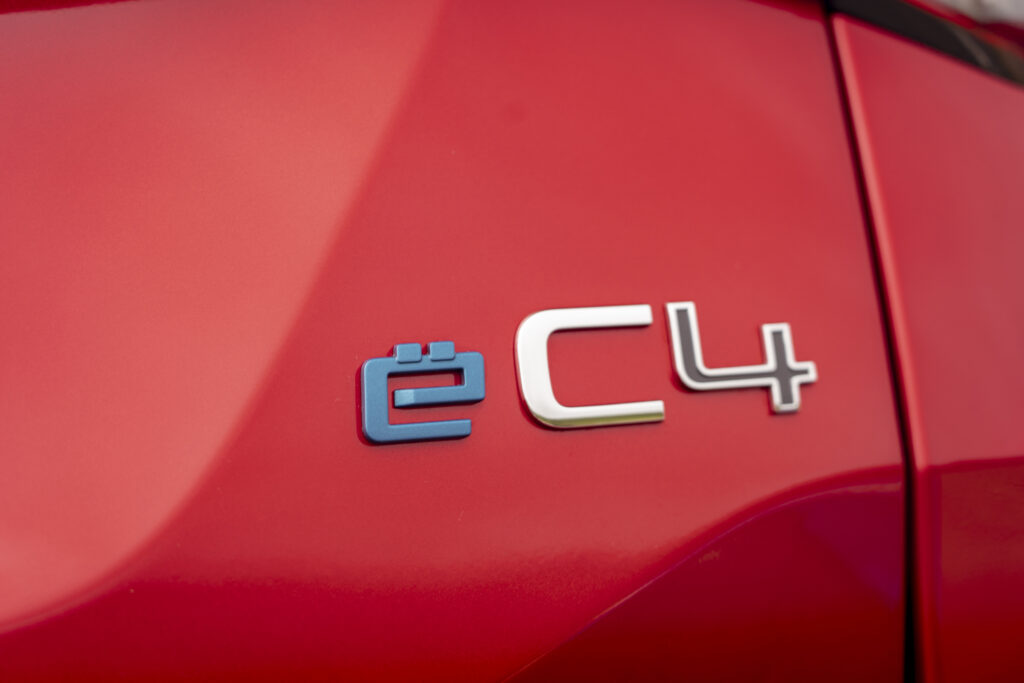 The electricity cost per mile will depend on your tariff, but it'll be generally cheaper than petrol or diesel despite the recent hikes in energy prices. The eC4 also benefits from lower road tax and maintenance costs than conventional cars.
The Citroen eC4 is a quirky and appealing electric crossover that offers a smooth ride and a spacious interior with plenty of practicality.
It is well-equipped, stylish and economical to run, and has a lot of character.
However, it could be more engaging to drive, and it faces stiff competition from rivals such as the Hyundai Kona Electric, the Kia e-Niro and the Volkswagen ID.3. The eC4 is also pricier than the standard C4.
But, if you're looking for an electric car for the family that's different from the rest, the eC4 is certainly worth a gander.