We may be in Lockdown part 2 – but baby gear brand, Joie, has been busy spreading some joy to lift the spirits of the people of Liverpool.
Joie lit up Liverpool's Radio City Tower to surprise local couple Nicola and John Stewart-Pope who were watching via a big screen from the safety of their doorstep. Why? Well, they wanted to find out whether they were having a boy or a girl. As the tower was illuminated in blue, the couple were over the moon to learn they will be welcoming a baby boy in 2021.
Memorable
The big reveal came after an on-air competition launched on the Radio City breakfast show to bring a little light to the city during what have been difficult times. You can watch the reveal in full here.
Breakfast show presenter, Leanne Campbell said: "We know that usually, couples would be celebrating such news with their friends and family. But at the moment this just isn't possible – so we wanted to give the chance for something truly memorable."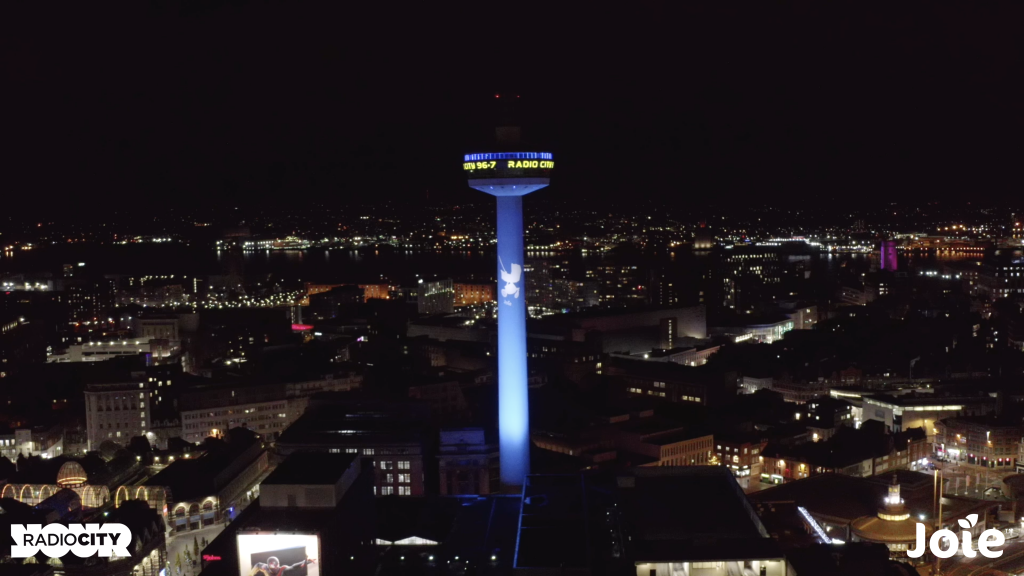 Mum-to-be, Nicola, said: "John and I have been trying for a baby for 11 years and we'd come to the conclusion that it just wasn't going to happen for us. Then in July I had started to feel a little unwell – we panicked a bit because of Covid, and I work as a nurse, but I was actually three weeks pregnant!
"We were absolutely delighted to be chosen for this prize – it means so much to know our story has been heard. And it just shows, you should never give up hope. We're so excited to be having a boy – although we wouldn't have minded either way. We just want to meet him now and see his face."
The couple were also treated to a bundle of Joie products including the award winning versatrax, pushchair, ramble XL carrycot and i-Snug infant carrier.
Milestone
Joie's Managing Director, David Welsh, commented; "We are delighted to have been able to give Nicola and John this amazing opportunity. What a way to find out that you're going to be having a baby boy! And what a fantastic thing for him to be able to look back on when he's older, and to know that he was part of the UK's biggest gender reveal.
"Our products are there for every important milestone in your little one's early years – so for us to be able to be a part of this earliest milestone is incredibly special for everyone at Joie."