If you're looking for the perfect gift for those that love a brew, then look no further than Paddy & Scott's Christmas gift boxes, containing its best-selling coffee and some festive treats. 
With a range of budgets and different sized hampers to suit all, you can be sure to find a present for the coffee connoisseur in your life. From its classic ground coffee to its new wholebean range, Paddy & Scott's has thought of everything to satisfy any hot drink fan. 
The Ultimate Box is the ideal gift for those that adore a freshly brewed cup morning, noon and night. With a bag of each of its best-selling classic coffees; 'Wakey Wakey', 'Chit Chat' and 'Easy Days', there's something for starting the day off right, to a laid-back afternoon cuppa and everything in between.
Available as either wholebean, ground or decaf, you can be sure that this gift box will suit any preference. Plus, inside there's also a Paddy & Scott's reusable Keep Cup and a box of biodegradable pure craft coffee Brew Bags, for the times when only a simple cup of coffee will do.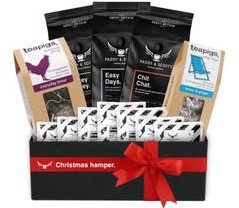 The Bean Box includes Paddy & Scott's new wholebean range in its three classic varieties (Wakey Wakey, Chit Chat and Easy Days), for the ultimate coffee-lover who prefers a freshly-ground cuppa. So, if all your relative wants for Christmas is incredible tasting coffee in the comfort of their own home, then this is the ideal gift for them. 
For those that have a sweet tooth too, The Mocha Box includes two varieties of Paddy & Scott's best-selling coffees, 'Wakey Wakey' and 'Chit Chat', as well as a bag of its original Lux hot chocolate. So, whether they are in the mood for coffee, or something sweeter, you've got it covered. The gift box also includes a Keep Cup, so they can take their pick of the day with them, whatever it has in store.
Got a colleague that always seems to have a pot of coffee on the go? Then The Secret Santa Box is the ideal gift. With a bag of Paddy & Scott's signature blends, 'Chit Chat' and 'Wakey Wakey', you'll surely be in their good books at the office party.  
Paddy & Scott's gift boxes are available to order online now at https://paddyandscotts.shop.