Enjoy the coming festival season with this straightforward survival guide made just for families.
Music festivals are no longer the preserve of adults. From nationally recognised weekenders, such as Camp Bestival and the Big Feastival, to the smaller local community day festivals, these events are firmly on the calendar for parents everywhere.
Although it may feel daunting taking your children to their first festival (or even if you've taken them before), don't despair – here are six tips for making the whole experience as enjoyable and stress-free as possible so that can you all focus on fun instead.

Arrive early and get a good pitch
Whether you are setting up camp for the weekend or the day, having a good base is key. It also gives you time to scope the area and adjust to your surroundings.
Remember the essentials
From first aid and toiletries to nappies and wellies, write out a list and make sure you've got all the basics covered before you set off.
Seating
Ideally, you want everything you take to be compact, multi-purpose and lightweight…
The award-winning Apramo Flippa Dining Booster Seat (RRP £44.99) is the ultimate festival companion when it comes to your family's outdoor dining needs.
Its portable, lightweight design means that it's perfect to take with you on any family adventure, making meal times nice and easy. The Flippa folds in three steps and can be used with or without the tray. With its aluminium legs, this booster seat is super lightweight and the four adjustable rubber feet provide stability, adjustability and support during mealtimes.
It's suitable for children ages six months to three years and as well as festivals, it can be used on the beach or a picnic in the park as well as simply strapped to your dining chairs for indoor dining.

Snack attack
Balance out the ice cream and sweet treats on offer at festivals with a supply of healthy snacks to keep those blood-sugar levels and demands at bay.
Carry that weight
Ever tried lugging a buggy through a field of festival-goers? Even the best off-roaders can leave you in a tangled sweat. This is where a bit of babywear comes in nicely. It allows you to move easily along while keeping all your limbs free.
Beco make superb baby carriers and are great choice for festivals. For example, the Beco Gemini is a 4-in-1 baby carrier with four comfortable carrying positions and definite sense of style. While the Beco 8 has a deluxe ergonomic seat, built-in headrest, generous leg padding and convertible ventilated 3D mesh panel. 
Beco 8 Grey, RRP £125.

Beco Gemini Carina Nebula, RRP £105.
Using a baby carrier will really allow your little one to get the full rock-star experience by being at nearer your level of view as opposed to being stuck in a buggy and seeing only a mass of legs.
Ear defenders
Festivals can be a flamboyant and excitable environment so remember to protect little and sensitive ears from prolonged exposure to loud noise.
Beat the rain
If it rains (which it often does in this country!), mud actually provided the perfect playground and kept my three-year-old entertained for hours, so mud isn't all that bad! Just bring LOTS of wipes in a handy bum bag so you can go hands-free. (Tip courtesy of Faye Shearwood.)
One excellent choice of wipes is Aqua Wipes, a fully biodegradable, plastic-free baby wipe created to be kind to both the environment and a baby's skin.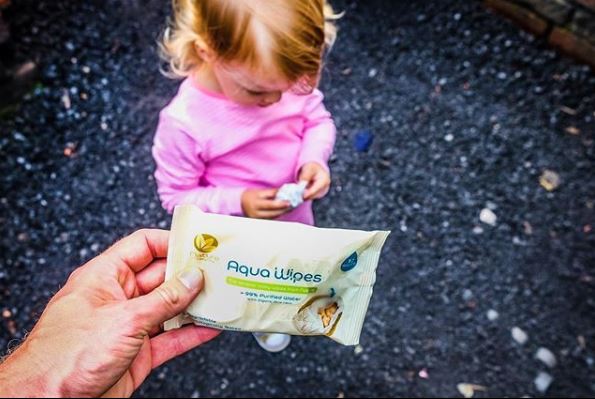 They contain 99.6% purified water with an organic Aloe Vera extract formulation and are used by special care baby units, neonatal and maternity departments across the NHS. Plus they are registered with the Vegan Society.
As well as a 64-wipe pack, they are available in handy 12-wipe travel-sized pack – perfect for festivals. And from 22nd May to 18th June, Superdrug are offering an introductory offer of one third off the the price of single packs.
Dress up
Immerse your little one into the festival spirt by dressing them up as their favourite character – or simply sprinkle a little glitter on older children for that instant festival vibe.