If there is one thing that is trending right now, it is hiring a motorhome and going on an adventure.
A lot of people are choosing to travel within the UK right now, which is due to reasons such as the pandemic and rising costs. Indeed, hiring a motorhome can be a way to enjoy a fun break with loved ones, as well as see some new sights around the country.
But, one thing that a lot of people want to know is whether motorhome holidays are appropriate for families. Namely, if you have children, are they really going to be entertained during this time of vacation? Well, we think that the answer is yes. Let's take a look at a few reasons why.
It is a Novelty
First of all, if you have children, they are going to find the idea of a motorhome exciting. Everything is going to be new and fresh, and it is certainly a different way to travel. They are going to be entertained by the fact that you are driving around in a new vehicle and getting to go on an adventure. Kids can be very adaptable, and the fact that this is all a novelty is going to mean that you can have a great holiday.
What's more, there is something spontaneous about motorhome holidays. You can almost go anywhere in the country, and this is something that families love. You can also drive and explore as you go.
There are Comfortable Beds
When you are a family, you need to make sure that you are getting enough rest during your holiday. Otherwise, people are going to be cranky and irritable, as well as not having a lot of energy for new adventures. A lot of families find it difficult to move around from hotel to hotel when they are travelling. Since there are different beds, this can have an impact on sleep.
But, the good thing about a motorhome is that they are going to have comfortable beds. In particular, they are made for travelling around and can provide your family with a consistent place to rest and sleep at the end of the day. Plus, they often have fun beds for children, which can make bedtime better.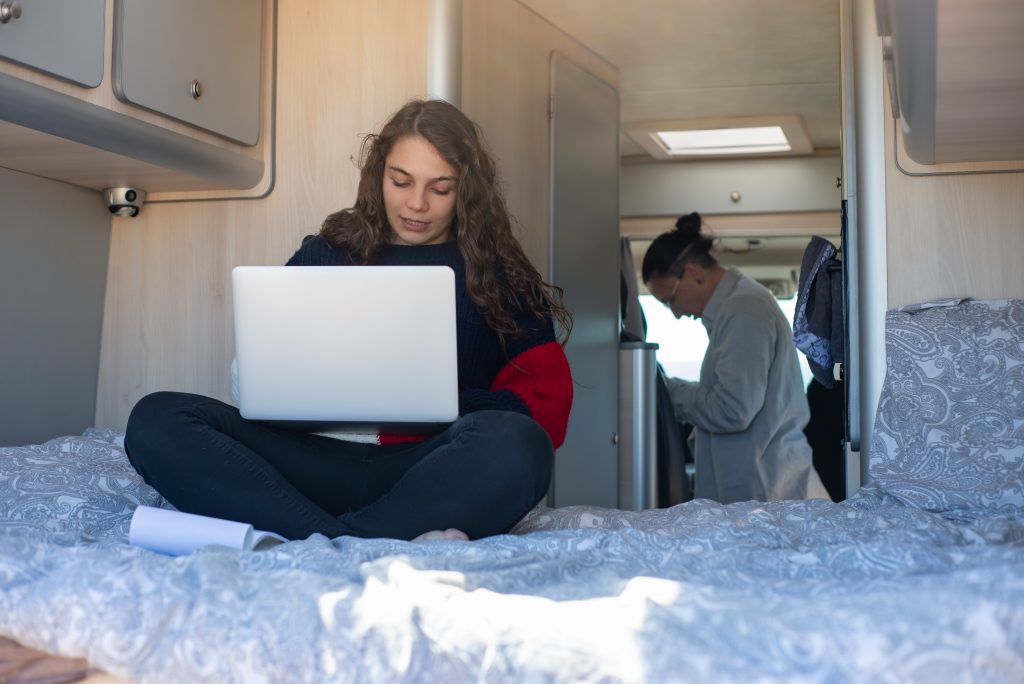 More Outdoor Activities
We all know that children love to be on their devices. They have been brought up in the era of technology and this can mean that it is difficult to remove them from their screens. But, this is one of the things we love about motorhome holidays. It is a fantastic way for your children to put down the devices and get back to nature. Of course, you are going to be travelling around rural areas in the UK, which means there are plenty of outdoor activities you can enjoy.
For example, you can park up in different areas of the UK. A lot of caravan parks are surrounded by natural beauty, which means that you can get out walking and hiking. This is something that can be fun for all of the family. What's more, there are sites that have activities for children, as well as play parks. This means that they can put down their laptops, gaming devices and smartphones and enjoy some fresh air.
You can do this as a family all together and enjoy spending some quality time outdoors. Then, at the end of the day, you have your motorhome to rest and relax. It is this mix of tranquillity and outdoor fun that convinces many families to find motorhome hire Scotland, as it not only offers the chance to begin or end your journey in a major city like Edinburgh but the vast, mythical, and beautiful highlands of Scotland satisfy everyone.
Good on a Budget
Let's be honest; it can be expensive to go on holiday with a family. This is particularly true if you have a few kids. These last few years have been difficult for everyone and the first thing you need is a holiday. This can be great for unwinding and relaxing. But, prices are rising, so you have to be careful how much you are spending.
Well, you do not have to give up on the idea of a holiday. Instead, you can consider a motorhome. This is proving one of the most affordable ways for families to have fun around the UK. Instead of having to book into expensive hotels and bring all of your luggage with you, you can travel around in your own motorhome.
Of course, this can be your family home on wheels for your trip. Hiring one is more affordable than other forms of travel and booking accommodation. So, if you have children, this is something that you definitely want to hear.