This musical doesn't quite offer the genuine escapism of Roald Dahl's original story, nor the timeless quality of 1971's Willy Wonka and the Chocolate Factory, but it's a Bucket-full of wit, wonder and deliciously addictive entertainment.
In Charlie and the Chocolate Factory, Sam Mendes's direction and David Greig's wickedly dark script combine to create a familiar world of candy-coloured landscapes and imminent chocolate danger.
It's safe to say watching Charlie Bucket discover one of the five priceless gold tickets – a prize that transports him from his humble beginnings to the inventive but unpredictable world of Willy Wonka's chocolate factory – is a journey that will ensnare the whole family. If that doesn't work, the special effects will definitely have your kids captivated by the final curtain.
Stunning stagecraft
If the story sounds familiar, Charlie's bratty rivals are anything but. Their 21st century look-at-me makeovers include a Willow Smith-inspired Violet Beauregarde – who comes with her own entourage and rap number – whilst Mike Teavee is now a hostile gaming addict. These tweaks are clever and only enhance our desire to see the other golden ticket winners get the comeuppance they richly deserve.
A giant TV set, serving as a platform to introduce these obnoxious characters, sets the standard for the ingenious set designs of Mark Thompson. This musical has a multimillion pound budget and you can tell – whether it's during Violet's excellent blueberry inflation or the climactic Great Glass Elevator, a scene that will not fail to stir heady nostalgia amongst the adults present, especially once 'Pure Imagination' reaches their ears.
If there is one criticism of this show, it's that the audience are left mired in the 'real' world for too long. The score – which was the only real disappointment – doesn't quite have the power to keep us content with reliving Charlie's sweet nature and his sudden upturn in fate; receiving a little nudge in the right direction from Willy Wonka of course. This leaves us craving the arrival of the factory and its myriad of surprises.
Into Wonka's world
The magic really begins once the gates are thrown open and the children are finally led on their quest. Alex Jennings, who took over from Douglas Hodge earlier this year, creates an extremely understated Wonka. Compared to the screen adaptations, he doesn't quite have the perfect eccentricity of Gene Wilder and is thankfully a way off Johnny Depp's creepy incarnation, but he nevertheless brings a sublime black comedy and reveals more of the man beneath the hat. Expect him to appear here, there and everywhere as the madness unfolds.
Inside the factory, we meet the famous Oompa-Loompas, who bring their own brand of sinister wit as Charlie's counterparts begin to meet their end one by one. They may be a touch stationary, but as within the book, there is an extra surge of energy whenever Wonka's workers appear and during Mike's demise, they even indulge in a spot of techno-raving.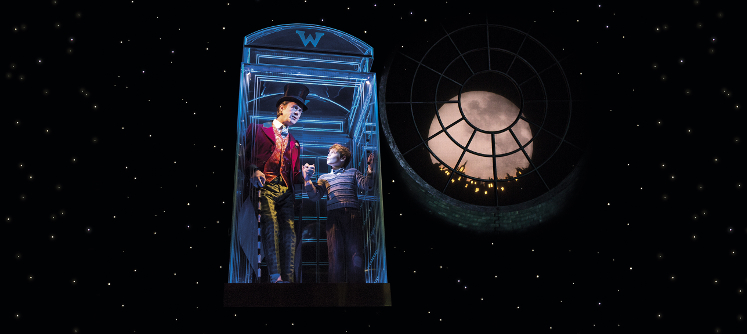 The 'Bad Nut' scene is also particularly striking, as robotic squirrels and curious lighting gives us a rare glimpse into the horrors of Roald Dahl's imagination. The true success here is blending the author's original Dickensian flair with the innocent magic of theatre, no easy task!
Ewan Rutherford as Charlie (one of four alternating actors for the part), delivers in the lead role, letting his vibrant co-stars steal focus before reaping the benefits. The light comedy provided by Grandpa Joe and Charlie's other elderly relatives are a stand-out throughout the production and Claire Carrie as Grandma Josephine soon becomes a fan favourite with her impeccable timing.
Bubbly, entertaining for the whole family and enjoying a run on the West-end stage that shows no sign of fizzling out, every ticket to see Charlie and the Chocolate Factory at Drury Lane's Theatre Royal is a golden one.