With Mother's Day quickly approaching, we're here to help with a gift guide for every type of mum.
Research has shown that men are much more likely to part with their hard-earned cash for Mother's Day compared to any other day during the year. But does the cost of a present really show your appreciation and affection towards someone? I certainly could never put a cost on the amount of love, support and affection my mother has given me over the years! And isn't it the thought that counts anyway?
So, perhaps with thoughtfulness in mind, we have split our gift guide into sections so you can really but some thought into what your mum would like for Mother's Day 2018.
For the mum to be…
She may not be a mum yet, but if your partner is pregnant then you should make her feel extra special with a present for her and the little bundle of joy you will soon have to take care of.
Burt's Bees offers an abundance of options. And pretty much everything you pick up from them will be made with natural ingredients. Perhaps you can buy the Mama Bee Leg and Foot Crème (£12.95 from John Lewis) and give your beloved that well deserved foot rub. Because carrying around a baby for nine months is bound to take its toll! Or Burt's Bees Mama Bee Belly Butter (£9.33 from John Lewis) to gently and safely moisturise and nourish mama's stretching skin. But, for the baby's arrival why not buy the Burt's Bees Baby Bee Multipurpose Ointment (£5.99 from John Lewis) for a non-irritating and petroleum free alternative, tested to be gentle and safe for everyday use.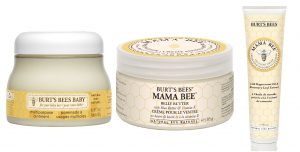 For the one lost in stress…
When life feels chaotic (and let's be honest it often does) treat you mother or partner to the Create Calm in the Chaos 3 Step Programme (£50 from NEOM Organics). Expertly blended, this specialised kit de-stresses the mind and body with a luxurious candle, luxury bath foam and hand balm.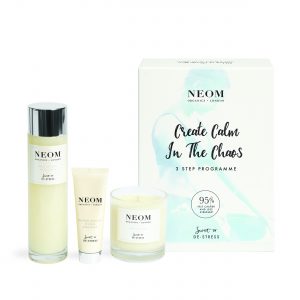 Alternatively, Infuse any humble abode the CARRINE candle (£28 from Ted Baker). A wonderfully seductive scent of plum and pomegranate with warm, spicy undertones for a fragrance that's heaven sent. In addition, I'd advise adding a bottle of wine to any candle gift for desired calming effects to take place.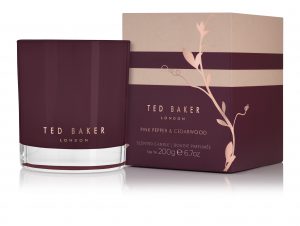 For the coffee table book lover…
Coffee table books are all the rage, and there are a million reasons why. Not only do they look incredibly stylish when placed on a coffee table (duh!?), but also because they come in a variety of subjects, so you can really cater for everyone's interest.
For those who have an curiosity for Architecture, Black: Architecture in Monochrome (£29.95 from Phaidon), is a fascinating survey of the intensity, strength and mystique of the colour black and features over 150 diverse structures from 1,000 years of architecture. Or if fashion is your mother's forte then perhaps London Uprising (£69.95 from Phaidon) would a better purchase. It is possibly the first book to go behind the closed doors of the London fashion scene. It reveals the full sweep of a contemporary phenomenon that has become the envy of the world since the beginning on the 21st century.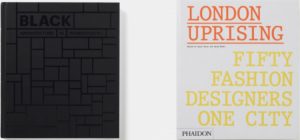 For the stay at home mum…
Home is where the heart is. Which is why we always like to keep a house the way we like it: cosy, warm and full of wonderful things.
Designed to add an accent of delicate florals to any room, these Chatsworth cushions by Ted Baker (for stockist information contact Ashley Wilde directly) are covered with graphic floral blooms in delicate creams and pale pinks. Crafted from luxurious cotton sateen, they to feel as good as they look. But if florals aren't your mum's thing, then perhaps she'll enjoy a Fenella Smith Pug Cushion (£35 from Fenella Smith)? Because who doesn't like pugs… Psychopaths. That's who.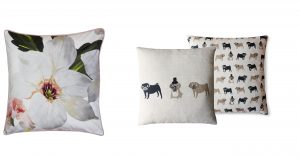 My mum for sure is never without a cup of tea, so why not buy your mum a set of tea cups? Made from fine bone china, this hand decorated teacup and saucer set (£100 for a set of  4 from The Curious Department) is sure to impress while you all enjoy popping over for a cuppa and a slice of cake.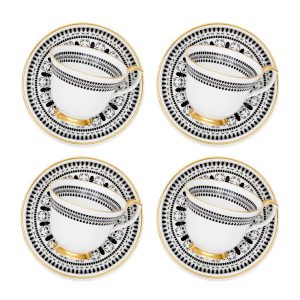 For those who want to age gracefully…
It may be a little controversial buying your mum anti-ageing products. But if she wants to age gracefully then why not save her money by buying something she is guaranteed to use?
Murad's Retinol Youth Renewal Eye Serum and Night Cream (each £65 from Murad) features Dr Murad's Tri-Active Technology. It is made up of three different types of retinol (which is a form of vitamin A to help improve the appearance of sun damage, lines, acne, scars and dark spots). Basically, magic in a pot.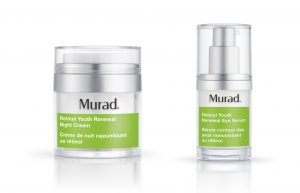 For additional magic I would also recommend Kiehl's. Their Midnight Recovery Concentrate (from £38) is a popular replenishing night-time facial oil with distilled botanicals that visibly restores the appearance of skin by morning. However, the brand's Powerful Strength Line Reducing Concentrate (from £49.50) is the original anti-ageing vitamin C serum. The serum has 12.5% pure vitamin C and hyaluronic acid, ingredients that improve the appearance of ageing skin.
For the stationary nut…
Office workers, nurses, teachers. Let's be honest, it is pretty hard to think of a job that doesn't involve some level of stationary. So there is always a reason to gift stationary – plus it looks pretty.
The Stationery Accessory Kit (£18 from Sara Miller London) features a whole load of tropical animals and colours sure to brighten up any hectic work day!

Never let her be without a pen again with this essential set of three sophisticated Ballpoint Pens by Ted Baker (£35 from John Lewis). To be kept with her on-the-go, at the office or on her desk, these pens are sure to cover all her writing needs.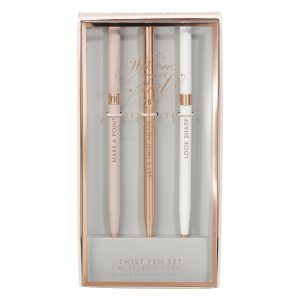 For the master chef…
We have been brought up on our mum's food. So it is only natural (most of us) consider our mum's home cooked meals the best in the world.
Unlike driving, a few drinking sessions can only ever improve our cooking skills. The Drunken Cookbook (£7.99 from Getting Personal) offers users delicious recipes tailored to every level of tipsiness, which is perfect for those mothers who are partial to a  G&T. However, if you mum prefers something a little more cultures then The Palestinian Table (£24.95 from Phaidon) is a great option. Inspired by three generations of family tradition, The Palestinian Table is packed with recipes adapted to suit all aspects of modern-day life. Yet they still retain traditional techniques and flavours. This approachable cookbook is perfect for those who appreciate the simple pleasures of being in the kitchen and the enriching power of food.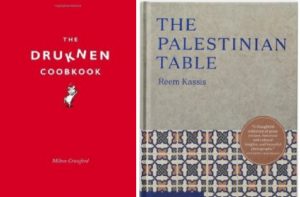 Another option is the very stylish kitchen apron from Orla Kiely (£30). The retro-inspired design features Orla's signature 70s oval flower print and includes a deep front pocket, waist ties and adjustable neck strap, allowing you to cook and bake in style.