The Jaguar E-Pace is the smaller sibling of the F-Pace and, in terms of size, is comparable to that of an Audi Q3 or a BMW X1.
It's now based on the same platform as the Range Rover Evoque, which has allowed the addition of a Plug-in Hybrid Electric Vehicle (PHEV).
Looks-wise, it's very handsome, and its new headlights, combined with a fresh grille and mesh inserts, add a sportier appearance to the front. The car carries far more charisma than its blander German rivals, and the interior is a similar story.
There's a choice of three trims and several engines, most of which are four-wheel drive automatics, although the entry-level E-Pace comes with two-wheel drive and a manual gearbox.
There's a choice of several engines. Simply enough, with one exception, all the powerplants are 2.0-litre four-cylinder, but it gets a bit complicated after that.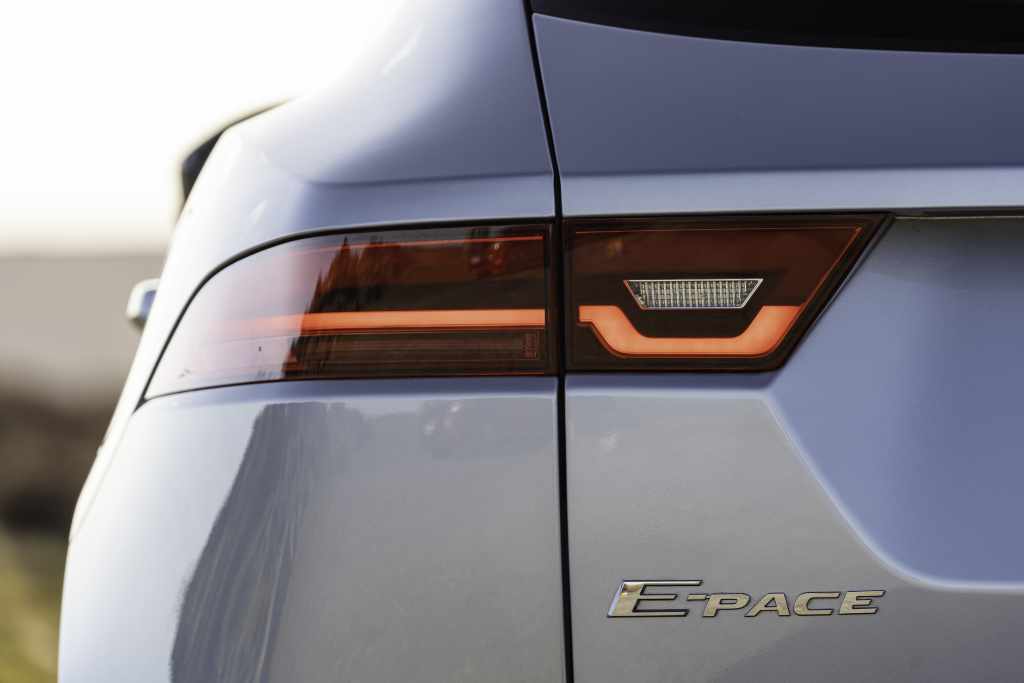 If MHEV is also a new acronym for you, it stands for Mild Hybrid Electric Vehicle, meaning the engine can be turned off when coasting, braking, and when stationary.
The entry-level E-Paces are front-wheel drive – a choice of a MHEV petrol with an eight-speed automatic and 160PS, or a diesel with a manual gearbox and 163PS (the entry-level diesel is the only non-MHEV engine in the range).
The two other diesels are both MHEVs and come with four-wheel drive and a nine-speed automatic. One produces an identical 163PS, while there's another with 204PS – if you're seeking more clout.
If you prefer petrol, the three other models take the power range further. They, too, are all four-wheel drive, nine-speed automatics but enter at 200PS, with a mid-range 249PS and 300PS at the top.
The exception is the PHEV, which houses a 1.5-litre three-cylinder petrol engine (and an eight-speed automatic, rather than nine). But the added electric motor means it trumps the rest of the range at 309PS.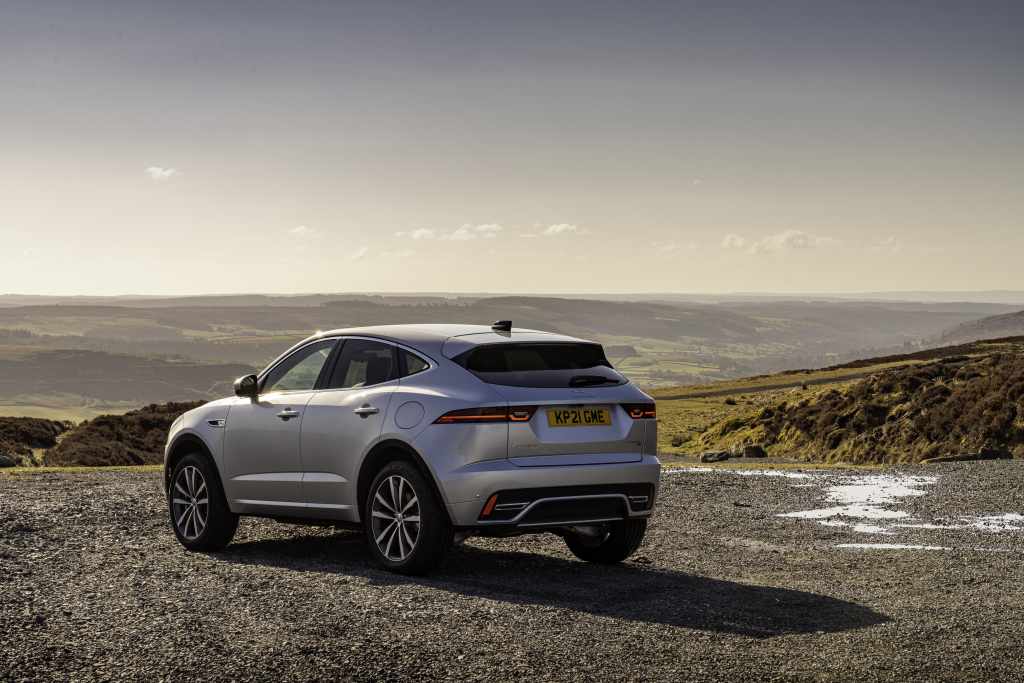 The E-Pace is a heavy car, with the petrol and diesels weighing in not much under two tonnes. The PHEV version might trim a bit of weight with the smaller engine but, after adding in the electric motor and batteries on top, it rolls on to your strained driveway at 2173kg. The entire range is heavier than any of its rivals, in some cases by several hundred kilos.
This undoubtedly impacts its agility. Mind you, Jaguar has at least done a decent job of keeping the side effects to a minimum, with torque vectoring helping to provide precise steering while maintaining a good feel for the road – and not as much body roll in the corners as you'd expect from such a brute.
The 20-inch alloys on the top-of-the-range model provide for an unforgiving ride, although some trims offer smaller rims down to 17-inches, which would be a good choice if you prioritise comfort over sporty performance.
The shortness of the 0-62mph time may not be as crucial to SUV owners, but it's dealt with in 6.1 seconds in the PHEV. This is impressive given its weight, although this increases to as much as 9.5 seconds as you go down the range. Again, that's still not bad, considering the weight and engine size.
The PHEV is undeniably going to be the cheapest to run. At a claimed 141 miles per gallon, it dwarfs the fuel consumption of the rest of the range.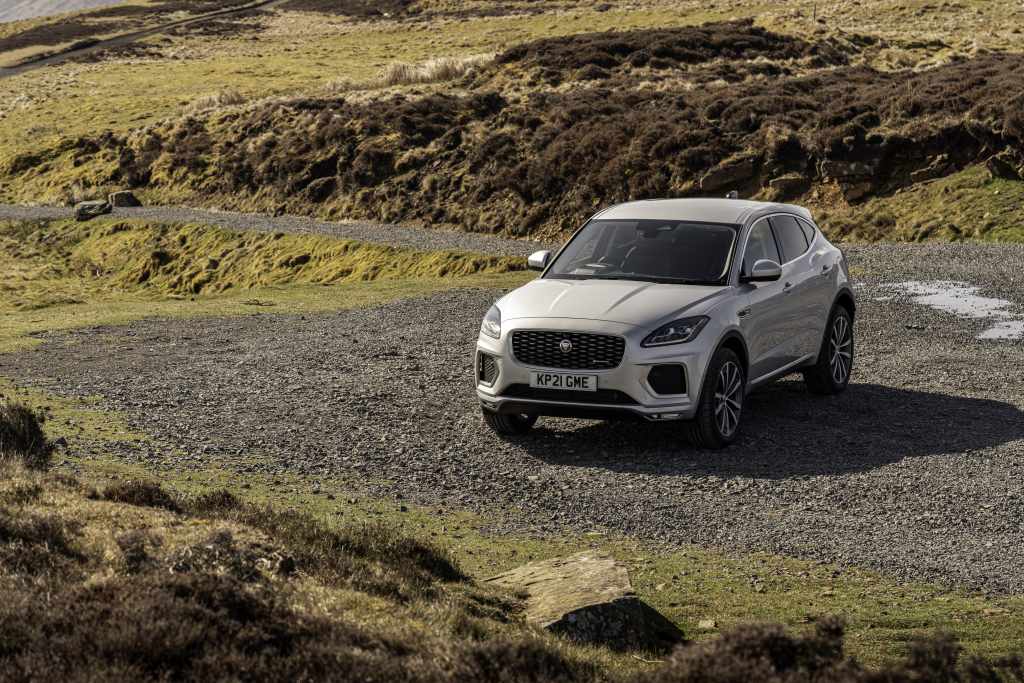 For the diesels, the entry-level engine with the front-wheel-drive will manage 46.9mpg (163PS), with the all-wheel-drive automatics achieving 44.3 (163PS) and 43.9mpg (204PS).
Petrols enter at 35.2mpg (160PS) in front-wheel drive, with the all-wheel-drive automatics achieving 31.9 (200PS), 31.8 (249PS) and 31.3mpg (300PS).
In truth, if you're after a petrol E-Pace, then you're likely more interested in performance than fuel consumption. But, with such a negligible difference in mpg figures across the all-wheel-drive petrol range, it's difficult to see why you'd choose anything but the 300PS model, especially given there's barely more than £2,500 price difference between entry-level and top of the range four-wheel drive petrol models.
The E-Pace's interior has been improved vastly. A new steering wheel with metallic gear-shift paddles and a more attractive gearstick combine with other lighter touches to give the E-Pace an environment that offers a nod in the direction of the Jaguar XJ. And that's about as good an interior as you can get anywhere.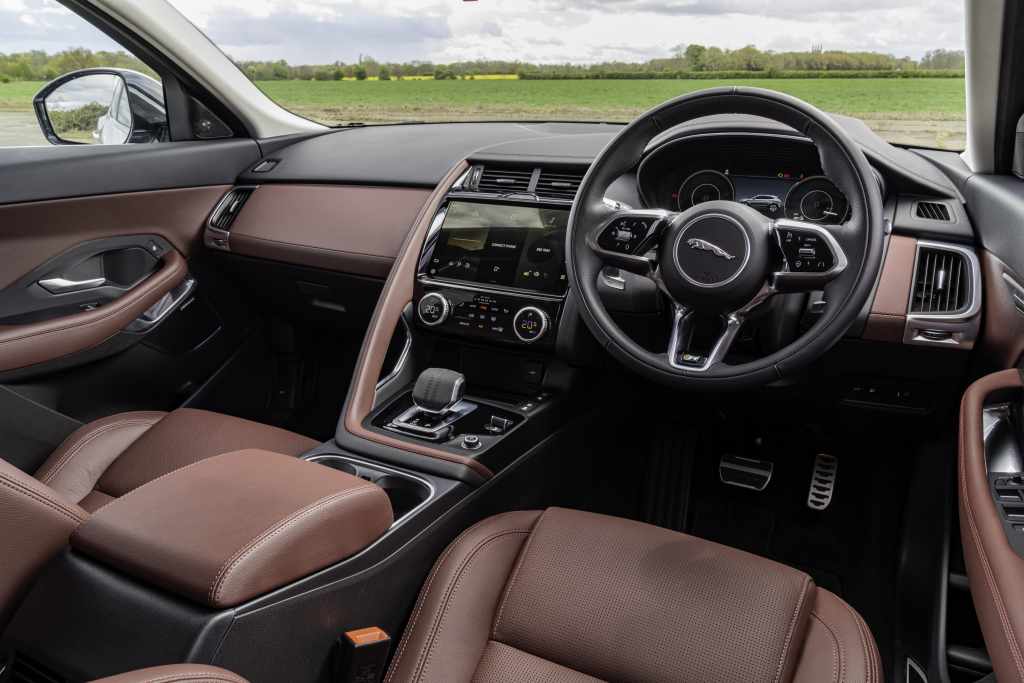 You can wirelessly charge your phone by placing it behind the drive selector, while on some models the main dashboard behind the steering wheel is a screen rather than physical dials. That means it's customisable as well, displaying 3D sat-nav directions if you choose. There is also the option of a heads-up display.
As standard, you get an enlarged 11.4-inch curved glass touchscreen housing Jag's Pivi infotainment system. It's beautifully presented and intuitive, giving over-the-air updates when they're released.
Android Auto and Apple CarPlay are also provided as part of the Pivi system, and Jaguar has focused on simplifying the menus to make it more user-friendly.
With 425-litres of boot space, expanding to 1234-litres with the rear seats folded away, the Jaguar E-Pace lags behind most of its immediate rivals.
The BMW X1 can accommodate 505-litres (1550 with the seats folded). The Audi Q3 is bigger still, with capacity for 530-litres (increasing to 1525), though the E-Pace trumps the smaller Audi Q2, which offers 405-litres (1050 with the seats down).
In truth, however, the 425-litres on offer should be more than enough to cope with everyday life.
The rear seats are in a 40-20-40 configuration, so you'll be able to accommodate two or three kids in the back without much of an issue. But, while SUVs naturally make you think that room won't be an issue, a trio of adults in the back is going to be more of a squeeze than you might think.
The E-Pace comes with many gizmos to maximise safety on the roads. The newly-designed headlights have an option called 'Pixel LED', which really lights up the road at night. It's impressive – akin to having your main beams on all the time, but they're clever enough to position themselves so that oncoming drivers don't get dazzled as they approach.
The range-topping version provides radar-guided adaptive cruise control, which automatically matches the speed of the car in front, slowing to a stop if necessary, lessening driving fatigue for those regularly stuck in traffic jams.
Configurable Dynamics allows you to set up the car as you wish, depending on whether your mode of choice is aggression or comfort. At the same time, the Adaptive Dynamics system uses sensors to automatically make adjustments to the suspension, depending on what sort of road surface you're on. The two systems can be used harmoniously with one another.
Active Driveline helps to save fuel by switching to two-wheel drive when four-wheel drive isn't needed. It re-engages four-wheel drive within 350 milliseconds if it detects any wheel slippage, giving you the privilege of both worlds when it comes to safety and economy.
On the inside, the Pivi infotainment system provides traffic sign recognition, while the configurable dashboard display and heads-up display mean the driver doesn't need to divert attention from the road. The parking sensors and surround cameras add another layer of safety equipment on top, along with a blind spot assist system on higher models.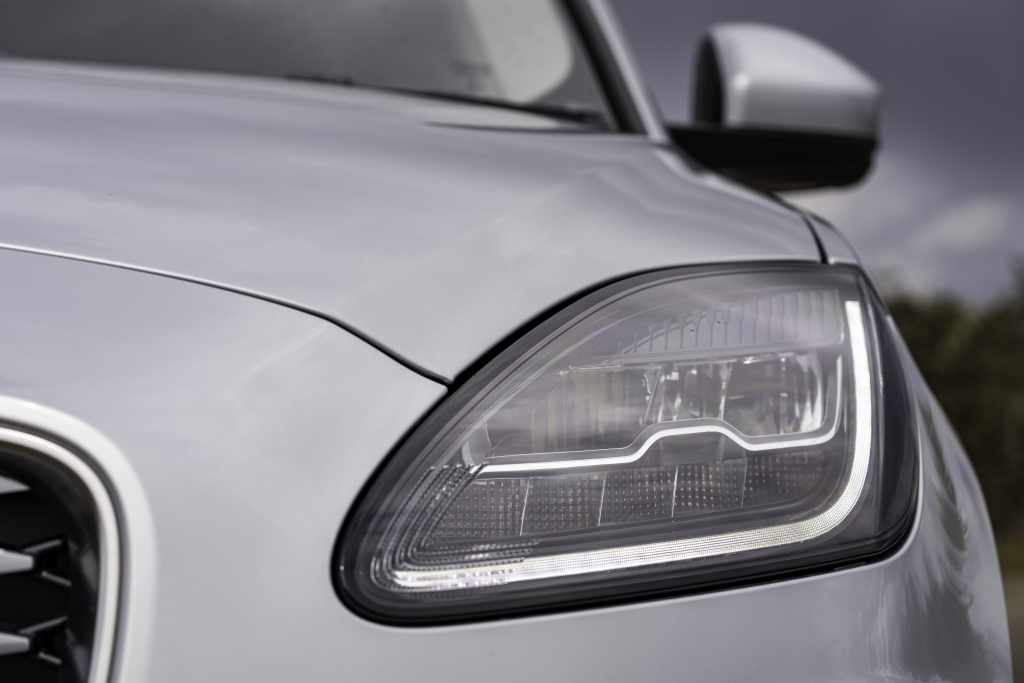 The facelifted 2021 E-Pace hasn't been NCAP safety tested, but it should at the very least meet the scores it achieved back in 2017, when it earned a five-star rating, scoring 86% for adult occupants, 87% for child occupants and 72% for safety assists.
Overall, the Jaguar is lovable, resolute and much improved. Yes, there are better SUVs out there – and turning down a Range Rover Evoque for it is probably an odd thing to do.
But the E-Pace is arguably more attractive and proves that Jaguar is not just here to make up the numbers – it's serious about making significant strides in the SUV market.