Once upon a time, if you wanted a hot hatch, you'd go for the Golf GTi – but those days are long gone, writes Tim Barnes-Clay.
So many manufacturers surpassed the GTi that VW itself decided it needed to introduce a new model called the Golf R.
One of the cars that overtook the GTi's legendary brilliance was the Ford Focus ST.
While it's not quite in the same bracket as the full-beans Focus RS, the ST is a smorgasbord of impressive features.
It boasts 19-inch alloy wheels with a Magnetite matte finish, Dynamic Matrix LED headlights, power-folding door mirrors, and an ST body kit. It is also equipped with sports suspension, limited slip differential and dual-zone climate control, plus heated six-way electrically adjustable front seats with powered lumbar support and a heated steering wheel.
You also get a 13.2-inch touchscreen with a DAB radio, voice control, Apple CarPlay, Android Auto, a Bang & Olufsen premium audio system, a keyless entry/start, and a 12.3-inch digital instrument cluster.
The model reviewed also includes the Track Pack, which adds Recaro shell seats, lightweight alloy wheels, Brembo brake callipers, larger brake discs and Michelin Pilot Sport Cup 2 tyres. But, as you'll read in a bit, it has even more to offer.
It is a package that screams performance.
The ST is propelled by a 2.3-litre turbocharged EcoBoost lump that pumps out an enthusiastic 280PS and 480Nm of torque.
The blue-badged hatch comes with a six-speed manual 'box, which will please the purists. But a seven-speed automatic is also available, albeit not with the Track Pack.
It is a beauty to look at, too, there's no doubt about it, with its muscular body kit, aggressive lines, and distinctive fins on the front air intakes giving it a menacing look.
There are several colours to choose from, too – the default being Racing Red. But Fantastic Red, Frozen White, Agate Black, Magnetic Grey and my favourite – Mean Green – are also available.
Picking a shade will likely make life difficult for a while.
Sadly, one of the Focus ST's main criticisms was that it was compromising something in terms of being considered a proper hot hatch.
While reviews were mixed, some felt the kingpin Focus RS got in the way, as it meant the ST was a dumbed-down version deliberately engineered to be slightly inferior in every department.
This is put right with the Track Pack, which, although a £3,000 option, gives the ST the final weapon it needs to complete its arsenal.
While it remains front-wheel drive only, the Ford grips the road exceptionally well, and the engine note sounds pleasingly powerful.
Zero to 62mph is dealt with in 5.7 seconds, topping out at 155mph.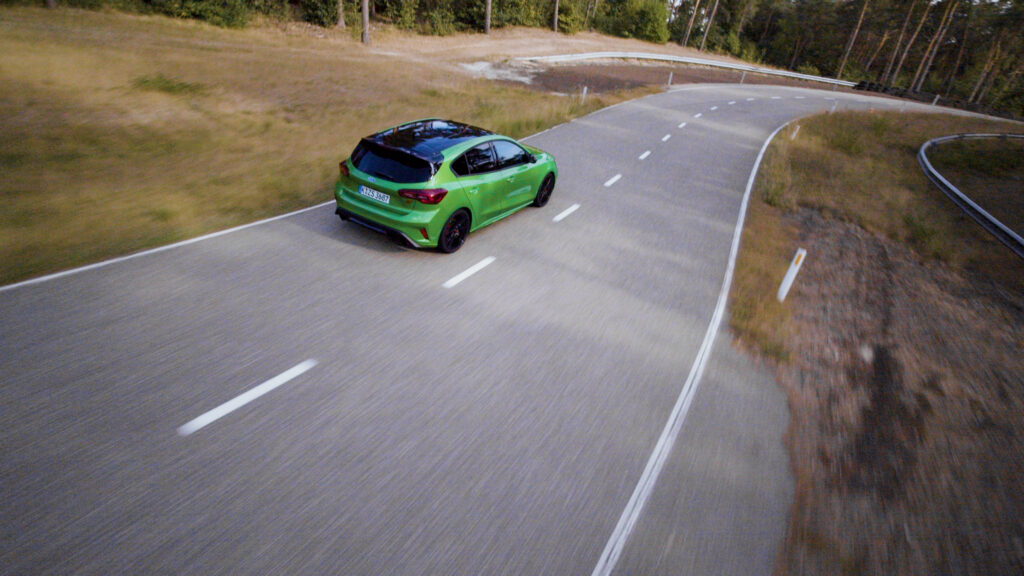 The ST Track Pack adds that extra edge, with weight saving, grippier tyres and improved braking power optimising the overall feel in the bends.
One criticism of the ST – its very light steering – remains. However, it somehow feels more natural given the reduced weight of the Track Pack's additional kit.
Nevertheless, the ride manages to feel firmer and yet more comfortable at the same time, thanks to new dampers which absorb bumps better, yet offer more rigidity where it matters.
This added to the 1cm lower ride height, means body lean is even more limited, and, as a result, the cornering feels enriched.
And, if you're the sort of person who likes to tinker with cars, the dampers are manually adjustable, with a toolkit supplied by Ford as part of the Track Pack.
The six-speed manual gearbox is exquisite for its simpleness. There is no clever tech around it, but that means it's blissfully straightforward to shift through the gears.
In truth, the cog-changer can feel clunky, but it's not a deal breaker, and I'd still recommend it over the automatic (which, as said earlier, isn't available with the Track Pack).
Thanks to a recent mid-life facelift, the inside of the Focus ST looks better than ever.
That said, Ford could have made more of an effort to make the ST version stand out from the rest of the range. Why? Well, other than the odd ST badge dotted around, there's little to remind you you're not sitting in an ordinary Focus.
At least the Track Pack adds the Recaro seats. Meanwhile, the 13.2-inch infotainment system and 12.3-inch digital instrument cluster are both nice to use.
Of course, if you want to go tearing around Silverstone with your brand new flat-pack drinks cabinet in the back of your Focus ST, then you'll be delighted to know practicality remains one of its strong suits.
Track Pack or not, the seats are comfy, and there's plenty of head and legroom for everyone, front and back.
The boot space is 358 litres, which isn't as impressive as some rivals, but it's good enough. What's more, folding the rear seats down expands the usable room to 1,320 litres.
Despite its performance credentials, the Focus ST is surprisingly economical. It returns 35mpg and emits 183g/km of CO2.
The standard Focus earned a five-star safety rating from Euro NCAP in 2018, scoring 85% for adults, 87% for children and 75% for safety assists.
The ST comes with emergency assistance, lane-keeping assist, and pre-collision assist with autonomous emergency braking.
In conclusion, the standard Focus ST is a decent car, and the individual differences offered by the Track Pack all add up, causing a transformative effect on its handling.
It is spacious inside; it has a nice (if a little too understated) interior, and ticks both boxes: offering a great family car that enthusiastic drivers can also enjoy.
Fast Facts – Ford Focus ST (with optional Track Pack) as tested:
Max speed: 155 mph
0-62 mph: 5.7 secs
Fuel economy: 35.3 mpg (WLTP)
Engine layout: 2.3-litre four-cylinder turbocharged EcoBoost petrol
Max. power (PS): 280
CO2: 183 g/km
Price: £39,950 (£36,950 + £3,000 Track Pack)