Smeg is introducing its first Bean to Cup coffee machine!
Small yet smart, the gadget is packed with innovative features to brew the perfect coffee from start to finish at the touch of a button.
Capturing Smeg's home nation's love for coffee, the BCC02 creates the ultimate home barista experience using an intuitive soft touch control. With an array of coffee styles and grinding levels on offer, you can experiment and discover your perfect coffee.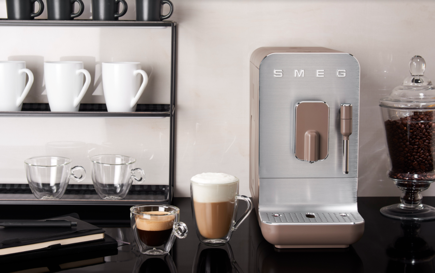 A primary and secondary menu function create ristretto coffee, espressos and americanos, as well as hot water. If you're after a caffeine hit, different strengths and levels can also be selected via the touch menu. Lattes, macchiatos or cappuccinos more your thing? Frothy milk can be produced at the touch of a button and the machine will grind coffee to the perfect texture, depending on your beverage of choice.
Designed with ease in mind, the one touch menu grinds and prepares coffee beans instantly while a Thermablock system heats water in a matter of seconds. A 1.4l capacity means up to six cups of coffee can be enjoyed before refilling the machine. What's more, the adjustable cup holder and nozzle height guarantees coffee shop quality drinks in your favourite mug. Sick of descaling? Its convenient descaling alarm ensures the machine is always in top condition and you can also adjust its settings based on the area's water hardness.
Available in Matte Black, Matte Red, Matte Taupe and Matte White, the Bean to Cup machine delivers minimalism and high-end design for coffee connoisseurs. Whilst resembling the '50s style curves Smeg is famous for, the BCC02 offers a more contemporary finish. This is thanks to a brushed aluminium and matte exterior and ergonomically integrated controls.
The machine retails for £679.95 and is available from Smeg's flagship London store – or visit https://www.smeguk.com/.