It's been six years since funny man Kevin James brought Paul Blart to life and now America's favourite security guard is ready to spring into action again.
With a career that includes starring in the Emmy-nominated sitcom The King of Queens and films such as Hitch, Zookeeper, Here Comes the Boom, Grown Ups and I Now Pronounce You Chuck and Larry, Kevin James is no stranger to making people laugh, but there's something about his role as Segway-riding, moustachioed-Mall Cop Paul Blart that really seems to click.
In Paul Blart: Mall Cop 2, our hero is finally getting a vacation; being recognised for everything he's done to keep shoppers safe with an all-expenses-paid trip to a security convention in Las Vegas. Everyone is telling Blart to take it easy and get some R-and-R, but security never takes a holiday… and when Blart discovers a criminal threat to the hotel, he's soon back in the game!
The film also see Blart face fresh parenting challenges with daughter Maya heading off to college and discovering boys, an area that doting dad-of-four James – following the arrival of a baby girl last month – will definitely have to tackle in the near future.
Sam Skelding caught up with the comedy star to talk about Blart's famous moustache, riding Segways and why fatherhood may simply be a game of numbers.
After the heroics of Paul Blart: Mall Cop, what can our readers expect from this sequel?
This time around we take it to a whole new level! We wanted to make it bigger and better and we thought the biggest platform would be Las Vegas, Nevada. We decided to give Blart a well-deserved vacation, but unfortunately this man can't take one – he can't separate himself from the work, it's just in his DNA. So everything is amped up, his daughter's going off to college meaning he's on the verge of being left alone, creating emotional times for the character. The physicality – once the hotel gets taken over – also goes through the roof and the comedy is tremendous. It was just great to be part of!
As the Batman of shopping malls, what is it about Paul Blart that appeals to audiences?
The moustache. Because people have seen moustaches before and had them, but when you combine that with the body image and the look in the eye, plus the Segway – which is also a character – you get a potpourri of Paul Blart-y.
Is the moustache something you would consider making permanent?
I would…but I don't know if my wife and family would walk with me in public, that's the only real downside to it. I'm keeping it for now because it's a hard separation for me, it really is tough to break away. We're done filming and it's the very last thing to go. Everything has been taken away from me, I don't even have the Segway anymore, but I just want to hang on to it for a little bit longer – almost like smelling someone's shirt after they're gone…
You were reunited with the Segway for this movie, how was getting back on the proverbial horse?
To get back on it and start up the whole character again – in both the metaphorical and literal ways – I loved it! It fit like a glove, it was good. She felt right, she was kind and I think she missed me. Everything in this movie had to be bigger and better, so we even took it to another level with the Segway. There were some scary moments – I have to be honest – it got a little bit out of control!
So, should Segway racing be an Olympic sport?
I'm not sure if it should be in the Olympics, but do you have Little League over there in the UK, basically where just the kids play? I would love to see Little League on Segways!
Andy Fickman was at the helm this time around, tell us about his influence?
He was fantastic! That was the one of the few things we changed, everything else in the movie pretty much involved the same crew, but Andy coming in as director – we knew Vegas was a bigger platform to make the movie better and he helped crack it open. He's obviously shot beautiful movies before and very funny ones, but he added so much to the project, it made it easy for us to get on board and make it happen.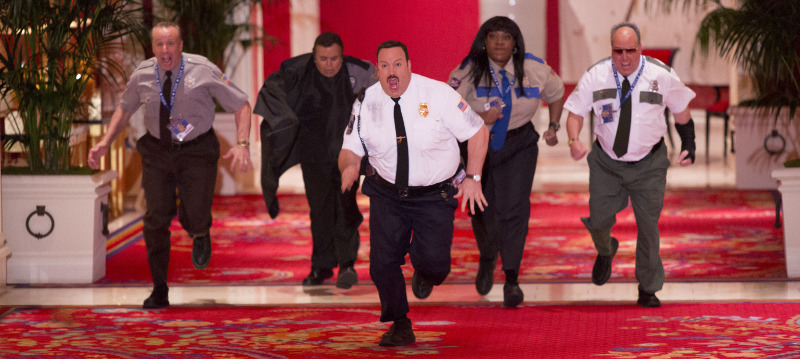 You've spoken a lot about making things bigger and better, how was filming at the world-famous Wynn Las Vegas?
I think the Wynn almost became a character in itself. It was very nice of Mr Wynn to let us film there – he's never had a movie at his hotel before – but he was a big fan of the first Mall Cop and wanted to show Vegas in a more family-friendly light, because a lot of Vegas is actually that way. It's always portrayed with the crazy night-life and all that nuts stuff, but this is a fun place – it's still exciting – but you can definitely feel comfortable bringing the kids along and they're going to have the time of their life.
The father-daughter relationship between Blart and Maya is a big part of this movie. Did you draw upon your own experiences of fatherhood?
Yes, I mean my kids are a lot younger than my daughter in the movie but I know it's going to be a tough time. Parents really feel that separation from their children and everyone goes through it in some way or another when they're about to fly the nest. Being protective of your kids but still giving them their own space is a very difficult thing, so we tried to approach that in a heartfelt and funny way. Fathers should definitely be able to relate!
Maya is Blart's number one fan, believing in him when no-one else does. Do you often have your children in mind when writing and acting?
Absolutely, I always keep them in mind and want to do stuff they'll be proud of. It's really important to me!
You recently welcomed a new arrival – your fourth child – does fatherhood get easier with each one?
It's definitely different and you loosen up for sure – I think it does get a little easier. With my first child, I was so nervous bringing her home from the hospital, but the second one, I don't think she was even buckled in! You just get more comfortable. Like when your kids eat something off the floor; with your first one you're immediately thinking about taking them to the hospital but by the second, you're like "just blow on it, you'll be fine!"
Is this last we'll see of Paul Blart or is there more to come?
I'll let the public dictate that. If my fans don't want to see more, they'll let me know, but that was the thing; we kept hearing and running into people on the street saying they miss the character, so we decided to bring him back and it was a fun role to get back into. We just wanted to make it bigger and better for everybody, and we believe we have!
Paul Blart: Mall Cop 2 is out in UK cinemas on April 10th.